Enemy tactics: Kurdish female suicide bomber 'attacks ISIS jihadists' in Kobane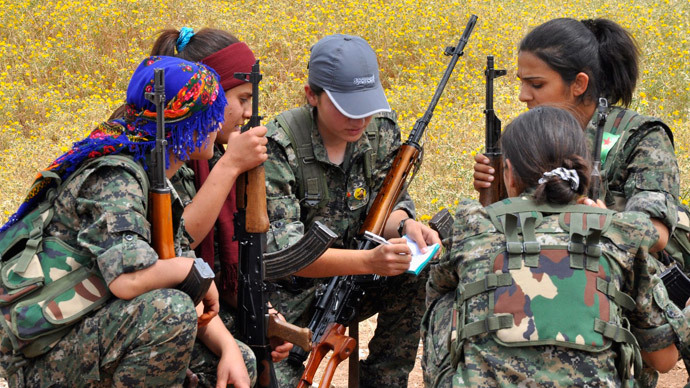 In a desperate battle for the Islamic State-besieged Syrian border town of Kobane, a Kurdish woman has reportedly used tactics usually employed by radical Islamist militants, blowing herself up to kill several jihadists.
READ MORE: Battle for Kobane: Turkey fires tear gas at activists trying to enter Syria (VIDEO)
The woman, identified as a commander in the female unit of the Kurdish People's Protection Units (YPG), targeted a position of Islamic State (IS, ISIS/ISIL) fighters by detonating a grenade, AFP reported, citing the UK-based Syrian Observatory for Human Rights.

The group could not confirm the number of ISIS militants killed in the attack but said that "the operation caused deaths."

The incident reportedly took place east of Kobane (also known as Ayn al-Arab), the northern Syrian town facing a fierce onslaught of IS. The jihadist group had earlier pledged to overrun the town by the beginning of Eid al-Adha, or Feast of Sacrifice.
READ MORE: The amazing (and bizarre) homemade Kurdish armor fighting ISIS in Syria
While the attack could not be independently verified, the situation in Kobane has been getting increasingly desperate. The fighting has already prompted some 186,000 Kurds to flee the area across the border into Turkey, and groups of Kurdish volunteers wishing to cross into Syria to defend the town against IS on Saturday clashed with tear gas-firing Turkish security forces refusing to let them pass.
Around 100,000 people are still staying in Kobane amid the violence, according to TASS.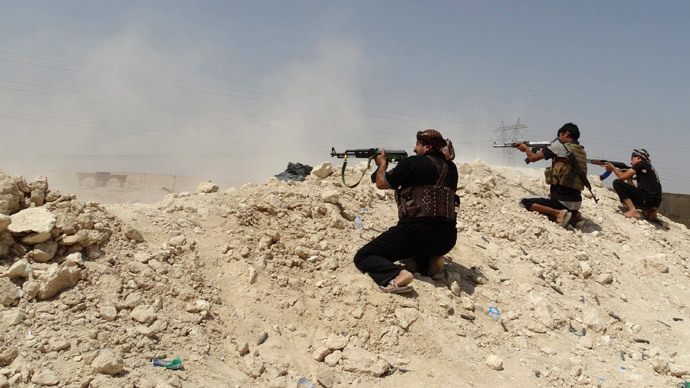 Meanwhile, sources cited by CNN claimed that Islamic State militants took a strategic hill near Kobane and entered its southeastern edge on Sunday evening, with street battles reportedly taking place in parts of the town.

IS had earlier surrounded the border town from three sides.
READ MORE: Driving through ghost town: RT's risky ride deep into ISIS-Kurdish frontline
While being the first report of a Kurdish suicide bombing against the Islamic State, this was not the first reported act of sacrifice on behalf of the local militia's female brigades. Just last week, Twitter exploded with messages on the death of 19-year-old Ceylan Ozalp, who allegedly took her life by the last bullet she had rather than fall into the hands of IS.

Conflicting reports said that Ceylan was in fact alive and in a different location than Kobane, but her quote from an earlier interview with BBC has nevertheless gone viral on social media.
#RIP Ceylan Ozalp We're not scared. We'll fight to the last. We'd rather blow ourselves up than be captured by #ISpic.twitter.com/IVJ64VuGTy

— Mr. Tickle (@MrTickle3) October 5, 2014
"We're not scared of anything…We'll fight to the last. We'd rather blow ourselves up than be captured by IS," the female Kurdish fighter said.

Idris Nahsen, a deputy minister of the Kurdish region, told AFP that US air raids on IS were not enough to prevent them from taking the town.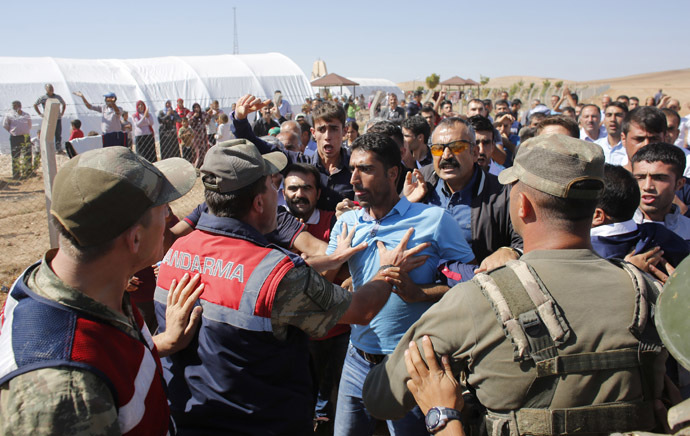 "They are not enough to defeat terrorist groups. The strikes are helping but we need heavy weaponry, armoured vehicles, cannons, rockets. They are one kilometre away in some places and two or three kilometres in others," Nahsen said.

Kurdish militia have long insisted they want more substantial military aid and heavy weaponry from their Western backers, but the US and its allies have so far refused to give them just that. Instead, regular bombing sorties against IS positions and hardware have become commonplace.
READ MORE: UK Kurds begin hunger strike, demand heavy weapons for ISIS fight
You can share this story on social media: