'Keeper played well': Team takes heart from 0-22 defeat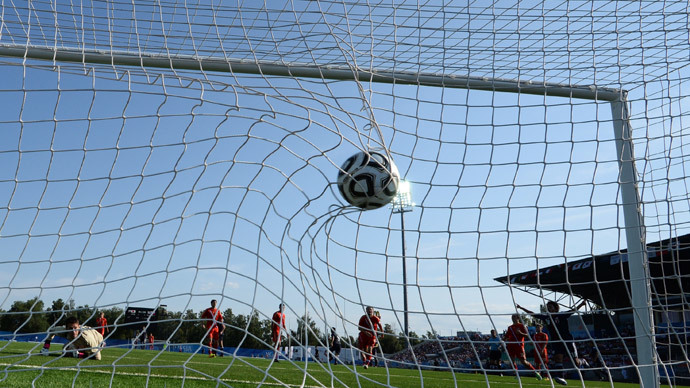 Tenth-tier English football club Cheadle Town has become an overnight Twitter sensation after releasing unusually positive comments following a 22-0 thrashing by Russian Under-19s in a friendly game.
The team, located just outside Manchester, trains only twice a week (once if it has a game). It fielded a weakened eleven - some of whom played an official fixture earlier that day - against a motivated Russia, who was warming up for a qualifying match in Northern Ireland.
Despite being 9-0 down at half-time, manager Terry Hincks instructed the team to "keep your heads up and keep trying to play football." Cheadle Town promptly conceded 13 more goals.
While a goal was unlikely, Cheadle did have highlights.
WE'VE GOT A CORNER!!

— Cheadle Town FC (@CheadleTownFC) October 5, 2014
The final result was re-tweeted by thousands of internet users.
FT: Cheadle Town 0-22 Russia U19

— Cheadle Town FC (@CheadleTownFC) October 5, 2014
Despite the overnight loser fame, the team did not appear to feel they did badly - despite the two teams canceling a scheduled second game.
"We played our first-team goalkeeper Steve Piggott, but he didn't make any gaffes and, in fact, saved further embarrassment with a few saves," club secretary Stuart Crawford told BBC Radio.
"I'd like to think I made seven, eight, or nine great saves on Sunday. Hopefully the manager would have seen that and I can get back into the first team," confirmed Piggott himself.
22-nil @CheadleTownFC keeper tells Newsbeat "I think I made seven, eight or nine great saves" http://t.co/fyMALc0cklpic.twitter.com/LNKFRcJ667

— BBC Newsbeat (@BBCNewsbeat) October 6, 2014
Cheadle Town itself is an unusually high-profile non-league club which has played against top teams, particularly during its famous international tours, which have included matches at the Brazilian football shrine the Maracana and Azteca Stadium. But never in their history have they conceded 22 goals, even when playing top-tier teams such as Dinamo Bucharest, to whom they lost only 5-0 earlier this season.
North West Counties side @CheadleTownFC were beaten 22-0 by Russia's U19s on Sunday pic.twitter.com/HxwWGlT0d3

— InsideWorldFootball (@insidewldftball) October 6, 2014
But after a whirlwind day in the global spotlight, the club has had enough of all the attention.
The club would like to thank everybody for the interest shown over the past 24 hours. It has been eventful. We would like to move on. (KF) >

— Cheadle Town FC (@CheadleTownFC) October 6, 2014
If the players are still haunted by their loss in the coming days, they could console themselves with the prospect of a tour of Madagascar next year.