Shocking power: Hurricane smashes man into concrete stairs in Crimea (VIDEO)
Published time: 2 Oct, 2014 04:25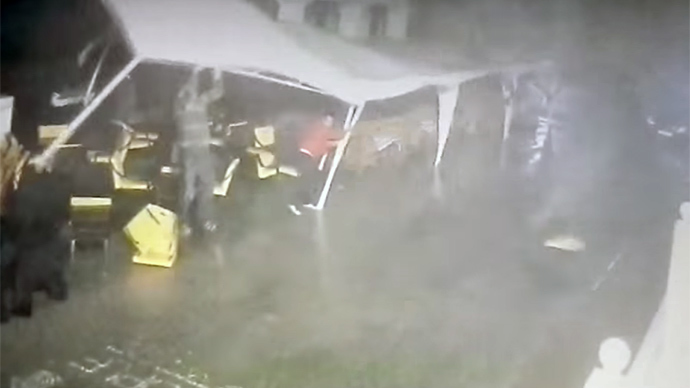 A man holding onto a gazebo was lifted by strong hurricane winds in Russia's Sevastopol, and then forcefully thrown into concrete stairs a few meters away, a YouTube video shows.
The aftermath of the natural disaster that hit several Russian and Ukrainian regions last week is still sending waves across social networks, with hurricane photos and videos surfacing online.
One video shows a man clinging to a tent in the Crimean city of Sevastopol; he is either trying to hold it in place or attempting to stay grounded as gale-force winds blow all around him.
Unfortunately, his tight grip was not enough – a strong gust of wind swells the tent like a sail and then tosses the man a few meters upwards as if he were a feather.
After hitting the stairs, the man looks injured, but is able to limp away with the help of others who came running. The gazebo can be seen lying upside down on the ground after being completely banged up by the wind.
The footage also shows heavy rain and hail at the time of the incident.
#севастополь #Шторм#Севастополь #море#сентябрь #осень #2014 pic.twitter.com/fSC1t05pyv

— InstaKPbIM (@InstaKPbIM) September 26, 2014
There were other reports of winds overturning trees and breaking power lines in Crimea. Over 200 villages were left without power in the Black Sea peninsula following the storm, according to media reports.
The storm also hit most of Ukraine and bordering southern Russian regions, ripping off roofs and leaving many without electricity.
Шторм #севастопольpic.twitter.com/XJ7kHhmFQd

— Dmitry Baev (@Baevdn) September 25, 2014
Кому-то не повезло((( Соборна/Шаумяна, #Ростов #ураган #штормpic.twitter.com/cDXegMfK2r

— Виктория Морозова (@victorymorozova) September 24, 2014
...тем временем в Ростове☔⚡☁ http://t.co/IgOZBpPdbE #ураганвростове #непогода #ростов #осень #ураган #дождьpic.twitter.com/PJjFE2IW5d

— Мировой Репортер (@mirreport) September 25, 2014