#Bendgate fallout: Company aims to profit from pre-bent iPhone 6 Plus cases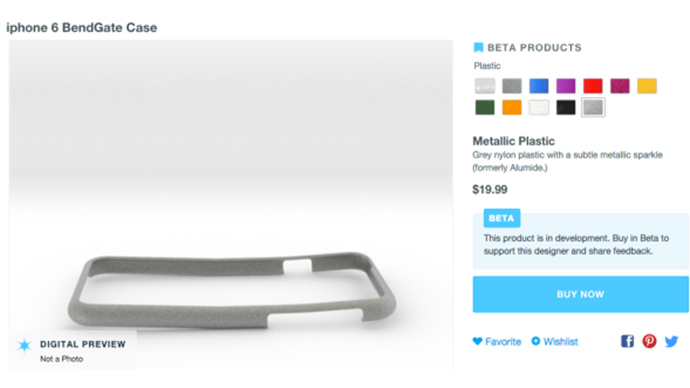 Smear campaign against Apple or not, one company is attempting to benefit from iPhone 6 Plus "bendgate" phenomena by releasing a pre-bent phone case. Meanwhile, internet users have joined Apple's competitors in a trolling mission against the tech giant.
READ MORE: If #bendgate wasn't enough: Apple withdraws iOS8 update after multiple fails reported
Shapeways, a 3D printing firm, has released a pre-bent iPhone 6 Plus case for the cost of $19.99. The company has also published 3D blueprints of the case for those who wish to print it on their own.
You'll be bending your phone to get one of these. #Bendgate#Bendghazihttp://t.co/B8M8P8BTXWpic.twitter.com/o45EwR3PIu

— happyfication (@happyfication) September 30, 2014
The product is still in the development stage and its success will depend on how many pre-orders Shapeways receives.
The #Bendgate social media hype began with some iPhone 6 Plus users reporting that their new devices bend when carried in pants pockets.
An avalanche of jokes followed, poking fun at Apple's unexpected new screen feature. Companies like Samsung, LG, Nokia, Pringles, and Heineken did not miss the opportunity to do their share of trolling.
Another #bendgate ad from Samsung. #BendAid. pic.twitter.com/xx06BmXrt0

— Stiven Agoubi (@StivenAgoubi) September 30, 2014
Nicht mal auf Biegen und Brechen. #unBENDable#bendgatehttp://t.co/XvwsR2iFdC

— Nokia Deutschland (@NokiaHomebase) September 25, 2014
Dear Apple… #BendGatepic.twitter.com/XJ8zVEUog9

— Heineken NL (@Heineken_NL) September 25, 2014
Countless numbers of users also trolled Apple on Twitter, posting images of their bent devices.
there i fixed it #bendgate@bendgatepic.twitter.com/tV1bwgNGWo

— drankpee (@drankpee) September 23, 2014
Shots fired #bendgatepic.twitter.com/dVleqaf5xg

— dory (@Kyriacz) September 26, 2014
iPhone 6 Plus Repair Kit #BendGate#BendGhazi#iPhone6bendhttp://t.co/GB64HM6dxupic.twitter.com/U9uqFFYdWX

— 9GAG (@9GAG) September 25, 2014
Popular European computer magazine Computer Bild posted a video showing one of its journalists bending an iPhone 6 Plus under pressure.
In a surprisingly harsh response, Apple has withdrawn the magazine's PR accreditation, indicating that it will no longer be sending test units to the publication or inviting it to Apple events.
Meanwhile, two British kids opened themselves up to a criminal investigation after entering Apple stores and recording themselves trying to bend iPhones, The Daily Dot reported.
Following what Apple has branded a smear campaign, the tech firm issued a statement, saying that due diligence was carried out when testing the 30,000 new iPhone 6 units, including hundreds of "torture tests" that pinpoint the device's weight and stress limits.
Meanwhile, Consumer Reports has tested just how bendable the new iPhone 6 Plus is, finding that it would take around 90 pounds (40.8 kg) of pressure for it to bend permanently.
The majority of similarly sized phones were also tested alongside the iPhone 6 Plus – and they were found to bend just the same under equal pressure, according to a video published by the magazine.