IDF: Suspects in 3 Israeli teens' kidnapping killed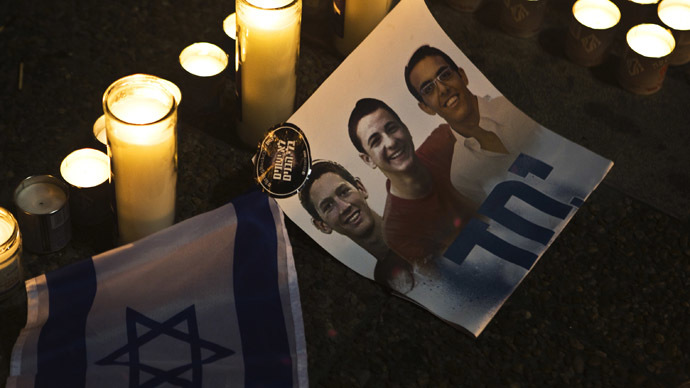 The Israeli army says it has killed two Palestinians suspected of kidnapping and murdering three Israeli teenagers in June, an incident stoking tensions in the region and eventually leading to sustained Gaza bombings.
The suspects were killed in a shootout which took place before dawn on Tuesday, the IDF said.
#BREAKING: Overnight, Amer Abu Aisha & Marwan Qawame - murderers of #EyalGiladNaftali - were killed in exchange of fire with IDF forces

— IDF (@IDFSpokesperson) September 23, 2014
Soldiers surrounded a house in Hebron, West Bank, with the two main suspects in the fatal kidnapping - Marwan Kawasme and Amer Abu Aysha – inside. The Palestinians eventually died in the exchange of fire.

"We opened fire, they returned fire and they were killed in the exchange," Israeli military spokesman Lieutenant-Colonel Peter Lerner said in a telephone briefing, cited by Reuters. "We have visual confirmation for one. The second one, we have no visual confirmation, but the assumption is he was killed."
SpecialForces engaged #Hamas terrorists Kawasme & Abu Aish they no longer pose a threat to #Israeli civilians. #IDFpic.twitter.com/iUCnxzfQDf

— Peter Lerner (@LTCPeterLerner) September 23, 2014
Three students Gil-Ad Shaer,16, Eyal Yifrah, 19, and Naftali Fraenkel, 16, went missing while hitchhiking in Gush Etzion, south of Jerusalem, on June 12.

The teenagers' disappearance sparked a massive door-to-door manhunt and hundreds of arrests in the Palestinian city of Hebron and surrounding villages in the West Bank, with the Israeli authorities accusing Hamas of the crime.

The teenagers were found dead almost three weeks after they disappeared. The Israeli Air Force bombed dozens of sites in the Gaza Strip hours after the dead bodies were discovered.

Hamas at first denied its involvement. However, the group's leader in exile - Khaled Meshaal - praised those who carried out the kidnappings.

It was only in late August that, a senior Hamas official, Saleh Al-Arouri, admitted for the first time, that members of the group's militant wing - Al-Qassam Brigades - were behind the kidnapping and killings.

Shortly after the bodies of the Israeli students were found, a 16-year-old Palestinian - Mohammed Abu Khdeir – was kidnapped and burnt alive. Three Israelis arrested for the crime confessed that it was a revenge attack.

The deaths of the teenagers have fueled increased tensions between Israel and the Palestinians and eventually led to the seven-week-long war in Gaza.

Some 2,100 Palestinians, mostly civilians, were killed in the attacks, according to Gaza officials. The death toll among the Israelis amounted to 67 soldiers and six civilians.
You can share this story on social media: