Hollande poll rock bottom: 85% oppose 2nd term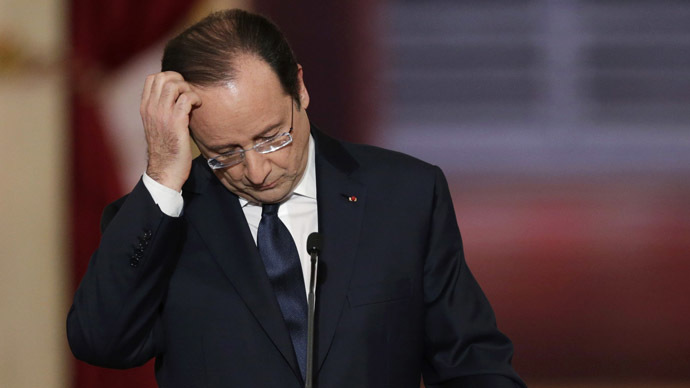 A poll in France has revealed 85 percent of the population does not want President Francois Hollande to seek a second term in 2017. His approval ratings have hit an all-time low, with just 13 percent of those asked saying he is doing a good job.
The survey was conducted by IFOP for the French weekly La Journal Du Dimanche and it made uncomfortable reading for Hollande. Fifty percent of those polled did not think that the French president was delivering on his promises. Unemployment is approaching a record high and is currently over 10 percent.
However, the under fire president has no plans to quit, saying at the recent NATO summit in Cardiff that he will not step down and will stay in office until his term runs out in 2017. His approval rating of just 13 percent makes him the most unpopular French president since the Second World War, in another poll conducted by TNS-Sofres.
Lambasted for his failure to get the economy up and running, his misery was compounded when a former partner published a tell-all book. Valerie Trierweiler described the 60 year-old as being dismissive of the poor, which contradicts his status as a socialist president.
"With the release of every new poll, I watched him disintegrate," Trierweiler wrote. "He needs to find someone to blame for the drop. It could never be him, so it had to be others and me."
Hollande has lost many of his core supporters from the left of the political spectrum, and has also suffered from discontent within his own cabinet. In late August, the French government was dissolved despite having being formed just 4 months earlier.
They quit after ministers slammed President Francois Hollande's plans for taxation and cuts, while also being critical of Germany's austerity program. Led by former economics minister, Arnaud Montebourg, they chastised Hollande for being fixed on high taxes and spending cuts, who they say should have be looking to cut taxes so as to increase spending power and help revive the economy.
Another poll, published by Le Figaro on Friday, showed that Hollande would lose a second round head to head presidential vote to the National Front leader, Marine Le Pen.
The leader of the far-right party said that the president should dissolve the National Assembly, France's lower house of parliament. She added that it was "more than necessary" and "the only responsible decision" Hollande would make since he became head of state five years ago.
"Francois Hollande tries to save time, but the damage is too deep," Le Pen argued. The National Front has seen a surge in popularity on the back of their anti-immigrant and eurosceptic policies. They have been winning voters from mainstream political groups, on both left and right, amid record unemployment and growing disenchantment with a discredited French political establishment.
It does seem that President Hollande does have one ally, as French Prime Minister Manuel Valls told BFM-TV from Bologna where he was meeting his Italian counterpart Matteo Renzi, that he was backing the embattled French head of state.
"I will not let myself be impressed by internal debates, and even less so by calls for resignation or dissolution and by a Far Right that believes it is close to gaining power," Valls said.
The French prime minister is also deeply unpopular amongst the electorate: an opinion poll at the end of August showed just 36 percent of the population are backing him.
Valls has also been endorsed by Hollande in the past. He was appointed to the position of prime minister in March in order to install discipline in the government. During Montebourg's revolt at the end of August, reports in the French newspaper, Le Parisien, said that Valls gave President Hollande an ultimatum concerning Montebourg and his outburst: "It's him or me. If you refuse, I will go."
The previous prime minister, Jean-Marc Ayrault, was dismissed for being too soft.
You can share this story on social media: