More than 10,000 French protesters clash with police over 'ecotax' (VIDEO, PHOTOS)
Thousands of people rallied in the town of Quimper in France's Brittany region on Saturday calling for a complete end to the controversial "ecotax." Police fired tear gas after demonstrators hurled stones and iron bars.
Farmers, food sector workers, fishermen, and others attended the protest, voicing concern over continuous layoffs and high taxes in the country. 
Some demonstrators reportedly threw stones and iron bars at police as they gathered for speeches before marching into the city. Officers responded by firing tear gas and water cannons. 
According to authorities, 10,000 people came out for the event. However, a protest organizer told French media that 30,000 people took part in the rally. 
French protesters wore red caps resembling the 17th century revolt against King Louis XIV's fiscal policies.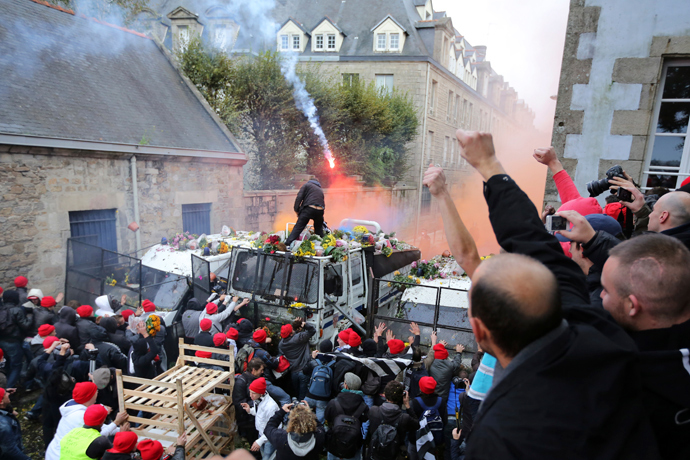 Demonstrators came out despite the government's Tuesday decision to "indefinitely suspend" the green tax on heavy goods vehicles transporting over 3.5 tons of commercial goods. The move followed public outrage from farmers and food sector workers in Brittany. Prime Minister Jean-Marc Ayrault stressed that the move was "a suspension, not a cancelation" of the tax.

As the northernmost region has less rail infrastructure than the rest of France, local businesses and farmers claim they are being unfairly penalized because most goods there have to be transported by road.

Residents of Brittany are angry as layoffs continue in their largely rural region. The majority of cutbacks are focused on the agricultural sector.


"How are we supposed to produce products that are made in France, made in Brittany, with all these taxes? It's impossible," a market gardener told France 24.
France is battling high unemployment and increasing taxes. The latest data revealed that at least 3.2 million people are now looking for work in the country. 
Meanwhile, Francois Hollande has become the most unpopular French president on record, according to an opinion poll conducted in October. Major complaints against the leader include tax hikes, unemployment, and immigration policy.
Hollande's approval rating dropped to 26 percent among those questioned in the BVA poll – the lowest level of any French president in the survey's 32-year history. 
The leader has announced a total of around three billion euros (US$4.1 billion) in tax increases for next year, prompting many to protest the measures.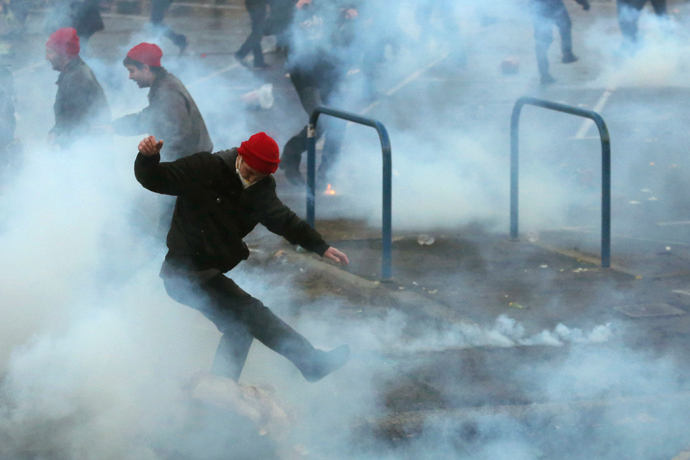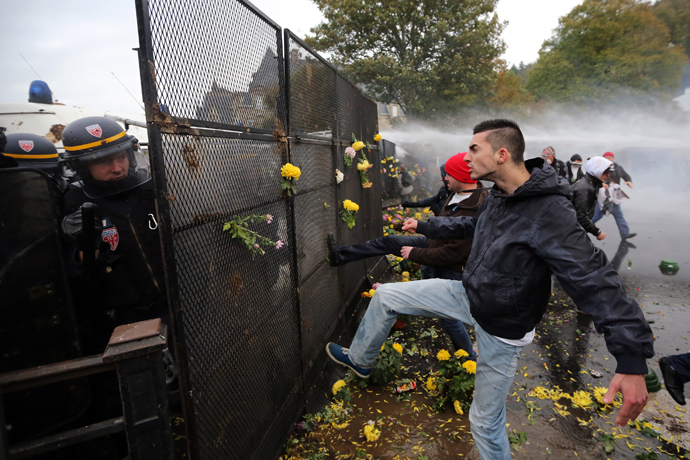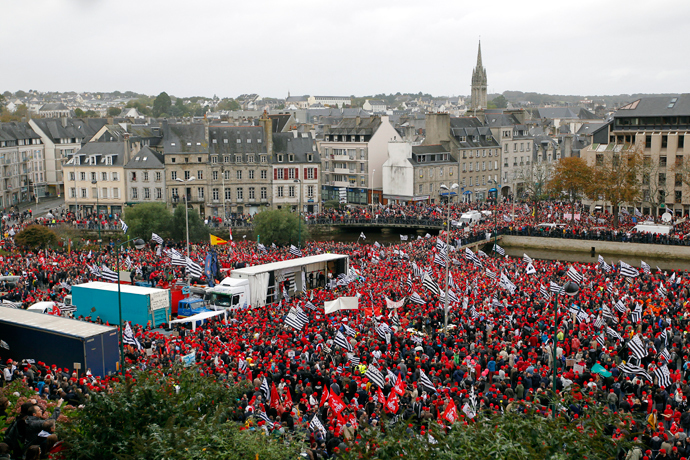 You can share this story on social media: