Hollande most unpopular French president in decades - poll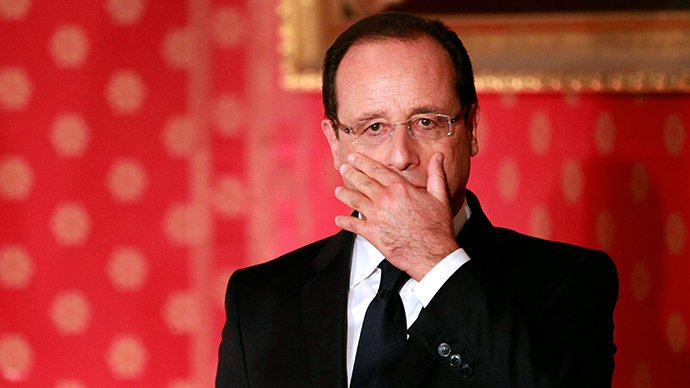 Francois Hollande has taken the spot of the most unpopular French president on record, according to an opinion poll. The main complaints about the leader include tax hikes, unemployment and immigration policy.
Hollande's approval rating dropped to 26 percent of those surveyed in October, a BVA poll revealed, which is the lowest level in the 32 years the survey has been conducted. 
"During the month of October 2013, Francois Hollande's rating dropped 6 points to 26 percent approval rating (versus 73 percent against) crossing the historical threshold of 30 percent approval and setting a historical record for unpopularity in France," the BVA survey said.
The Socialist leader's popularity began to sink soon after elections in May 2012. "Never in 32 years of the survey, has a president fallen below 30 percent," Deputy Director General of the Institute Gael Sliman told Le Monde.
The weak economy has made it tough for Hollande, with a high unemployment rate and tax hikes weighing in.  
The survey results also showed that 84 percent of the respondents said that government policy was not efficient and 74 percent stated it was unfair. 
The survey was conducted on October 24-25 and included a sample of 1050 French residents aged 18 and older. 
Hollande's rating recently fell even further in light of his stance towards the recently deported teenage Roma girl, who was taken off a school bus by French police, then deported with her entire family in October. The French president said the 15-year-old girl could return to France, but without her family, leading to further outrage.
Another reason for the loss of popularity is tax hikes. Heavy criticism forced the French government to abandon plans to increase taxes on popular saving programmes on Sunday, which were set to raise 600 million euros ($830 million) in revenues. 
Holland has announced a total of about 3 billion euros ($4.1 billion) in tax increases for next year, forcing many to protest the measures.
The leader's one year anniversary in office as head of state was marked with large-scale protests. Tens of thousands of leftists marched through Paris on May 6, expressing their discontent with Hollande's policies.
Another major source of public anger is skyrocketing unemployment, the worst in years, with 3.2 million French people now looking for work.
Other polls predict there is only more bad news in store for the president with the Harris Interactive poll conducted last week showing that 80 percent of French voters believe that Hollande will not win the next presidential election in 2017.
You can share this story on social media: