From 'Obama'... to Irish farmers! RT's crazy Ice Bucket Challenge Top 10
It's raised tens of millions of dollars around the world for the ALS cause while taking social media by storm over the last month. Millions have tried it with varying degrees of success and madness. RT brings you 10 videos from around the globe that rock.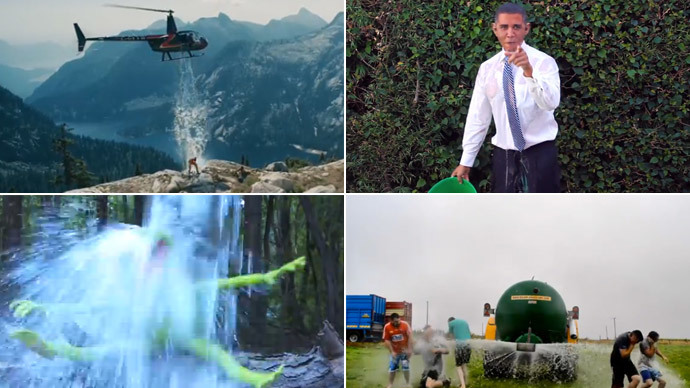 George W. Bush, Bill Gates and Diego Maradona now have one thing in common – they have all completed the Ice Bucket Challenge. Far from being a weird water sports, this is a campaign, which raises money and awareness to try and treat Amyotrophic lateral sclerosis (ALS), a muscle wasting disease.
The task is fairly simple. Participants have to pour a bucket of ice cold water over their head. Those taking part have the option to donate money to a fund or take the challenge, though many do both. After completing the task, the participant can nominate people to take the dare. They have 24 hours to complete it.
The craze started in late July and the Ice Bucket Challenge has become an instant hit around the globe. Below are some of the best… and worst attempts.
1. Ice hockey player Paul Bissonnette produced one of the most creative attempts to pull off the Ice Bucket Challenge, with the help of a helicopter and a mountain. He was nominated by former teammate Keith Yandle, whose good friend is suffering from ALS.
2. US President Barack Obama may have declined to pour a bucket over his head, but an impostor tried to give the impression that he did...
3. This may go down as one of the strangest Ice Bucket Challenges. However, a lack of ice, or a bucket, certainly didn't stop these Irish farmers from having a bit of fun.
4. US comedian Seth Myers did put the Bucket message across at the recent Emmy Awards ceremony. Drenched, he threw down the gauntlet to Russian President Vladimir Putin to take up the challenge.
5. The world's most famous amphibian proved this is not just a challenge for humans, even if he was a little worried that he would not make it through the ordeal.
6. This would-be Lady Godiva did not seem to mind pouring freezing cold water over herself. Unfortunately for her, her horse did...
7. This farmer got a little more than he bargained for in what has to be one of the longest soakings yet in the history of the Ice Bucket Challenge.
8. Another piece of high-powered machinery here, but they might just be taking the word "bucket" to new extremes.
9. Water is a precious resource in Gaza, especially following weeks of bombardment from Israeli forces. Therefore a Palestinian journalist came up with his own unique way of raising awareness for the plight of the children of Gaza: "The Rubble Bucket Challenge."
10. Don't try this at home!!! This man decides to substitute dry ice for 'real' ice...
Meanwhile, in Russia... Ok, this is from 2013, but this bonus video is just the bottom of the iceberg. These Russian navy officers decided to take a dip... in the Arctic Ocean from the top of their nuclear-powered submarine. Well, at least you definitely can't try that one at home...!
You can share this story on social media: