Rubble Bucket challenge: Palestine reporter adapts craze for Gaza peace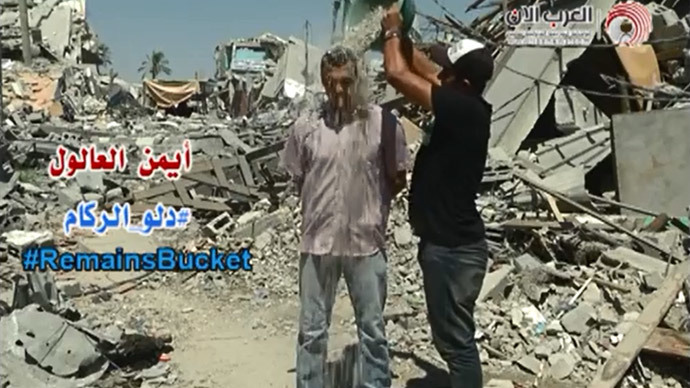 A Palestinian journalist has started a new internet trend in Gaza, "the Rubble Bucket challenge," playing on the popularity of the "Ice Bucket challenge," which has conjured up a social media storm.
While water is scarce in Gaza, rubble certainly isn't. After being bombarded by Israeli missiles for the last seven weeks, it can be found at almost every turn.
Therefore, Ayman Aloul decided to create the "Rubble Bucket challenge," which sees the participant pour a bucket of rubble over their head, rather than a bucket of ice cold water as in the Ice Bucket challenge. Initially, he named it #RemainsBucket, but Twitter trends it now as #RubbleBucketChallenge.
"I liked the idea of the ice bucket challenge, so I decided to invent the Palestinian version," Aloul said, standing next to a pile of rubble from a bombed out building, the Jerusalem Post reported.
The journalist, who started the trend to highlight the suffering of Palestinians affected by Israel's assault on Gaza, uploaded the video to his YouTube channel and it has certainly caught on.
— امل⬇️12.5 (@amal_h2) August 24, 2014
As with the "Ice Bucket challenge," participants are able to challenge people to take up the game.
"@Nbdgaza: #rubblebucketchallenge#Gaza#GazaUnderAttack - pic.twitter.com/XSkGYY9u5L"

— Hannah BP (@HannahBP2) August 24, 2014
While it is highly unlikely that Israeli Prime Minister Benjamin Netanyahu will take part, Jordanian comedian Mohammed Darwaza did not miss out on the opportunity to show some solidarity with the Palestinian people. He accepted the chance to pour some rubble over his head.
Monday marks the 50th day since Israel started its campaign in Gaza on July 8. The death toll has already reached 2,120, of which 577 are children, according to the Palestinian Health Ministry.
You can share this story on social media: