​US press freedom watchdog calls on Kiev to free Russian journo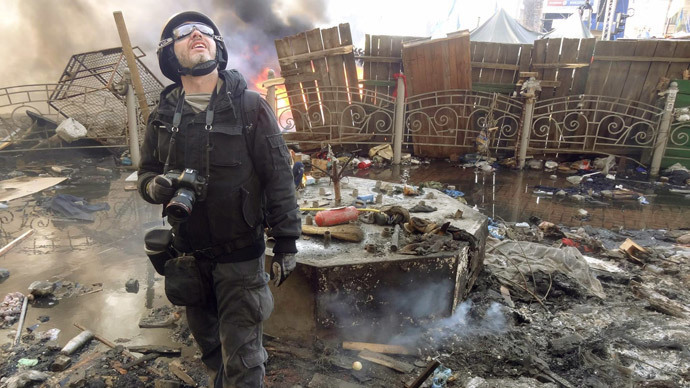 Kiev must clarify what happened to a Russian journalist who went missing in Ukraine, a US press freedom watchdog said after a Ukrainian police official said the correspondent was arrested, only to backtrack on his words hours later.
Andrey Stenin, a photojournalist contributing to several leading Russian and international news agencies like AP, Reuters, AFP,Rossiya Segodnya (RIA Novosti) and ITAR-TASS, disappeared in eastern Ukraine last week while covering the military campaign being conducted there by Ukrainian troops.
On Tuesday, Anton Gerashchenko, an adviser to Ukraine's interior minister, told Latvian radio station Baltkom that the journalist was arrested by the Ukrainian Security Service and stands accused of "aiding and glorifying terrorism." The official later backtracked on the statement, saying that it was only his assumption and that he had no "documentary proof" of Stenin's arrest.
The Committee to Protect Journalists (CPJ), a US-based organization promoting the freedom of the press and protection of journalists from persecution, called on Kiev to clarify what happened to the Russian journalist.
"We call on Ukrainian authorities to clarify the status of Andrey Stenin, who has been missing in the eastern part of the country for a week," CPJ Europe and Central Asia Program Coordinator Nina Ognianova said. "If Ukrainian authorities are indeed holding the journalist, they should release him immediately and allow the media to cover events freely."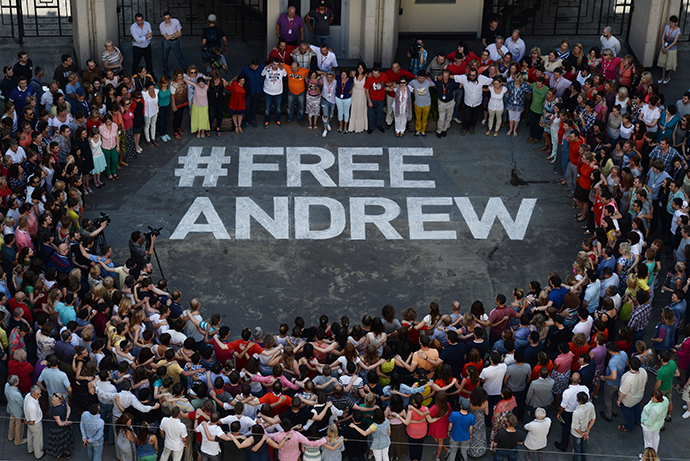 The organization noted that conditions of press freedom in Ukraine, especially in the eastern parts engulfed by warfare are volatile and deteriorating, with journalists being detained, attacked, abducted and killed.
Pictures of courage: A look at the acclaimed work of missing Russian photographer Andrey Stenin
Earlier other organizations promoting media freedoms and human rights, including the International Federation of Journalists, the European Federation of Journalists and Amnesty International called on Ukraine to investigate Stenin's disappearance, and release him if he has been arrested.
Meanwhile Russia has launched a criminal investigation into the suspected kidnapping of the journalist.
"We hope that the Ukrainian authorities would respond to our request for legal assistance and take necessary measures to free Andrey Stenin, whose only 'guilt' is the brave and honest fulfillment of his journalistic duty," spokesman for the Russian Investigative Committee Vladimir Markin said.
Kiev has a record of mistreating Russian journalist recently, with people working for LifeNews TV channel, Channel One TV, and RTTV among others subjected to attacks, detentions and expulsions. Stenin's case is arguably the worst so far, with his whereabouts remaining unknown for a week after his disappearances.
Stenin was covering the hostilities in eastern Ukraine, with his photos including soldiers of the Ukrainian army captured by the armed militia, results of Ukrainian artillery shelling of militia-held cities and the crash site of the Malaysian Airlines plane that was downed over Donetsk Region in July.