Ukrainian MP kicks out Russian journos from parliament, calls them 'spies' (VIDEO)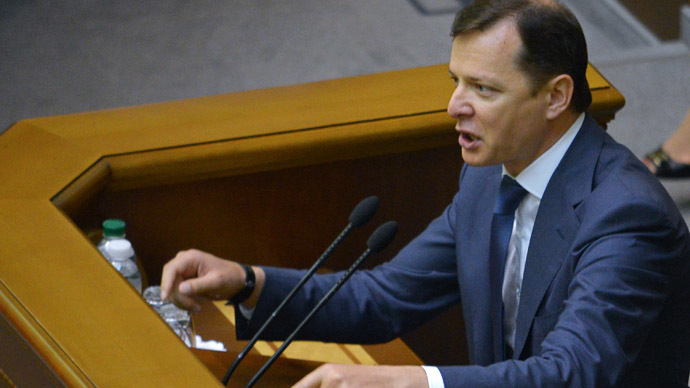 An Ukrainian ultra-radical MP has accused Russian journalists of espionage and thrown them out of the Verkhovna Rada, despite their valid accreditation to work in the country's parliament building.
"We were wrapping up work in Verkhovna Rada – shooting an interview in a lobby of the Parliament building – when Oleg Lyashko, famous for his scandalous behavior, ran over to us," VGTRK's Aleksandr Balitsky told RT.
The leader of the Radical Party, Lyashko has demanded the crew working for All-Russia State Television and Radio Broadcasting Company (VGTRK) show their accreditation cards and press credentials.
As the journalists provided the documents, Lyashko tried to tear up the accreditation card in pieces, but failed as the badges were laminated.
"You are deprived of accreditation," Lyashko declared and crumpled up the journalists' cards.
The journalists tried to reply, saying that Lyashko's actions were illegal.
"He started calling for security guards and demanded they expel us into the street. But security guards, unlike Lyashko, know the law and did not follow the order. They just stood aside, but Lyashko was grasping our hands and sleeves and thrust us out," Balitsky said by phone.
Lyashko, a former presidential candidate, tossed the Russian journalists out of Verkhovna Rada building, yelling "shame on you" and "get out of here."
Once in the street, Lyashko started shouting that "people with Russian passports can go back to Russia," Balitsky added.
"[I] Kicked out agents of Russian FSB operating in Ukraine under the guise of journalists of the TV channel "Russia" from Verkhovna Rada. Because of propaganda and subversive activities of these "journalists" there is bloodshed Ukraine, so toss out these collaborators of the occupants," Lyashko wrote on his Facebook page after the incident.
Moscow has reacted to the incident, saying it expects a proper response from human rights organizations, including from the OSCE, to what happened in the Rada on Friday.
"[…] the attack by the radical parliament deputy on VGTRK journalists and previously the kidnapping by Ukrainian secret services of LifeNews journalists and Russian TV channels being blocked are the parts of one vicious chain," Konstantin Dolgov, the Russian Foreign Ministry's commissioner for human rights, said.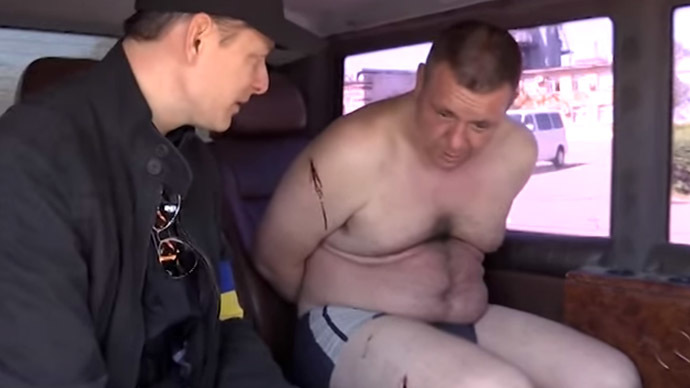 This is not the first time when Lyashko's has made headlines in the press for his behavior.
In a recent accident, Lyashko heckled former boxer Vitaly Klitschko, who was sworn in as mayor of Kiev. As Klichko was making his speech, Lyashko came to the rostrum and tried to grab the microphone.
In March, Lyashko was involved in a scandal as he abducted regional MP Arsen Klinchev over his opposition to the coup-imposed government in Kiev.
Lyashko forced Klinchev to call on the protesters to take down the Russian flag and free the administration building, while the MP was denying any authority over the people.
"You're scum, that's what I say. Now tell your people to go out of the Lugansk administration. And make a good face now, nobody will give you money, retard," Lyashko told the MP and then promised to hang him "by the balls" and "call an army to f**k you."
READ ALSO: 'I'll hang you by the balls and have you f***ed' – Ukrainian presidential hopeful abducts pro-Russian MP
There's also footage of Oleg Lyashko interrogating one of the leaders of the Donetsk People's Republic, Igor Khakmizyanov, half-naked and tied up, who was before that captured by one of Kiev's military units.
Lyashko took part in May 25 presidential elections, where he came third with a little over 8 percent of the votes, after oligarch Petro Poroshenko and ex-PM Yulia Tymoshenko.
Lyashko was expelled from Tymoshenko's Batkivschina (Fatherland) Party in 2010.
He also has a criminal record. In 1994 he was convicted of large-scale embezzlement and abuse of power and sentenced to six years in jail, but was amnestied a year later. His criminal record was expunged in 1998.
You can share this story on social media: