Putin: I'm concerned Ukraine radicals can disrupt gas transit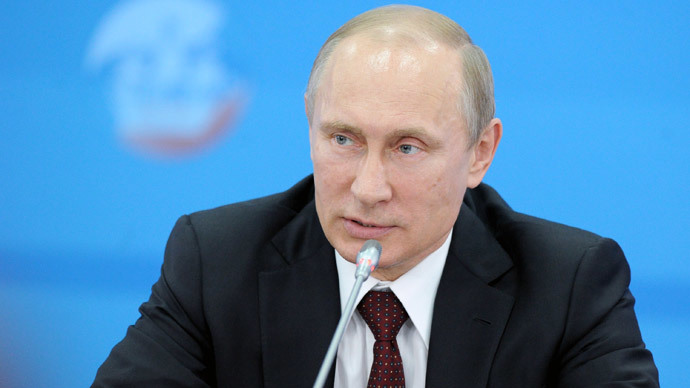 Russian President Vladimir Putin said he's concerned that Ukrainian radicals could cut supplies of Russian gas to Europe. Energy, Russia's strategic sector, shouldn't be disrupted by politics as it erodes efficiency and distorts processes, he added.
"We are seriously concerned by the statements of Ukraine's radicals, their straightforward threats to hinder transit to Europe," Putin said in his address to energy leaders during the last day of the 18th International Economic Forum.
"We hope common sense will prevail and it won't happen."
WATCH LIVE UPDATES FOR ST PETERSBURG ECONOMIC FORUM HERE
Putin said it was in everybody's interest "to make energy cooperation more efficient and mutually beneficial, to free it from the excessive, unnecessary politicization which is distorting the economic basis and principles of this strategic industry."
The president's comment comes amid the escalating conflict with Ukraine, which economically carries the threat of disruptions of Russia's gas to Europe.
Europe is Russia's key trade partner, with the turnover estimated at above $400 billion, Putin said on Friday.
About 70 percent of Russia's oil exports go to Europe, he confirmed.
On May 12 head of Russia's gas monopoly Gazprom said that if Kiev failed to pay its gas bill by June 2, exports to Ukraine would come to a halt the next day. Such a scenario naturally worries Brussels, as 50 percent of Europe's gas supplies enter the continent via Ukraine from Russian supply lines.
Currently Ukraine's gas debt stands at about $3.5 billion. Ukraine stopped making regular gas payments to Russia in July 2013. Russia has tried to provide reprieve to Ukraine's shattered economy by providing a $3 billion loan to the state as well as a huge gas discount for the first 3 months of 2014.
You can share this story on social media: