Gazprom to cut supplies to Ukraine from June if no prepayment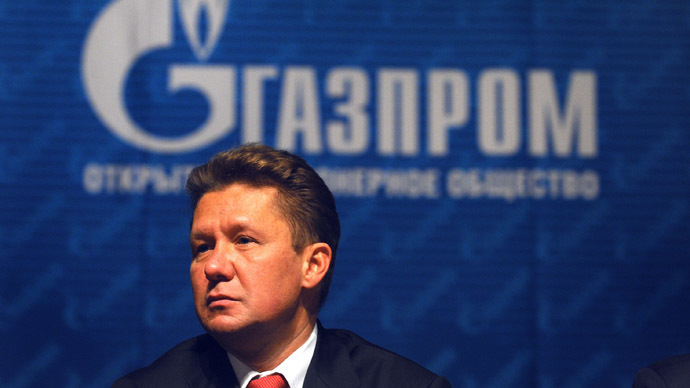 If Kiev does not pay its gas bills by June 2, exports to Ukraine will be halted the next day, Gazprom CEO Aleksey Miller said. Russian PM Dmitry Medvedev meanwhile urged demanding advanced payment from Kiev as early as Tuesday.
Miller told Medvedev on Monday that Gazprom will issue a preliminary June bill to Ukraine's Naftogaz on May 13. According to Miller, Kiev already owes the company more than $3.5 billion, which compares to Gazprom's annual gas supply to Poland.
"In case Ukraine does not pay for the June supplies, Gazprom will notify the Ukrainian side, before 10am on June 3, and the volume of gas will be supplied to Ukraine in accordance with the advanced payment," Miller said.
He added that if Kiev pays for zero cubic meters of gas, it will receive none.
Medvedev said that it is "time to stop nursing" Ukraine, urging Miller to switch to advance payment as early as Tuesday. He noted that Kiev has the money needed to pay back its debts.
"They have the opportunity to pay back before the end of May, to pay the needed sum or at least some part of it, in order to start related negotiations with Gazprom to demonstrate their willingness to settle the debts. So far, we have not seen see any willingness from the Ukrainian side, which is regrettable," Medvedev said, as quoted by Interfax.
Kiev had already received the first part of the International Monetary Fund (IMF) loan, the Russian prime minister said.
Russian energy minister, Aleksandr Novak, reminded that the sum received by Kiev from the IMF amounts to $3.2 billion of the total $17.1 billion agreed.
What's more, there are "alarming" signals coming from Kiev's authorities that they won't guarantee delivery of Russian gas to Europe, the minister said.
"The Ukrainian energy minister, Yury Prodan, conveyed alarming information saying that Ukraine does not guarantee gas injections to underground storages in the summer period… which means they do not guarantee the transit of gas to European countries due to the lack of resources – and the unwillingness to solve the problem in principle," Novak said.
The EU, which has been supporting the Kiev regime, should convince them to start paying for gas, Medvedev said.
"We have the right to expect that our European partners will send some signals to the Ukrainian authorities about the debts that have to be repaid," the Russian PM said.
Currently, as much as 50 percent of Russian gas supplied to Europe passes through Ukraine and around 30 percent of Europe's energy is imported from Russia, with some EU countries subject to complete dependence on Russian gas.
Under the present terms, Kiev has to pay $485 per 1,000 cubic meters of gas. The price tag was raised in April from $268.50, after Russia withdrew all sorts of discounts for Ukraine.
In April, Gazprom stopped the $100 discount it used to give Kiev under the Kharkov Agreement on leasing the Crimean port of Sevastopol to station the Black Sea Fleet, which is now part of Russia.
Kiev has rejected the new price as "politically motivated" and has been refusing to pay back the debt until Gazprom cancels the "unjustified and unacceptable hike."
While Kiev's authorities claim the new gas prices are much higher than any other European countries have to pay, it was revealed that Lithuania, for instance, had been paying Gazprom $485 per thousand cubic meters of gas until last week.
You can share this story on social media: