​Intl journalist organizations urge release of Russian photographer kidnapped in Ukraine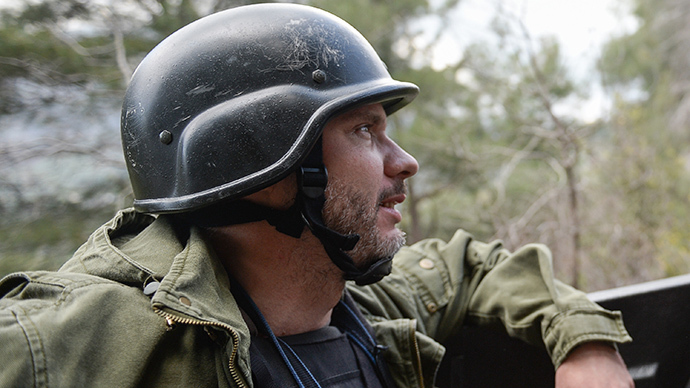 The International Federation of Journalists (IFJ) and the European Federation of Journalists (EFJ) voiced concern over the safety of Russian photographer Andrey Stenin, who has been missing for almost a week after reportedly being detained in E. Ukraine.
"We join our Russian affiliate, the Russian Union of Journalists (RUJ), to express our serious concern for the well-being of our colleague Andrei Stenin," said IFJ President Jim Boumelha, according to the organization's statement.
"If he has been detained in Ukraine then we appeal for whoever is holding him to release him immediately. He is a journalist, not a soldier, and as such is entitled to move freely and report the truth without the threat of intimidation, violence or detention," Bourmelha stressed.
Stenin, an experienced war photo-correspondent and employee of major news agency Rossiya Segodnya (Ria Novosti), was declared missing almost a week ago. Stenin was in the country working on a photo assignment.
The journalist is believed to have been with self-defense forces before he disappeared. An anonymous source in Donetsk told Ria Novosti that Stenin had been abducted by Ukrainian security forces.
Preliminary investigation results suggest that Stenin is in the local Ukrainian Security Services (SBU) headquarters. The SBU, however, denies the reports.
Stenin's work phone is functioning and was localized in Slavyansk, where, according to some reports, a military facility of the Ukrainian army is situated, Ria Novosti reports.
Earlier on, sources in Ukraine claimed that law enforcement in the country were preparing a criminal lawsuit against Stenin, claiming that Ukrainian authorities were going to accuse the journalist of complicity in war crimes.
#FreeAndrew: HRW demands justice for Russian journalist missing in E. Ukraine
Russia's Human Rights Council and Human Rights Watch condemned the apparent kidnapping. A number of investigations, as well as a massive Twitter campaign to free the 33-year-old, are currently underway.
An anonymous official with the EU also expressed concerns for the journalist, telling RIA Novosti that "a delegation in Kiev has been briefed on the situation and are standing by if any help is required in the investigation. We are gravely concerned for the safety of journalists, who work in extremely tough conditions in war zones...we will do our best to help."
The deputy spokesman for the UN secretary-general, Farhan Haq, told Ria Novosti on Monday that "we don't have anything specific to say beyond expressing the hope that he will be found and will be safe."