​'No compromise': Big business won't pressure Putin over sanctions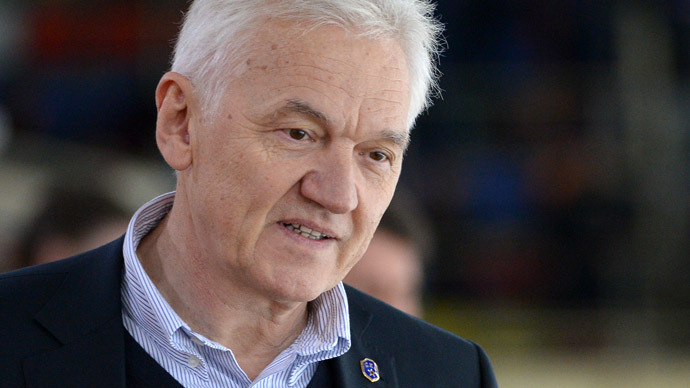 The big Russian businesses hurt by Western sanctions against Russia won't even think about putting pressure on President Putin, because the interests of the state are at stake in the conflict, says a reputed presidential 'inner circle' figure.
"This is out of the question," Gennady Timchenko, who is one of the few Russian businessmen personally targeted by the US-championed sanctions, told ITAR-TASS.
"In any situation Putin is guided by the interests of Russia. Period. There can be no compromise about it," he said. "[Captains of industry] wouldn't even thing about discussing it. Sanctions pose certain difficulties, but they are trivial next to the scale of the state's goals."
Timchenko is the owner of the private investment group Volga Group and former co-owner of oil trader Gunvor Group. He is estimated to worth between $12 billion and $16 billion.
'Ready to live under sanctions'
Timchenko is among those few Russians who have been directly affected by the worst crisis in US-Russia bilateral relations since the Cold War.
Being banned by Visa and MasterCard, he now uses cash or the Chinese Union card for payments. He had problems paying for his wife's treatment at a German hospital, because banks would not accept his transfer. But he says this won't affect his position.
"I have the inner readiness to live under sanctions," he said.
Timchenko says he is now cautious about traveling to Europe, even though, unlike the US, the EU hasn't banned him from entering the 28-nation bloc.
"Alas, I have serious reasons to be cautious of possible provocations from the US special services. Trust me, those are not speculations, but quite tangible information, the details of which I cannot make you privy to yet for obvious reasons," he said.
He is also not using computers much and minds what he says on his cellphone.
"Mr. Snowden taught us to be more careful with devices. Of course I speak on the phone, but I keep in mind that not only my vis-à-vis is listening."
'US blackmailing Europeans'
The influence the US has over the world makes Washington reckless and uncaring about how other countries take it, Timchenko believes.
"Even the largest European banks are hostage to the world financial system, which is controlled by the US. They can do whatever they want to whoever they want," he said. "Don't you know how vigorously they are convincing the French to cancel the contract with Russia on Mistral assault ships, offering to reduce the fines against BNP Paribas for their dealings with Iran, Sudan and Cuba?"
"Calling a spade a spade, this is outright blackmail. The US State Department doesn't hesitate to call top managers of the European banks and dictate which accounts of Russians should be blocked. Many prefer not to take any chances and follow the 'advice' from their partners across the ocean."
The Russian billionaire believes there is an emotional component to America's current attacks on Russia.
"The US certainly can hurt us more, do some damage to the economy, to the financial sphere, find some pain points. But our position is clear and rightful," he added. "Russia is a sovereign state defending its sovereign interests. I believe the Americans are angry at us in the first place because we didn't just roll over like everyone does. That's why the reaction was so hostile."
'Ties with Putin overrated'
Speaking of his relations with Vladimir Putin, Timchenko said it's overrated by some media, even though the two have known each other for some two decades. The access doesn't give him influence over Russia's politics, he said.
"First, we don't meet as often as many believe. And second, I never mess with things I have no expertise in. I am not a politician and I don't believe it proper to speak on such issues," the businessman said.
"Everything comes at a cost. Including contacts with a country's leadership," Timchenko added, saying that the hope that Western sanctions would force him and his fellow big businessmen to pressure the Kremlin are futile. "One would be naïve to think that such methods would scare us and make fall back. Don't try to pressure Russia. Blackmail is counterproductive. We will endure everything and find a way out."
You can share this story on social media: