Israel calls off Friday's 72-hour ceasefire as sides slip back into fighting
At least 50 Palestinians have been killed in the Gaza strip on Friday, with Israel also alleging that Hamas had fired early morning rockets. This latest, 72-hour UN-brokered ceasefire, has now officially collapsed.
Israel launches ground incursion in Gaza Strip LIVE UPDATES
Soon after the ceasefire started at 8am local time (05:00 GMT), an Israeli tank opened fire in the southern Rafah area, the Gaza Interior Ministry said. At least 40 people were killed in the attack, hospital officials told Reuters. That number later climbed to 50 at around midday GMT, with a further 220 wounded.
Israel insisted that the IDF was only responding to Hamas attacks.
"Hamas violated the humanitarian ceasefire which began this morning by firing rockets at Israel from Gaza," the Jerusalem Post cited the Israeli Foreign Ministry as saying.
The statement went on to allege how it took Hamas "two hours and four minutes to violate the ceasefire."
Israeli media said that two rockets were intercepted by its Iron Dome defense system over Merhavim Regional Council in the last rocket attack. No injuries were immediately reported.
Reports are emerging that the ceasefire agreement between Hamas and Israel has been broken, Israel's military coordinator in Gaza told the UN's Robert Serry, Haaretz said.
Egyptian authorities have called off truce talks they were hosting between Israel and Hamas, a Palestinian source told Ahram Online, speaking on condition of anonymity.
The source added that Israel has decided to end the 72-hour ceasefire.
Masses of people are fleeing renewed Israeli bombardment in #Gaza -we are on same road-scenes of chaos & desperation pic.twitter.com/WtAmr6hsv9

— Stuart Webb (@Worldwidewebb1) August 1, 2014
The agreement between Israel and Hamas to pause their hostilities was announced earlier by US Secretary of State John Kerry and UN Secretary General Ban Ki-moon in a joint statement
"We urge all parties to act with restraint until this humanitarian ceasefire begins, and to fully abide by their commitments during the ceasefire," the statement said.
"This ceasefire is critical to giving innocent civilians a much-needed reprieve from violence. During this period, civilians in Gaza will receive urgently needed humanitarian relief, and the opportunity to carry out vital functions, including burying the dead, taking care of the injured, and restocking food supplies," Kerry and Ban continued. "Overdue repairs on essential water and energy infrastructure could also continue during this period."
Israeli and Palestinian delegations were scheduled to begin negotiations in Cairo on a more permanent ceasefire mediated by the Egyptian government.
A representative of Hamas independently confirmed the ceasefire agreement.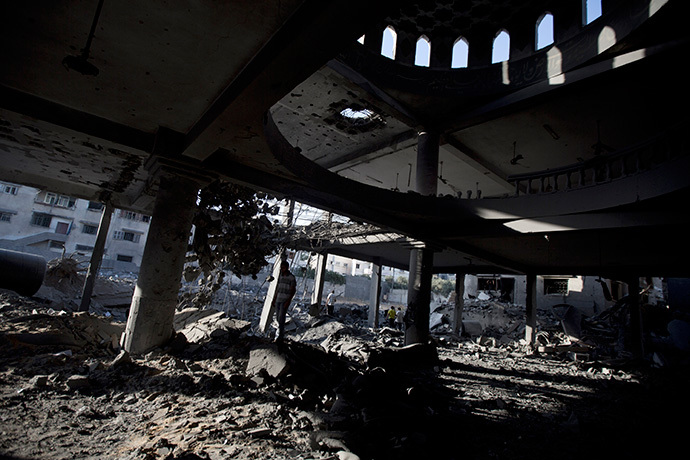 "Acknowledging a call by the United Nations and in consideration of the situation of our people, resistance factions agreed to a 72-hour humanitarian and mutual calm that begins... on Friday as long as the other side abides by it," Hamas spokesman Sami Abu Zuhri told Reuters.
"All the Palestinian factions are united behind the issue in this regard," Abu Zuhri said.
Earlier on Thursday, Israeli Prime Minister Benjamin Netanyahu announced that the IDF will complete the destruction of Hamas, no matter what.
"We are determined to complete this mission with or without a ceasefire," Netanyahu said at the start of a cabinet meeting in Tel Aviv. "I won't agree to any proposal that will not enable the Israeli military to complete this important task for the sake of Israel's security."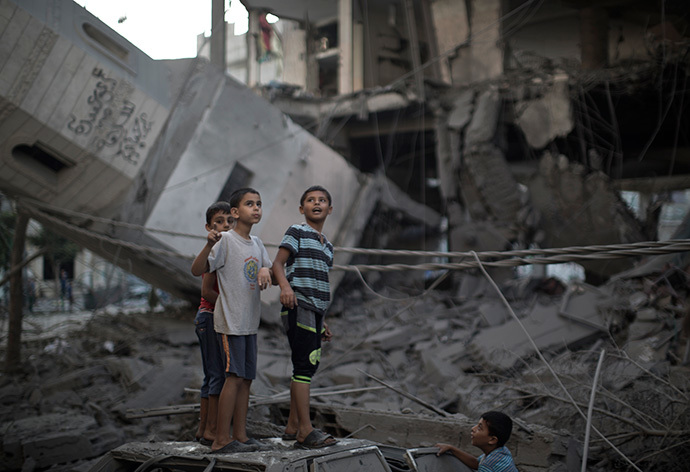 "Hamas has taken harsh blows from the IDF and ISA," he said. "We have struck hard at thousands of terrorist targets: command centers, rocket arsenals, production facilities, launch areas and hundreds of terrorists have been killed."
After 24 days of IDF's mission, according to the Palestinian Ministry of Health, the new death toll stands at no less than 1,437 people, Maan reports. On Thursday, 79 Palestinians were killed and 350 injured, health ministry spokesman al-Qidra said in a statement. The toll of those injured now stands at 8,265 people.
You can share this story on social media: