US resupplying Israel with ammunition even after condemning shelling of Gaza school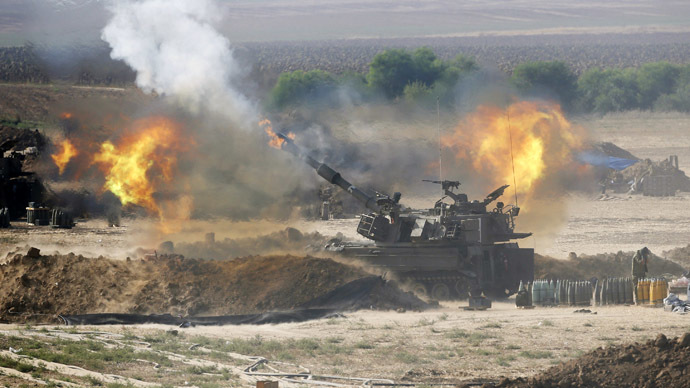 No sooner than the White House condemned the shelling of a United Nations-operated school in Gaza on Wednesday did news break that the Pentagon will supply the Israeli military with new ammunition to further their campaign on the war-ravaged city.
That afternoon, CNN reported that the United States military will be honoring a request from Israel for assistance in the midst of their weeks-long campaign against militants from Hamas residing in Gaza City.
According to the network, Pentagon officials have confirmed that the US will honor a request from Israel for several types of ammunition, including 120mm mortar rounds and 40mm ammunition for grenade launchers. The exchange will not be an emergency sale, the unnamed officials said, and is coming from a stockpile of weapons maintained by the US in Israel worth more than $1 billion.
Only moments beforehand, however, the White House officially spoke out against an attack attributed to the IDF from earlier that day on an UN Relief and Works Agency school in Gaza's Jabaliya refugee camp. Officials in Gaza say the shelling killed at least 15 and wounded 90 others, and is but the latest strike waged by the IDF in a war against Hamas that continues to claim the lives of Palestinian civilians caught in the crossfire.
"The United States condemns the shelling of a UNRWA school in Gaza, which reportedly killed and injured innocent Palestinians – including children – and UN humanitarian workers," Bernadette Meehan, a spokesperson for US President Barack Obama's National Security Council, said in a statement.
Here's the full statement from NSC's Bernadette Meehan pic.twitter.com/LjEbJc23WA

— Zeke Miller (@ZekeJMiller) July 30, 2014
"We are extremely concerned that thousands of internally displaced Palestinians who have been called on by the Israeli military to evacuate their homes are not safe in UN designated shelters in Gaza. We also condemn those responsible for hiding weapons in United Nations facilities in Gaza. All of these actions, and similar ones earlier in the conflict, are inconsistent with the UN's neutrality. This violence underscores the need to achieve a cease-fire as soon as possible."
The White House neglected to blame Israel by name for the attack, but both a military spokesperson and a lieutenant colonel in the IDF admitted the nation's role in the offensive to New York Times journalists reporting from Gaza on Wednesday.
Palestinian militants "opened fire at Israeli soldiers from the vicinity" of the school early Wednesday, the spokesperson told the paper, and Israeli troops "responded by firing toward the origins of the fire."
Pierre Krähenbühl, the commissioner-general of the UNRWA, tweeted that Wednesday's attack was the sixth time one of his organization's school have been hit by one of these strikes.
"Children, woman and men killed [and] injured as they slept in place where they should have been safe and protected. They were not. Intolerable," he wrote in one Twitter post' "Our staff leading [international] response are being killed. This is a breaking point," in another.
Children, women and men killed & injured as they slept in place where they should have been safe and protected. They were not. Intolerable.

— Pierre Krähenbühl (@PKraehenbuehl) July 30, 2014
This is 6th time one of our @UNRWA schools has been struck. Our staff leading int'l response are being killed. This is a breaking point.

— Pierre Krähenbühl (@PKraehenbuehl) July 30, 2014
Last week, the UN Human Rights Council agreed to investigate the "widespread, systematic and gross violations of international human rights and fundamental freedoms" that have been attributed to Israel since their latest campaign on Gaza launched on June 13. Twenty-nine countries approved the motion, with the US being the only abstainer.
As Israel's operation escalated through the weekend, on Monday the UN Security Council finally called for both Israel and Hamas "to accept and fully implement the humanitarian cease-fire into the Eid period and beyond." Just two days later, the Pentagon will reportedly now re-supply one of the two parties at war with additional ammunition.
The Palestinian Ministry of Health in Gaza said earlier this week that at least 1,242 people there have died since the latest Israeli operation began. As many as 80 percent of the dead may be civilians, the UN has estimated.
You can share this story on social media: