UN relief agency spokesman bursts into tears over deaths of Palestinian children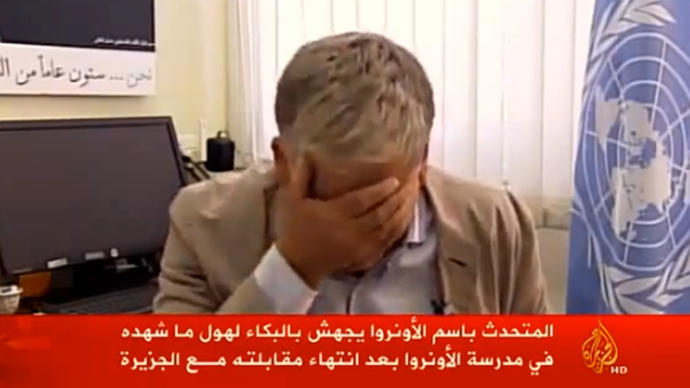 A spokesman for the United Nations Relief and Works Agency (UNRWA), which provides aid to Palestinians in Gaza, broke down in tears during a TV interview in the aftermath of Wednesday's fatal attack on a UN-run school, used as shelter.
Twenty people were reportedly killed after a shell hit the UNRWA school in Jabalia, Gaza, where 3,300 people had been taking refuge.

Chris Gunness, a spokesman for the UNRWA, was unable to check himself while giving an interview to Al Jazeera Arabic the same day.

"The rights of Palestinians, even their children, are wholesale denied," he official said before breaking down sobbing in front of the camera.
"There are times when tears speak more eloquently than words. Mine pale into insignificance compared with Gaza's," Gunness said, as cited by Reuters.
In a promptly-released condemnatory statement, the UN said its evidence suggested Israel was behind the attack.

"Children killed in their sleep; this is an affront to all of us, a source of universal shame," the statement read.

The attack in Jabalia was the sixth time UN-run schools have been hit during Israel's current campaign.
UNRWA condemns in the strongest possible terms this serious violation of international law by Israeli forces RT

— Chris Gunness (@ChrisGunness) July 30, 2014
The Israeli military said it was still investigating the incident, and claimed the troops had to fire back after Palestinian militants fired mortar shells from the vicinity of the UNRWA school.
The heart-breaking aftermath @ the UNRWA school in #Gaza hit directly by Israeli shelling RT pic.twitter.com/8deDROqDel

— Chris Gunness (@ChrisGunness) July 31, 2014
According to the UNRWA Commissioner-General Pierre Krähenbühl, those sheltering in the attacked school were people who were instructed to leave their homes by the Israeli army.
"The precise location of the Jabalia Elementary Girls School and the fact that it was housing thousands of internally displaced people was communicated to the Israeli army 17 times, to ensure its protection; the last being at 8:50 pm last night, just hours before the fatal shelling," the official said.
UN struggling to cope with humanitarian disaster
The UN agency in Gaza has been struggling to cope with the increasing flood of refugees in the region amid a humanitarian crisis as a result of ongoing violence between Israeli forces and Palestinian fighters.
"UNRWA is overwhelmed in Gaza. We have reached breaking point; our staff are being killed, our shelters overflowing. Where will it end ... UNRWA now has 225,178 displaced in 86 shelters. But Gaza is being destroyed. So when the war is over, where will these people go?" Gunness said.
The organization said that due to a lack of resources and an increasingly deteriorating security environment, it "does not have infinite capacity to absorb an increasing IDP influx." The remaining empty UNRWA schools "are either inaccessible or unsafe, and other shelter solutions, for example tents, are not viable options for Gaza," the agency said in a statement.
Imagine being a disabled child @ an UNRWA facility hit by Israeli artillery. Weep for the pitilessness of it all RT pic.twitter.com/DetmukHyzh

— Chris Gunness (@ChrisGunness) July 31, 2014
Additionally, given the lack of clean water and sanitation facilities in the shelters, the aid agency fears a public health disaster. Food, medicine and insecticide are also in short supply. Besides that, the UN said that hundreds of thousands of traumatized children would need urgent psychiatric counseling.
On Thursday, the UNRWA made an urgent appeal for $187 million to buy beds and basic supplies for those for the refugees and to stem the rise of diseases, according to Reuters.
Gaza officials say at least 1,361 Palestinians, most of them civilians, have been killed in the Israeli offensive on the enclave. Israel says it lost 56 soldiers in the conflict. Eight UN employees have also been killed in the conflict.
"Nothing and nobody is safe in Gaza," the UNRWA said.
You can share this story on social media: