'World stands disgraced': 20 killed in Israeli UN school shelling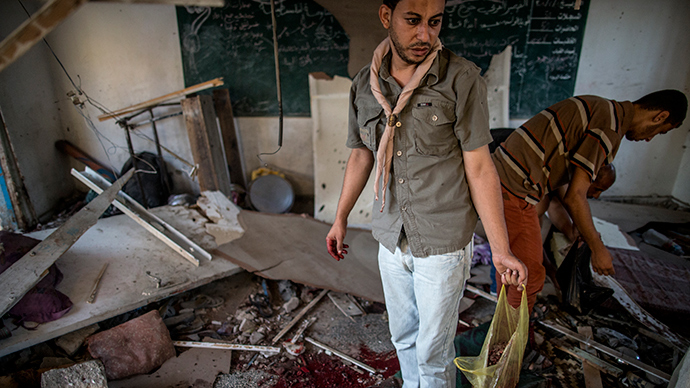 Twenty people have been killed after a shell hit the UNRWA girls' school in Jabalia refugee camp, emergency services say. The UN condemned Israeli actions in the strongest possible terms, calling them a serious violation of international law.
A UN official confirmed the shelling, saying that the missile hit a bathroom and two classrooms in the school, AFP reported.
+15 killed by #Israel in #UN#School in #Gaza - Including @UN staff | http://t.co/VUhhDBPv2Z#GazaUnderAttackpic.twitter.com/nYlDTgfFpu

— JOIN US ░▒▓███ ➽ ♻ ▲ (@Join____Us) July 24, 2014
The outer wall of the complex was damaged by shellfire, and in a targeted classroom people were picking body parts off the blood-soaked floor, according to the agency's correspondent in the area.
More than one shell hit the school. The first in the courtyard and the second a section primarily used by female pupils, RT contributor Harry Fear reported from the scene. Currently, over five UN schools are caught in the fighting, he added.
The shelling happened after 5:30am local time (02:30 GMT).
Almost 15,000 Palestinians were forced to seek shelter in 83 UNRWA schools, according to the UN refugee agency.
WATCH: Hamas hides their weapons in civilian buildings: schools, mosques & hospitals. http://t.co/3jnTCWi4cV

— IDF (@IDFSpokesperson) July 30, 2014
The UN relief and works agency for Palestine refugees in the Near East (UNRWA) has strongly condemned the Israeli shelling of a UN school last night.
"Children killed in their sleep; this is an affront to all of us, a source of universal shame. Today the world stands disgraced," UNRWA Commissioner-General Pierre Krähenbühl said in a statement on Wednesday.
"I condemn in the strongest possible terms this serious violation of international law by Israeli forces," he said, calling on the international community to take deliberate international political action to put an immediate end to the continuing carnage.
Senior UN aid official John Ging meanwhile informed reporters that this was the fifth UN school that had been struck during the 23-day conflict.
"These locations are not safe. Nowhere is safe," Ging said. "They are being told to flee areas, get out of areas, but to where? Where should they go?" he wondered.
"If this were a conflict elsewhere in the world they would at least have the option of crossing borders and seeking sanctuary in neighboring countries. They don't have that option," Ging said.
Commenting on the ongoing IDF operation in Gaza, the United Nations said "enough is enough" saying that civilians have no place to hide from the Israeli onslaught.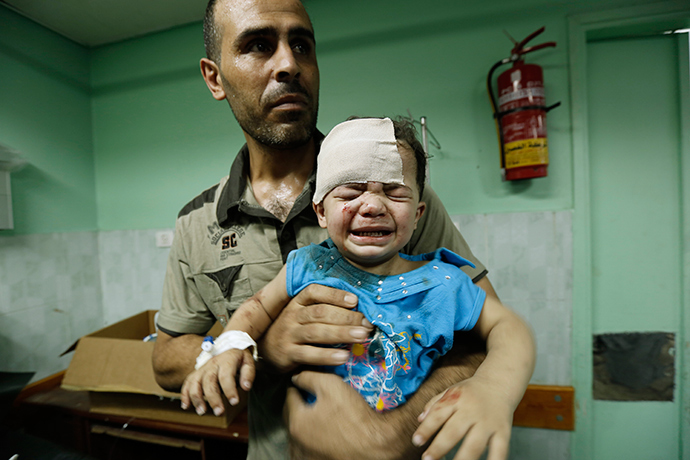 "This is a moment where you really have to say 'enough is enough' and you have to search for the right words to convince those who have the power to stop this," said UN Deputy Secretary-General Jan Eliass.
Eliass questioned Israeli tactics of dropping warning leaflets and making calls ahead of renewed military shelling. "Where do they go? There's very few places to go in Gaza."
The United Nations is protecting more than 200,000 people at its facilities, some 1.8 million people live in Gaza.
On Wednesday, the IDF announced a unilateral four-hour humanitarian ceasefire in Gaza beginning from 3pm local time (12:00 GMT).
The IDF also warned Gaza residents not to return "to areas from which they have been asked to evacuate."
According to the latest death toll given by the Palestinian Health Ministry, 129 people were killed and at least 400 people wounded on Wednesday in the Gaza Strip in the ongoing IDF operation. The death toll now stands at 1,359 people with 7,677 wounded.
It's not the first time that an UNRWA facility has been targeted in Gaza: on Tuesday, the UN refugee agency stated that it had found a cache of rockets at one of its schools in the Gaza Strip.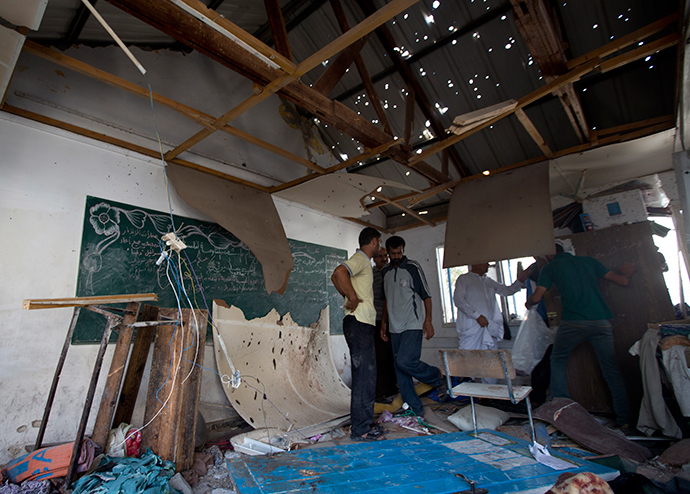 The agency condemned those responsible for the action.
"We condemn the group or groups who endangered civilians by placing these munitions in our school. This is yet another flagrant violation of the neutrality of our premises. We call on all the warring parties to respect the inviolability of UN property," UNRWA spokesman Chris Gunness said in a statement.
Israel holds no responsibility for the deaths of people during the shelling of the Gaza school, Israel's ambassador to Russia said in her official statement on the issue.
"Regarding the Hamas accusing Israel of shelling and inflicting damage on the school, after a probe by the Israeli army, it turned out that the school in Beit Hanoun was empty during the shelling," Dorit Golender said.
She added that Hamas allegedly regularly uses civilian buildings like schools and hospitals to store weaponry.
"Three missiles were found hidden in UN schools. The latest incident was reported at 3am on Wednesday," Golender said.
The shelling came as a Palestinian delegation was preparing for a trip to Cairo to discuss a temporary humanitarian ceasefire.
The Under Secretary General for Humanitarian Affairs and Emergency Relief Coordinator, Valerie Amos has condemned the intensity of the violence in Gaza, as another UN school serving as a shelter was hot in what she called a "gross violation of international law".
"Yesterday the UNSCO/UNOCHA Headquarters in Gaza was hit five times over a period between 1 a.m. and 2 a.m. Gaza's sole power plant was also hit and is unlikely to be operable for the foreseeable future leaving most homes with an average of 2 hours of electricity per day," she said.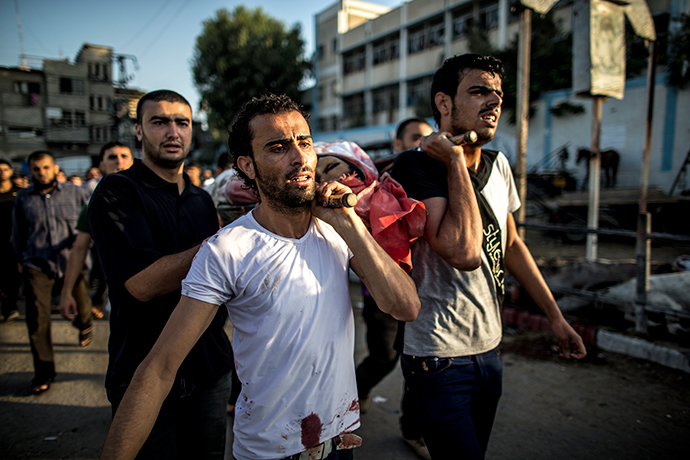 You can share this story on social media: