Masked mob savages newspaper office in Kiev (PHOTOS, VIDEO)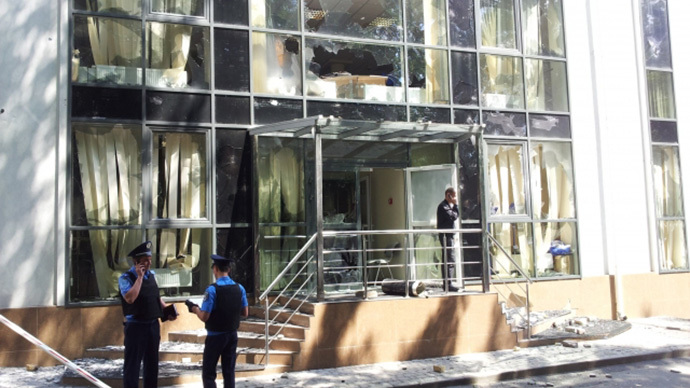 A crowd of around 50 masked men with stones and flares has attacked and vandalized the office of Kiev's Vesti newspaper. The paper's security guard was beaten as the mob shattered the windows and filled the building with tear gas.
A large group of unidentified people wearing masks attacked the newspaper office on Saturday morning, the Ukrainian Interior Ministry has confirmed. The investigators classified the incident as an "act of hooliganism."
One of the first reports of the assault came from the publication's nightshift editor Grigory Grin.
"At first I heard several shots, most probably from an automatic weapon. Then stones and Molotov cocktails flew into the windows on the ground and first floors. After that tear gas was blown into the building, which very quickly filled the whole office - it's still difficult to breathe there. One of the security guards, who tried to oppose the bandits, was beaten," Grin wrote.
"Apparently their task was to quickly ransack [the office] and in the same timely manner escape, to avoid being detained by law enforcement," he said, adding that the attackers also tried to get inside the building.
Shortly before the attack the newly-elected mayor of Kiev Vitaly Klitschko had a meeting with journalists, at which the matter of the security of press in Kiev was raised.
It is not the first time Vesti has faced threats and violence, the newspaper staff said, claiming there was a criminal case fabricated against them which dragged and the organizers decided to turn to "direct violence."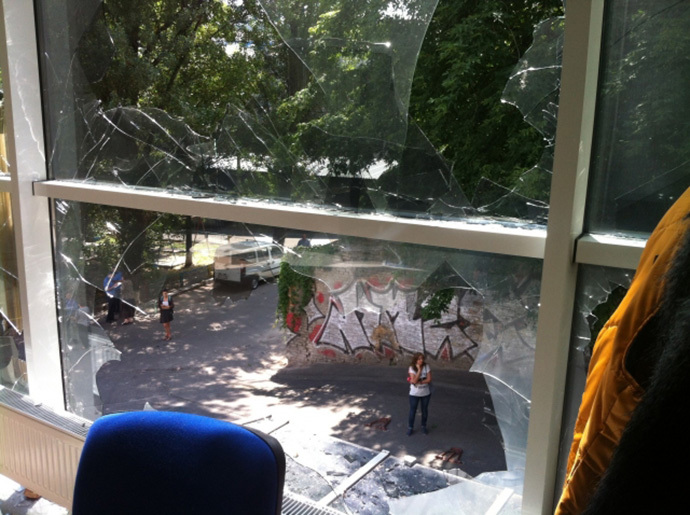 "We consider it to be an act of terror and intimidation," the newspaper wrote in an open letter to the country's president and prime minister. Just a week ago an angry crowd, organized by Ukrainian MP Igor Lutsenko, picketed their office, the newspaper writes. "It is the last peaceful action against Vesti," Lutsenko said at the time, according to the paper.
"Those who set to destroy us tomorrow won't have any moral issues with destroying any other 'vicious' media or TV channel," the newspaper writes. "Their purpose is to destroy all the media non grata."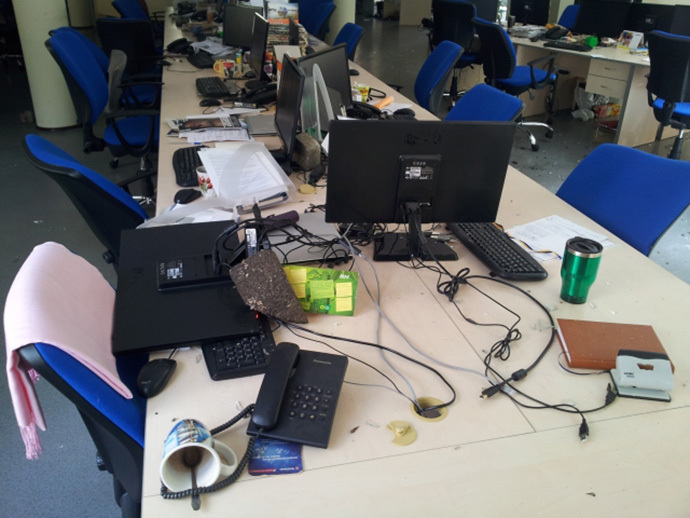 Ever since the beginning of Ukrainian crisis media in the country been facing pressure to paint a "consistent" image of events. Soon after the February coup, the head of Ukraine's National TV was abused and forced to resign over his "not patriotic enough" angle. In the meantime, all Russian TV channels were banned and many journalists prevented from entering the country – while those already inside faced kidnapping, arrest and deportation.
Three Russian journalists and one Italian were killed in Kiev's indiscriminate shelling of eastern cities during the ongoing so-called "anti-terrorist operation."
Despite the international outcry and many human rights organizations, including the OSCE and Human Right Watch, who said that Ukraine was "dangerously interferingwith press freedom" and if that trend continues the consequences would be "too graveto even imagine."