'No chance to survive': Rossiya TV journalists Kornelyuk and Voloshin killed in Ukraine shelling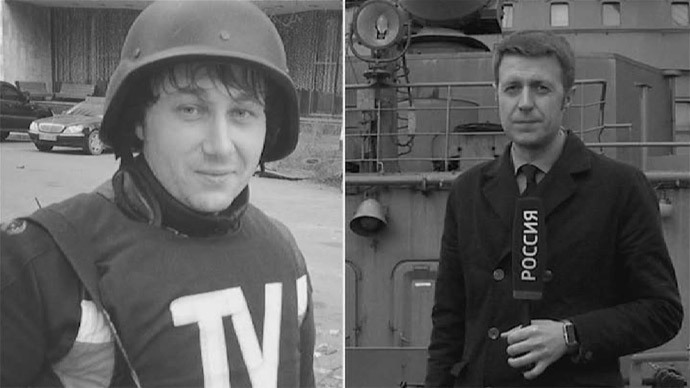 ​Born and raised in Ukraine, Igor Kornelyuk worked as a journalist for over 15 years. He went to Ukraine to cover bloodshed there, but never returned home. His colleague sound engineer Anton Voloshin was killed alongside him in Ukraine's army shelling.
Igor Kornelyuk and Anton Voloshin both worked for Rossiya TV channel. They are the first Russian journalists to have died while on professional duty in Ukraine since the coup in Kiev and the beginning of civil unrest in eastern regions.
There were three of them: reporter Igor Kornelyuk, sound engineer Anton Voloshin and cameraman Viktor Denisov, who miraculously survived the shelling.
On Tuesday, they were working on a report on Ukrainian refugees fleeing the town of Metallist in Lugansk region in the east of the country. Their story was expected to be aired in the evening news.
"So we arrived there and took a look, and the guys did some filming. And then they said, 'Let's call on a checkpoint we visited yesterday, the guys manning it are friendly, and we can get some good footage there. So we went,'" a taxi driver who accompanied the crew now recalls.
As their car arrived at the scene, the crew got out of the vehicle to explore and record some footage. Igor Kornelyuk and Anton Voloshin were assisted by the self-defense forces, who were to guide them closer to the fighting.
However they had not gone far when a shell hit directly in the spot where they were standing. Their taxi driver, who at that moment was waiting by the car about 50 meters from them and witnessed the attack, says they had no chance to survive.
"So they all stood there, looking around. That's when I heard a loud whizz and then, two mortar hits. They impacted right in the middle of that bunch of people. There was a bright flash… and the next thing I know, one of the guys' green T-shirt drops right next to me, with his guts still inside it," the driver says nearly crying.
At the time of two direct hits, "the group consisted of 10 men," LifeNews correspondent at the scene told Rossiya 24 later. "Three of them were journalists, seven were members of the militia."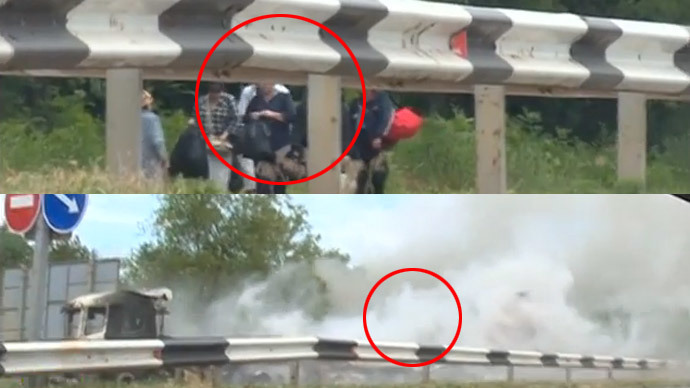 READ MORE: '100% aimed action': Ukraine military shelled refugees, Russian journalists, survivor recalls
Just a couple of hours before Kornelyuk and Voloshin left to report on their last story, Russian journalist Nikolay Varsegov of Komsomolskaya Pravda newspaper spoke with Igor as the two lived in one hotel on the same floor with their doors right across from each other.
"We are going to Metallist, are you with us?" Varsegov remembers Kornelyuk offering. But he stayed at the hotel, which may have saved his life. Varsegov however immediately rushed to the scene upon seeing the attack out of his window and hearing ambulances.
Kornelyuk was still alive as he was lying on the surgery table. But the doctor in the intensive care unit said he had no chance of surviving.
The paramedic who brought Kornelyuk said that he suffered severe injuries to his internal organs. His body was burnt. Even his wedding ring, the paramedic said melted in the heat and was stuck to the bone of Kornelyuk's finger.
Medical staff said the journalist's phone was ringing throughout the entire trip. "I answered the call," the paramedic said. "It was his mother. I told her that he was wounded, but did not tell her how severely."
"She asked me if I can pass on the phone to her son. I replied that he suffered a contusion and could not talk. She started asking me how to reach Lugansk and what medication is needed."
Igor Kornelyuk was 37-years-old. He was born in the Ukrainian city of Zaporozhie. Kornelyuk who started his career with VGTRK in Yamal, worked as a journalist outside the country, but he last returned there on June 1 to cover events in south-eastern Ukraine. Kornelyuk is survived by his wife and seven-year old daughter.
His colleagues from Murmansk, in northern Russia called him a true professional, for whom reporting was the main goal in life. His motto, they say was to be at the center of news and events as they unfolded.
"He was rooting for work, work was the most important thing to him. When he was offered to be a correspondent on a federal level, he immediately accepted it. It is most likely that he went to Ukraine not for money but because he was worried about the country. He was a true patriot, in the best sense of the word," his former colleague Dmitry Visotsky told RIA Novosti.
RT contributor Graham Phillips who himself was previously detained for covering the news from Ukraine, said that he was "proud" of his colleague, who was an inspiration and hero to "live eternally."
Я - как британец - восхищался Игорь Корнелюк чрезвычайно. Он вдохновения. Россия должна гордиться. Герои живут вечно. pic.twitter.com/g3z2uCr4zw

— GrahamWPhillips (@GrahamWP_UK) June 17, 2014
Sound engineer Anton Voloshin was first considered missing but his body was found later on Tuesday evening.
"The body, or – to be more precise – the remains have been found. They have been found right at the scene of a mortar attack in the community of Metallist," according to a spokesman for the Lugansk People's Republic.
Ukrainian troops may have purposefully targeted Igor Kornelyuk and Anton Voloshin, because it is not possible they "didn't see they were journalists," Varsegov told Rossiya TV channel. "They are deployed not far from that checkpoint. With the optical equipment they use they can easily learn who is who. If they hit exactly that spot, of course they saw who and where and how."
The Russian investigation committee has started a criminal case into the murder of the two journalists. When making the announcement Russian Investigative Committee spokesman Vladimir Markin said the "so-called members of the National Guard and Ukrainian authorities first abducted journalists and tortured them" and now "switched to killings."
Russian President Vladimir Putin and PM Dmitry Medvedev have expressed their condolences to the families of the victims. The President of Ukraine also followed suit, yet Washington pointed out that it does not yet possess information confirming the deaths of Russian journalists, but if confirmed "certainly expresses condolences."
Despite the tragic incident Russian TV channels are not planning to remove their crews from Ukraine. "Remaining there reflects the need of our viewers," Deputy Chief of Russia's Channel 1 said, claiming the current Ukrainian authorities would welcome Russian news crew departure, "because it is very convenient to level to the ground of entire cities when no one is there to tell about it."
В Москве возле здания ВГТРК, молодежь возложила цветы, в память о погибших журналистах в Луганске #своихнебросаемpic.twitter.com/f8Ise7oGlO

— Мария Костромцова (@Mashuletka) June 17, 2014
Fellow journalists' immediate reaction was a "willingness to go to Ukraine and tell the truth about the events on the ground," LifeNews chief Ashot Gabrelyanov said, claiming that Ukrainian "fear tactics" will not deter Russian professional reporting.
Журналист #ВГТРК Антон Волошин также погиб. К офису телекомпании в Москве весь день несут цветы. Вечная память! pic.twitter.com/Ei2xSWCQ8z

— Денис Шмелев (@ShmelevFM) June 17, 2014
RT's Editor in Chief Margarita Simonyan pointed out that Ukraine's conflict has the most difficult conditions for journalists in term of covering the events. Expressing deep condolences to the families of the victims, Simonyan said that Kiev's authorities aim to create a "total silence, so that no one can report on what is actually going on in south-east where they are killing their own people."
You can share this story on social media: