Captive Russian journalists told they'd be 'cut to bits' and 'barbecued'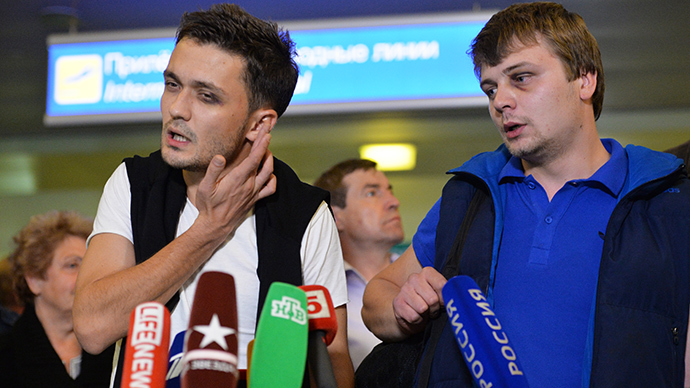 Journalists from Russia's Zvezda TV channel were beaten and forced to apologize to the Ukrainian people by video during their two days in captivity. Radicals from Right Sector threatened to cut them up into slices and barbecue them.
"They [the radicals] dictated us what to write. If I wrote something wrong, they beat us and using death threats made us re-write the letter," said correspondent Evgeny Davydov at a press conference. "We were re-writing it until the text satisfied them."
Davydov, along with sound engineer Nikita Konashenkov, were captured in the Donetsk region on Saturday while they were on their way to Dnepropetrovsk Airport to catch a flight back to Moscow. The journalists were freed on Monday afternoon.
Zvezda TV crew freed after harsh interrogation, ransom demands by Ukraine radicals
Among the sentences forcibly dictated to the journalists was "I am apologizing to the people of Ukraine."
The radicals then brought a camera to make a video which was posted on YouTube on Monday.
The two men, under apparent duress, can be seen saying they made all their videos and reports on "Moscow's orders."
"I started talking, if they didn't like my answer, they switched off the camera and started beating us," said Davydov. "Then they turned on the camera again. This 'rehearsal' lasted for a long time."
The radicals asked the journalists what they were doing in Ukraine and who they are.
"They said that they hate all the Russians and would do everything possible not to let us out of Ukraine alive," he added.
The two men appeared in the conference with bruises around their eyes, injuries they say were inflicted during the constant beatings during their detention.
"They hit the left side of my face. I fainted…then they hit my jaw and other parts of my body," said Davydov.
Davydov suffered a ruptured left eardrum, medics confirmed, saying two more days in captivity would have left him deaf in one ear.
Moscow outraged at Ukraine's National Guard for detaining 2 more Russian journalists
The journalists said that along with constant intimidation, interrogations and beatings, they were constantly receiving death threats from their captors.
"They [the radicals] said they will make barbecue out of us," said Davydov.
The captors also threatened they would take the journalists to the field, shoot them down and bury their bodies right on the spot, he added.
According to Davydov and Konashenkov, their captors also kept them from going to the toilet.
"The first 10-12 hours they didn't let us go to the toilet, then, when they delivered us to other officials, we were allowed to."
They also sent text messages to Davydov's wife, saying that they would cut off his head and legs and send them home one piece at a time.
Meanwhile, the journalists turned out to have been held in Dnepropetrovsk, one of the largest cities in Ukraine which is located in the east of the country.
"I would like to draw your attention that everything was happening not on a random field near [the eastern Ukrainian city of] Donetsk, it was happening right in the center of Dnepropetrovsk next to administration building," said the channel's head, Aleksey Pimanov.
The captors threatened to kill both men and demanded a ransom of $200,000 from their relatives. They also stole their belongings such as watches, cell phones, money, and Davydov's wedding ring.
Risking their lives, Davydov didn't turn off his phone, which recorded all the conversations between the journalists and their captors. Zvezda TV channel will deliver all the recording to the Investigative Committee, said Pimanov.
"The recordings contain useful information for our [Russian] law enforcement agencies. This would be a big surprise for the captors. We know who did it," he added.
Ukraine releases two Russian journalists arrested for 'spying' (VIDEO)
This is not the first time journalists from Zvezda TV channel have been detained in Ukraine. Earlier in June, the National Guard detained video operator Andrey Sushenkov and sound engineer Anton Malyshev at a military roadblock near the city of Slavyansk. According to their driver, they were blindfolded and handcuffed during a routine check, and then taken to an undisclosed location. They were held captive for two days on accusations of espionage.
Journalists from a range of media outlets came under fire, some of them even detained, during the conflict in eastern Ukraine. There have also been reports that Ukrainian troops have fired at people with cameras, as well as people wearing press vests.
You can share this story on social media: