Ukraine releases two Russian journalists arrested for 'spying' (VIDEO)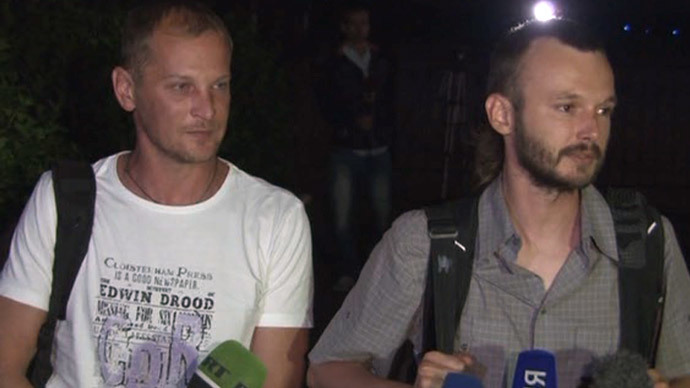 A cameraman and a sound engineer working for Russia's Zvezda channel have returned to their homeland, two days after their detention by government forces in Eastern Ukraine on accusations of espionage, the TV station reports.
READ MORE: #SaveOurGuys, Zvezda TV pleads: Don't let armed men decide what info should be told
"Today, at 00:04 (20:04 GMT) detained Zvezda journalists Andrey Sushenkov and Anton Malyshev were released," the channel said in a statement on its website. The two journalists were handed over to the Russian side at the Nekhoteevka border crossing between Ukraine and Russia, Zvezda reports.
Sushenkov and Malyshev have been brought to Moscow by a Russian Defense Ministry aircraft.
Upon landing in Moscow's Chkalovsky airport the journalists told the press they were slowly recovering after finally realizing they are back on native soil.
When asked about conditions they were kept in during their imprisonment, Andrey Sushenkov told RT that "frankly speaking – not the best conditions: hot, cold, dirty, and painful sometimes."
While not literally torture, the journalists say the guards were getting "physical" while questioning them about suspected links to Russian special services, apparently in order to back up Ukraine's claims the two were spying at a checkpoint, when they were arrested.
СРОЧНО: Освобожденные журналисты телеканала «Звезда» прилетели в Москву http://t.co/CnQCrGUxzFpic.twitter.com/0kr8l6dvI7

— Телеканал ЗВЕЗДА (@zvezdanews) June 8, 2014
Cameraman Andrey Sushenkov and his colleague Anton Malyshev were arrested by the Ukrainian National Guard on Friday afternoon, outside a checkpoint near Slavyansk, the epicenter of the so-called 'anti-terrorist operation' conducted by Kiev forces.
READ MORE: Slavyansk under fire, without water and power as Kiev troops resume shelling
As the reporters provided their documents during a routine check a military roadblock, they were blindfolded, handcuffed and taken to an undisclosed location in a helicopter, their driver Ruslan Zaslavsky said. He was also detained, but released several hours later.
Since the day Sushenkov and Malyshev were detained, their whereabouts has been unknown. Ukraine's security services accused the crew of "gathering intelligence and video data", but said that the two had not been harmed.
Russia's Foreign Ministry earlier condemned the Ukrainian Security Service (SBU) for detaining the journalists, calling for Kiev to "stop illegal actions" against Russian and foreign reporters in general.
Zvezda said the crew had been dispatched to Ukraine to cover the inauguration of Petro Poroshenko in Kiev on Saturday, and subsequent reaction away from the capital.
You can share this story on social media: