#SaveOurGuys, Zvezda TV pleads: Don't let armed men decide what info should be told
Russian Zvezda TV is turning to their foreign colleagues with a plea to help release the channel's crew kidnapped in Ukraine for "gathering intelligence" at a military checkpoint. Russian officials and human rights group also offered their support.
"Help us free our guys! Our colleagues and friends Andrei Sushenkov and Аnton Мalyshev have been kidnapped in Ukraine by armed forces. Together we can bring them back home," the channels message to foreign journalists reads.
'Blindfolded, brought to knees': Russian Zvezda TV crew abducted near Slavyansk
"We are appealing to the international community with a request to assist in setting free our journalists. Broadcast of Russian channels including ours is banned on the territory of Ukraine. For this reason in English we are asking for your help in spreading information about detaining of our journalists by the Ukrainian Security Service. On television, in press and social networks."
"Do not stand aside!" the appeal urges. "Do not let people with guns in their hands decide what information should be told. Save our guys!"
The channel says that because of the abduction of cameraman Andrey Sushenkov and sound engineer Anton Malyshev in the Donetsk region on Friday, Zvezda TV, for the first time in the channel's history, included an English rundown every two hours, with an international plea to release their crew.
"Appeal to foreign journalists is the only way to reach the Ukrainian authorities and the people of Ukraine, who have little or no idea about what is happening in the country."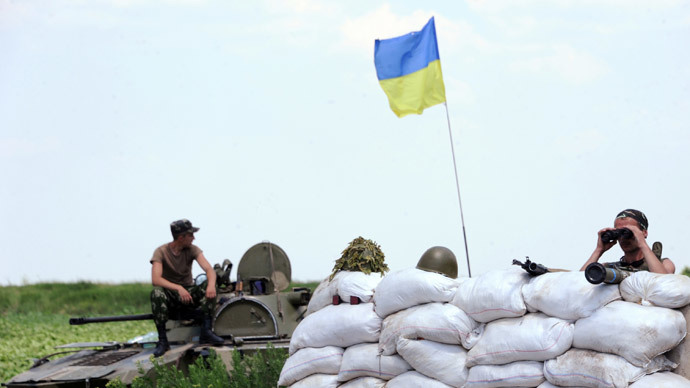 Earlier the National Guard confirmed that two Russian journalists it detained had been transferred to the Ukrainian Security Service (SBU). They are being accused of "collecting information" at a checkpoint near Slavyansk, the epicenter of the so-called 'anti-terrorist operation' conducted by Kiev forces.
In an additional effort to return the journalists, Zvezda sent an official letter to the SBU, demanding an explanation for the detention of its staff and insisting that the incident violates journalists' rights enshrined in the Geneva Convention.
"Based on the analysis of the provisions of the Geneva Convention, we can conclude that the Ukrainian authorities completely ignored international law, despite the fact that Ukraine has ratified this convention, and therefore is required to comply with its provisions," the letter said.
Zvezda demanded the whereabouts of Malyshev and Sushenkov to be revealed and a meeting arranged with lawyers and Russian embassy staff in Ukraine. For its part the Russian embassy in Ukraine has stated that it will do everything in its power to return the journalists safely to Russia. It has already drafted a letter to the Ukrainian authorities.
"The Organization for Security and Co-operation in Europe (OSCE) has been informed of the incident," the channel also said. "An enquiry has been sent through operational channels. Results are expected now, and the diplomats hope they will not be long in coming."
Шойгу распорядился принять меры для освобождения журналистов телеканала «Звезда». http://t.co/fJ6pq1spN5pic.twitter.com/7V4Bjq2qgK

— Телеканал ЗВЕЗДА (@zvezdanews) June 7, 2014
Meanwhile, Russia's defense minister Sergey Shoigu has given orders to "implement all legal means for expedited release of Zvezda TV channel journalists." Konstantin Dolgov, the Russian Foreign Ministry's commissioner for human rights, tweeted that Ukraine must release the detained journalist.
Following the incident, Zvezda immediately wrote a letter to the new Ukrainian President Petro Poroshenko, asking him to look into the issue of the journalists' detention. The father of a detained cameraman also appealed to Poroshenko to release his son.
"Help us get our son back! Please, I beg you, return my son! He did nothing wrong, he was just doing his job," Sushenkov senior said .
On Saturday, International Human Rights Movement "World without Nazism" voiced their support for the abducted journalists.
"We regard the actions of the National Guard of Ukraine as blasphemy and permissiveness that violates all rules of international law," the NGO said in a statement.
#SaveOurGuyspic.twitter.com/mPCd6J3QXP

— Алексей Сотник (@somsok5412) June 7, 2014
Ukraine's National Guard detained Andrey Sushenkov and Anton Malyshev at a military roadblock near the city of Slavyansk on June 6. During a routine check they were blindfolded, handcuffed and taken to an undisclosed location in a helicopter, their driver said. Ever since, contact with the two journalists has been lost. Zvezda channel, which covers military affairs, says Sushenkov and Malyshev were on their way to report on President Petro Poroshenko's post-inauguration tour.
Their driver, Ruslan Zaslavsky, a local of Slavyansk, was also briefly detained, but released several hours later.
This is not the first time Russian journalists working in Ukraine have disappeared after encountering the National Guard.
On May 18, two Russian journalists working for LifeNews TV channel – reporter Oleg Sidyakin and cameraman Marat Saichenko – were captured by Kiev forces near the eastern city of Kramatorsk. Also accused of espionage, their detention caused a wave of outrage in the social media. #SaveOurGuys social media campaign was successful in helping to secure the return of the LifeNews journalists.
#SaveOurGuys: Milla Jovovich, rights groups urge release of Russian journos in Ukraine
The Russian Ministry of Foreign Affairs meanwhile voiced concern for the Zvezda journalists' safety and has issued a statement, saying that it "very much doubts that certain government elements in Ukraine are at all interested in a peaceful resolution to the crisis" and that "we call on the Ukrainian leadership to stop its unlawful treatment of domestic and foreign journalists and provide a safe working environment for them, in accordance with international norms and standards."
Заявление МИД РФ в связи с задержанием на Украине журналистов российского телеканала «Звезда» http://t.co/Z9tgKbZUyPpic.twitter.com/9UmfaVFHQq

— Посольство России (@RuEmbZimbabwe) June 7, 2014
You can share this story on social media: