Journalists caught in gunfire near Slavyansk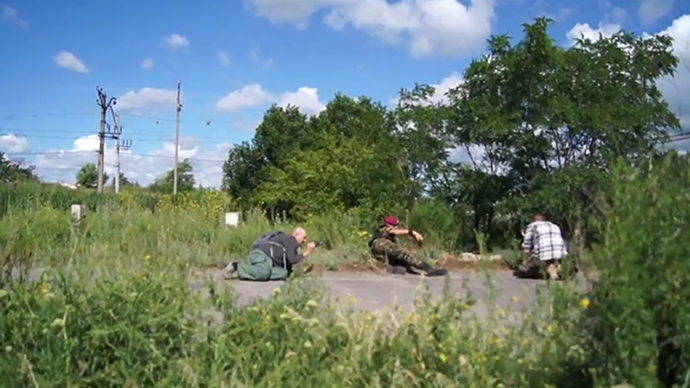 A group of Russian journalists came under gunfire near the besieged city of Slavyansk, eastern Ukraine, while visiting a village that has been reportedly shelled by Kiev troops.
Four Russian journalists from RT's video agency Ruptly, RIA Novosti and Komsomolskaya Pravda arrived in the village of Vostochny, which is a 'firing line' between Kiev forces (on the international highway M03) and checkpoint of the People's Republic of Donetsk. The group wanted to verify the reports saying that houses in the village have been destroyed by artillery fire from Kiev troops.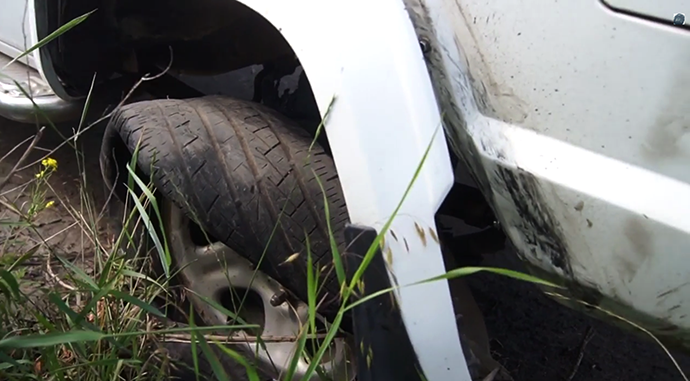 A local resident showed them sites that have been reportedly struck by phosphorous bombs, said Ruptly's correspondent Andrey Krasnoshchyokov. The territory around the explosion areas had the traces of certain incendiary substances, he added.
'White phosphorus' reports: Ukraine military 'dropped incendiary bombs' on Slavyansk
However, when the journalists left the village and were heading to Slavyansk, they heard a rifle shot.
"When we left the village, there was a sniper's gunshot. We fell to the ground and hid in the grass. Then one of the self-defense forces called for a car via the walkie-talkie radio," said Krasnoshchyokov.
According to Krasnoshchyokov, it is not safe to use mobile phones in the warzones as Kiev troops may intercept their signals.
"When the car arrived we immediately jumped into it… When we started moving, there was one more gunshot. The wheel was hit."
The car with the shot wheel managed to deliver the journalists safely to Slavyansk, added Ruptly's correspondent.
Перед пос.Восточный побывали на крайнем посту ДНР. Он уже был разворочен танковым снарядом, на флаге дыры от осколков pic.twitter.com/zsPA0QASsq

— Андрей Краснощёков (@a_krasnoschekov) June 15, 2014
A fatal attack on journalists covering the ongoing conflict in the east of Ukraine happened in May. Italian journalist Andrea Rocchelli and his Russian interpreter Andrey Mironov were killed when they were caught in a mortar attack close to the village of Andreevka, a couple of kilometers from Slavyansk.
Journalists from a range of media outlets came under fire, some of them even detained, during the conflict in eastern Ukraine. There have also been reports that Ukrainian troops have fired at people with cameras, as well as people wearing press vests.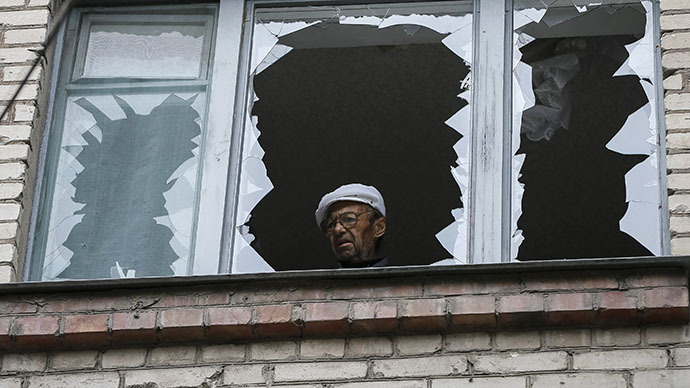 On Sunday, 10 journalists came under artillery fire while visiting a shelled maternity hospital in Slavyansk. They were forced to hide in the hospital's basement for about 20 minutes before coming out, but the shelling started again once they attempted to leave the building.
Meanwhile, Ukraine's National Guard is still detaining two Russian journalists from Zvezda TV channel. Correspondent Evgeny Davydov and sound engineer Nikita Konashenkov were taken in Donetsk Region on Saturday.
You can share this story on social media: