Media freedom in Ukraine 'deteriorating' – European security organization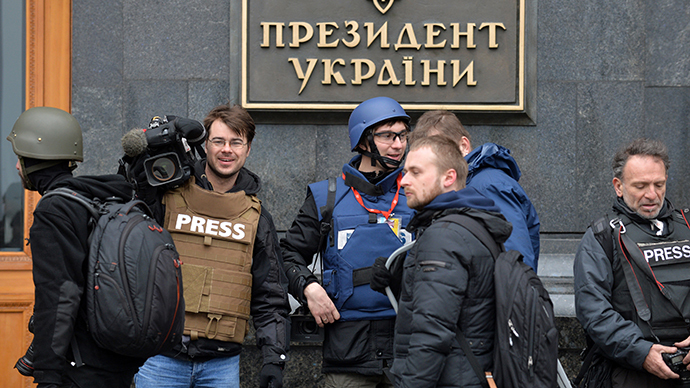 The OSCE says it is concerned about deteriorating media freedom and journalists' safety in Ukraine, warning that the media "has become a part of an information war" and should not be used for political purposes.
The Organization for Security and Cooperation in Europe has reported over 20 cases when Russian journalists were denied entry to Ukraine, Dunja Mijatovic, the organization's representative on media freedom, told journalists on Thursday.
"We still have reports about Russian journalists not being able to travel to Ukraine. More than 20 cases now from several media outlets," she said, adding that those journalists should be able to challenge the ban.
According to the OSCE official, the situation is not getting any better.
"I can only say that the situation is not moving in the direction that we would call vibrant and healthy media freedom environment," Mijatovic said, Itar-Tass reported. "We have many reports of journalists being harassed and intimidated and media offices raided."
An OSCE delegation is planning to travel to Ukraine next week.
"We're going to go to Kharkov, Kiev and Odessa to meet journalists from all parts of Ukraine," Mijatovic said.
.@OSCE_RFoM Mijatović - media in Ukraine should not be used for political purposes, media has become part of an information war

— OSCE (@OSCE) April 10, 2014
Since Wednesday, another four Russian journalists have been denied entry to Ukraine, including a correspondent and photographer for Kommersant daily and a cameraman and soundman for Rossiya TV channel, according to a spokesperson for a Border Directorate of Russia's Federal Security Service in Belgorod and Voronezh.
All the four "were forced to get off the train en route to Ukraine and were sent back to Russia," Dmitry Zhukov told Itar-Tass. The deportation was made under the pretext of "lack of money" to stay in Ukraine.
The chairman of the Moscow Journalists Union, Pavel Gusev, said that the denial of entry to journalists is a violation of international agreements.
"I condemn such actions," he said, adding the Union earlier made a statement published in the Ukrainian media calling such bans unacceptable.
On Monday, a journalist from RT's Ruptly video agency, Andrey Ivanov, was denied entry to Ukraine. He was traveling to cover events in the southeast of the country, but was stopped by border guards at the Donetsk airport and deported to Russia. The pretext, like in the cases on Wednesday, was that the reporter did not have enough money to stay in Ukraine.
On Tuesday, a photographer and a correspondent for RIA Novosti agency were also banned from entering Ukraine.
A United Nations spokesperson said it was crucially important to provide journalists with access to Ukraine.
"We haven't heard of those particular cases, but ensuring free access for journalistic organizations and respect to journalists has crucial meaning," Stephane Dujarric told RIA Novosti.
Russian MP Aleksey Mitrofanov, the head of the State Duma committee on information policy, said that Ukraine's coup-appointed government is denying entry to foreign media because it has something to hide.
"I believe that Russia and the Russian media should take it with absolutely reasonable calm and not take a hard line," he said, adding that it is important, however, to draw public attention to such cases. Banning access to journalists is a position of a weak side who is "afraid of something and has something to hide."
Moscow should refrain from using similar methods in response to Ukraine's actions, he said.
"Journalism is not diplomacy, where it is an eye for an eye," Mitrofanov said.
You can share this story on social media: