'They send us junk': Kiev troops complain of poor ammunition, stale food, old maps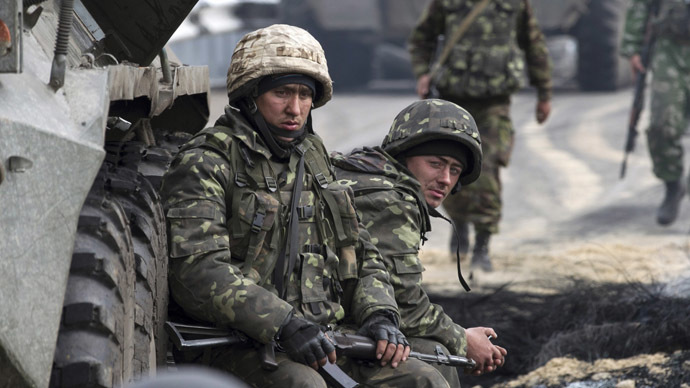 While Ukrainian authorities expect troops to spare no effort in bringing the south-eastern regions back under Kiev's control, soldiers on the ground appear to doubt if the government is doing all it takes to provide for those it sends to warzones.
'Thanks, Ukraine Air Force': Bombarded villagers accuse Kiev of killing civilians

"This is the armor our troops are using. This is the kind of junk they send us," says a Ukrainian National Guard soldier, demonstrating a bullet-proof breastplate with a bullet hole in it.

That's one of the episodes in a video by Ukrainian Hromadske.tv and circulating online, in which the National Guard unit stationed near Slavyansk - home to some of the heaviest fighting in the conflict - bemoan their poor ammunition, while cursing the country's president for it.

"I think he made it himself from a can. F****** businessman," a man in the video says.

The National Guard was formed in mid-March to bolster the country's defenses, as its southeastern regions were getting ever more unstable, questioning Kiev's authority.
People who have since then enrolled in the military entity appear to have expected better support from the government than what they've been receiving.

They show journalists sacks with mold-covered loaves of bread.

"We had to cut most of the bread from these eight loaves. They only have a small edible part in the middle, but there are a lot of people here," one of them says.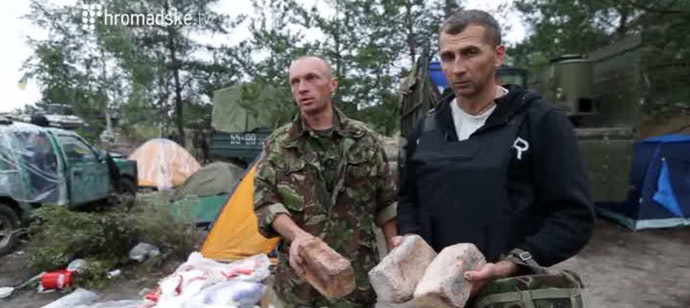 Ukraine's Interior Minister Arsen Avakov does not want any hardships to get in the way of the military units fulfilling its mission.

"No matter how hard it gets, everyone should do what they're supposed to do. If that happens, we will win very quickly," he said in an online address earlier this week. Avakov believes the military operation could be over in a fortnight.

But while the authorities are pushing for more action, fighters on the ground are confused as to where they stand – often, literally.
"I need a GPS navigator - not these maps from 1985," a National Guard member says. "We went over there and didn't find anything that's marked on that map. There were supposed to be two lakes over there."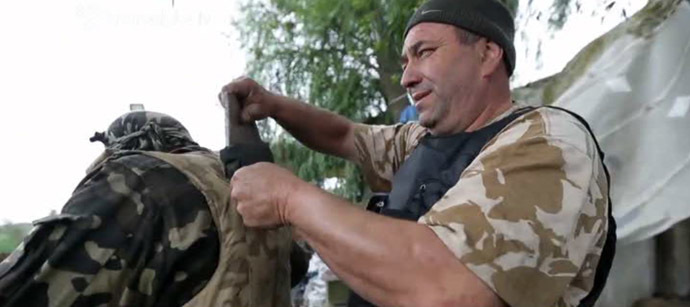 President Poroshenko fed the great expectations among those willing to enroll in the army in his election campaign.
"This will be our priority - army volunteers will get the equivalent of $85 per day, and solid life insurance as well," he said two days before the election.

The promise never turned into anything real, says a woman from Odessa, whose husband is serving in the Ukrainian army.

"They say they've paid the salaries, but we didn't get any money," she told Ruptly video agency. "My husband didn't get it. And they keep promising it will happen tomorrow. My two-year-old daughter woke up this morning and said that she's hungry. What am I supposed to tell her?"
Two weeks ago the organizational strife in the Ukrainian military forces reached its peak when a whole National Guard unit found itself to be non-existent on Kiev's books. As a result the fighters were denied food and service pay.

Some in the government troops now complain they have a certain sense of insecurity and it's not inspired by their adversaries on the battlefield.

Apart from being not well-equipped, the hastily created Ukrainian army units, could appear to be also not well-trained. The recent heavy shelling of the village of Kondrashovka, which resulted in seven casualties and an entire street being destroyed might have been a "pilot error," according to a commander of pro-Kiev Azov Battalion.
#Kondrashovka#Lugansk region #Ukraine after army air raid.5 craters - at least 7 killed acc to locals&doctors. #ATOpic.twitter.com/opsLNwz4v6

— Maria Finoshina (@MFinoshina_RT) July 2, 2014
You can share this story on social media: