Shells devastate entire streets in eastern Ukrainian town (VIDEO, PHOTOS)
Eyewitnesses in the Cossack settlement of Luganskaya have accused government forces of carrying out two airstrikes on densely-populated residential areas. Kiev says the devastation is the result of shelling by secessionist forces.
"The first plane appeared at 11 am, and hit the center of the town – destroying the police building, damaging the courthouse, and razing two houses. We won't know the death toll until the rubble is cleared," said Vladimir Bilous, the head of the local administration.
Aleksandr shows what he says could be his mother's body.He later shows pieces of neighbors' bodies. #Ukraine#ATOpic.twitter.com/ReFiBnCk0S

— Maria Finoshina (@MFinoshina_RT) July 2, 2014

"At the site of the second strike the situation is even worse: 9 people have died, and 11 have been wounded. Among the victims is a five year-old girl, who with her father. The impact was so strong her legs were blown off. Once again, the exact number of the dead will only become clear later."
GRAPHIC Locals:this is the body of a father of 5yo.Later at a local hospital we were told the boy died from injuries pic.twitter.com/IgmgcT0XdH

— Maria Finoshina (@MFinoshina_RT) July 2, 2014
Amateur footage from the site shows multiple impact craters, and buildings that lay in ruins. Some of the houses still appear to be on fire, with visibly upset residents consoling each other on the streets.
Luganskaya is home to about 15,000 people, and has not been directly involved in the fighting between government forces and the self-proclaimed People's Republic of Lugansk.
Kiev's Anti-Terrorist Operation center, which resumed its onslaught on self-defence forces earlier this week, has accused the militias of unleashing the strikes from the ground to coincide with an aerial patrol.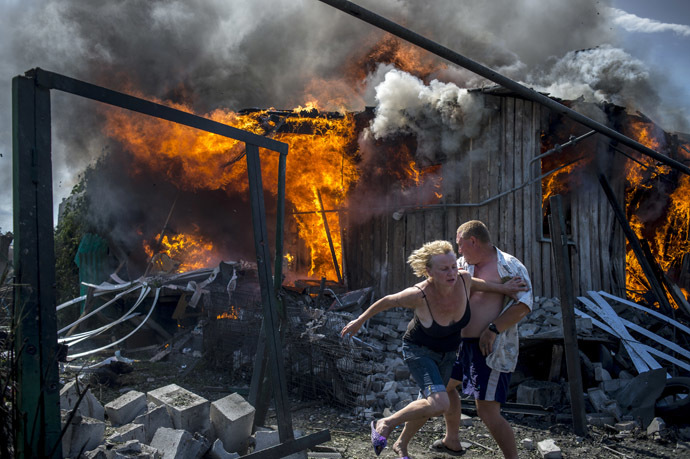 "Today terrorists have deviously fired at civilian areas near Luganskaya," it said in an official statement on Facebook.

"At the same time, they have accused Ukrainian air forces of executing the attack. But Ukrainian planes were not operating in the area at the time. Only artillery shells were launched by government forces, but at 4 am, and in a direction away from the settlement."
On Wednesday, Ukrainian authorities said that 279 people have died in the nearby Donetsk region since the start of fighting this spring – 160 of them civilians. Figures for Lugansk have not been revealed.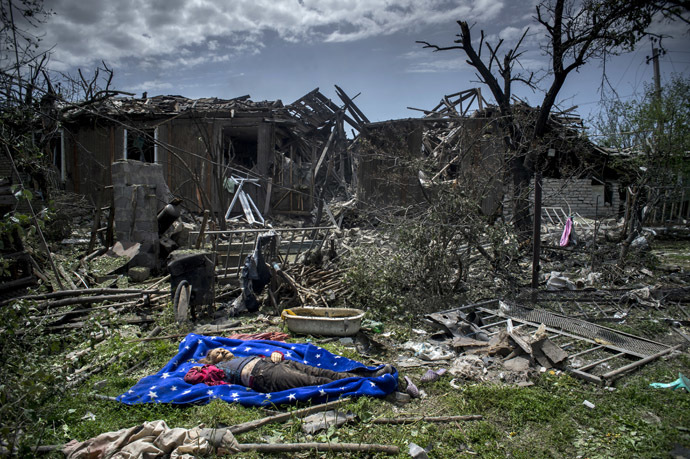 The UN also reported last week that more than 110,000 refugees have moved to Russia, and more than 50,000 have been internally displaced as a result of the conflict.
WARNING: Graphic video
On Wednesday, Russia, Ukraine, Germany and France negotiated a new ceasefire in eastern Ukraine, though it is not clear whether militias in eastern Ukraine will abide by it, or whether Ukrainian forces will stop the operation before they do. A previous ceasefire that ran out last week was marked by intermittent fighting.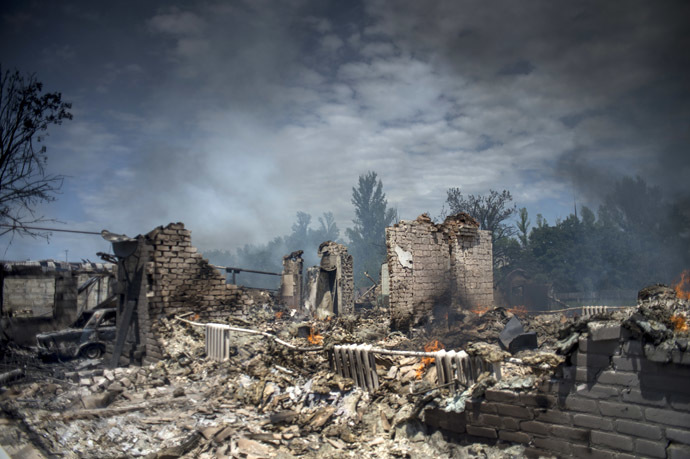 You can share this story on social media: