'Thanks, Ukraine Air Force': Bombarded villagers accuse Kiev of killing civilians
The village of Kondrashovka in eastern Ukraine lies devastated after shelling by Kiev troops which killed seven people. Bodies torn to pieces are strewn across the settlement and those who survived are asking: why did Kiev kill their families?
Shells devastate entire streets in eastern Ukrainian town (VIDEO, PHOTOS)
At least five shells hit the settlement, destroying an entire street in the peaceful Lugansk region community, 25km from the city of Lugansk.
Dramatic RT footage shows the ravaged village, including a local resident's backyard which was literally transformed into a grave.
"They killed my mother, and my father is injured. I took him to hospital," Aleksandr Mironenko told RT's Maria Finoshina, one of the few journalists to report from the scene.
'I have no money 2 bury my wife!Why she was killed?' We found Aleksandr's father at local hospital. #Ukraine#ATOpic.twitter.com/gqU1kEgNvg

— Maria Finoshina (@MFinoshina_RT) July 2, 2014
Aleksandr was desperately going around the place, showing pieces of human flesh scattered all across the property.
"Come here - can you see this? It's a human body which has been torn to pieces. Let's go and film some more, I'll show you. Bodies everywhere, obviously all of them are terrorists!" he said sarcastically through tears.
Just next door, Kondrashovka residents are telling a tragic story of their friend, who lost his 5-year-old son.
"He celebrated his son's fifth birthday yesterday, and today, the boy's leg was cut off – I don't know if he's alive or not," said Sergey, a neighbor.
"No, no, he died, said another man.
"He died? Yes. Then he died," adds Sergey.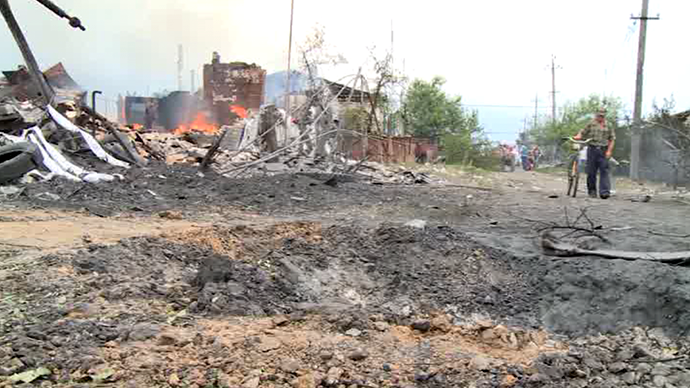 Few of the village residents were left unharmed by the shelling. One of 'the lucky ones,' Andrey, said his family was not home when the shelling started. However, his property was badly damaged. He showed RT the holes from the shells in the fence.
"What do I think? 'Thank you, Ukrainian Air Force'," he said, adding that his family would have died had they been there when the attack hit.
Stunned residents ask why the government is targeting their peaceful village. Kiev troops claimed they were killing 'terrorists', although here that term would include women, children and the elderly.
"Why? There was nobody here – only peaceful civilians, poor people who worked from dawn till dusk," says a local woman.
"We are peaceful. We don't mind Poroshenko being in office," says Irina Stasyuk, a local resident, "But don't kill us. There are 12 people here."
Jet pilot targeted self-defense position 3km from the village,bt made a mistake-Yury,veteran pilot #ATO#Ukrainepic.twitter.com/9aJqSWoUZY

— Maria Finoshina (@MFinoshina_RT) July 2, 2014
Yury, a veteran military pilot, had his own opinion on why the troops targeted the village. He said the aircraft targeted a self-defense base, but either missed or intentionally fired on civilian dwellings.
"The first time the aircraft pilot got it right – there is a self-defense base 3km from here. He hit it," said Yury. "But the second time, he pulled the trigger a few seconds late - either by mistake, or he received an order to target this village. I don't know."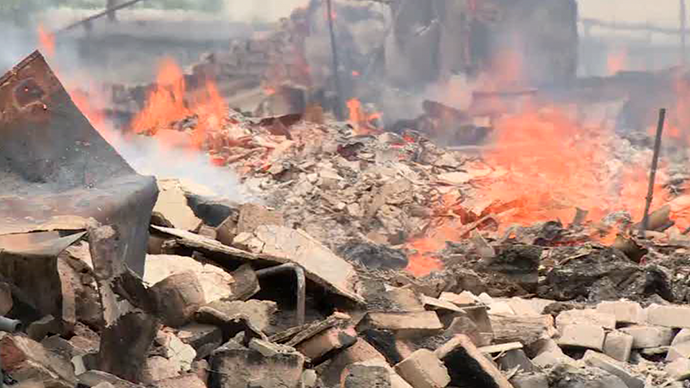 In the meantime, pro-Kiev Azov Battalion deputy commander admitted that the bombardment of Kondrashovka might have been the result of "pilot error."
"I think there was both pilot error and shelling from outside," Igor Mosyichuk told Ukraine's 112 Channel, adding that Kondrashovka turned out to be "between a rock and a hard place" – people's self-defense forces and Kiev troops.
Even after the attack, the rest of the village is not safe, as during the interviews the cannonade can be distinctly heard.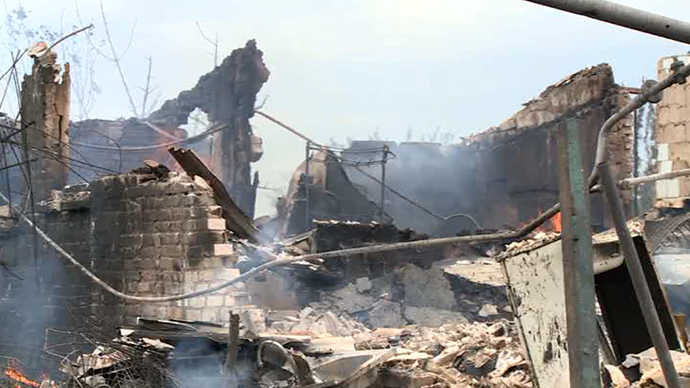 RT crew visited the local hospital where there was no water and electricity since the local power station was hit in another air raid.
"We received 13 people – four of them are already dead, including a five-year-old, a boy," Maksim Pavlov from the central hospital told RT.
Among the injured is Ivan Mironenko, a father of Aleksandr, a local resident who earlier spoke to RT.
After Ivan lost his wife in the attack, he doesn't want to live anymore, saying he sees no point.
"Why was she killed? Why not me? Why is God punishing me like this?" exclaims Ivan, sobbing.
Russian authorities strongly condemned the attacks of eastern Ukrainian civilians by Kiev forces.
Moscow demands that Ukrainian authorities stop shelling civilian objects in the country in order to save the lives of local people, said Russian FM Sergey Lavrov at a press conference with his Moroccan counterpart.
"The Western countries should urge Kiev to follow the declaration approved in Berlin which calls for the formation of a special contact group aiming at establishing a truce in Ukraine," he added.
A roadmap of measures that will point a way out of the Ukrainian crisis has been agreed during four-way talks between the foreign ministers of Germany, France, Russia and Ukraine on July 2.
The regions of eastern Ukraine have been continuously targeted by Kiev troops in recent months. On Wednesday, Ukrainian authorities said that 279 people have died in the nearby Donetsk Region since the start of fighting this spring – 160 of them civilians. Figures for Lugansk Region have not been revealed.
Fearing a deepening of the crisis, scores of refugees have left the country. The number of Ukrainian refugees in Russia has reached 110,000 people, the UN's refugee department stated on June 27.
More destroyed houses - more destroyed lives - more questions. And no answers. #Ukraine#Lugansk#Kondrashovka#ATOpic.twitter.com/5myb4EtTTM

— Maria Finoshina (@MFinoshina_RT) July 2, 2014
You can share this story on social media: