Kiev's National Guard unit mutiny: 'We've been discarded like trash'
A scandal is surfacing in one of the Ukrainian units attempting to quash revolt in the eastern regions. Turning out to be non-existent on Kiev's books, the fighters who were denied food and service pay now seek truth in the capital.
The Ukrainian government has been using National Guard conscripts as a major assault force in attacks on anti-Kiev forces in the east of the country. It is mostly the guards, many of whom are members of the ultranationalist Right Sector movement, who have been shelling the city of Slavyansk and the villages around it with mortars and Howitzers to force the pro-federalist region of Donetsk into submission.
Now an entire unit of the National Guard has revolted and is heading back to Kiev, claiming they have been abandoned by the government and left unpaid.
"According to official papers, we don't exist! We're an illusion. It's like we haven't been deployed here, we haven't got any ammunition - nothing!" claimed the commander of the Third squadron of the First reserve battalion of the National Guard, Lieutenant Taras Zherebetsky.
Interview with the National Guard Lieutenant Taras Zherebetsky (in Ukrainian)
He said that all documents of his detachment have disappeared as if they had never been created.
"We were sleeping on the ground, because we didn't even have tents! They just sent us there - and forgot about us! And while all the generals and commanders were sitting pretty in their warm tents, guarded by the newest APCs, we were sent to fight like cannon fodder," Zherebetsky said.
Other members of the National Guard said that sometimes they had to buy their uniform themselves and the body armor was given by sponsors, not the government.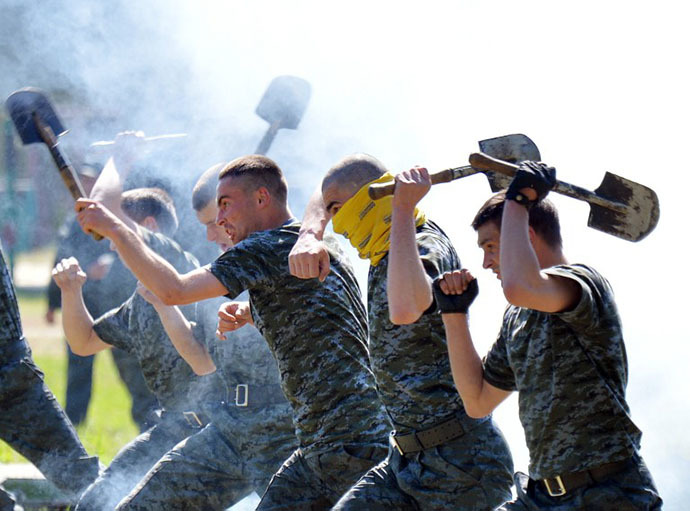 Another peculiar detail about the unit reveled by the fighters, is that its military personnel have been attributed to other units which actually never existed. That means that technically, they actually saw action, were carrying arms and probably killed adversaries in Donetsk Region of their own accord.
But that is not the whole story either. The National Guards found out that while actually being deployed to a war zone near the city of Slavyansk for weeks, according to papers they remained in the peaceful city of Pavlograd in the neighboring Dnepropetrovsk Region, so they may forget about the combat pay they were promised.
"We haven't been paid. We got around [US]$600 on arrival here two months ago, and that's it. We didn't have any food. Instead, they've been feeding us with promises that it's going to happen tomorrow. But we're tired of waiting!" said another National Guard soldier, Evgeny Ivanenko.
Several dozen unarmed members of the National Guard are now rallying in front of Ukrainian government's headquarters in protest, demanding to be recognized as combatants. That would give them exceptional treatment and rights to benefits such as discounts on housing services and utilities payments, and privileged healthcare.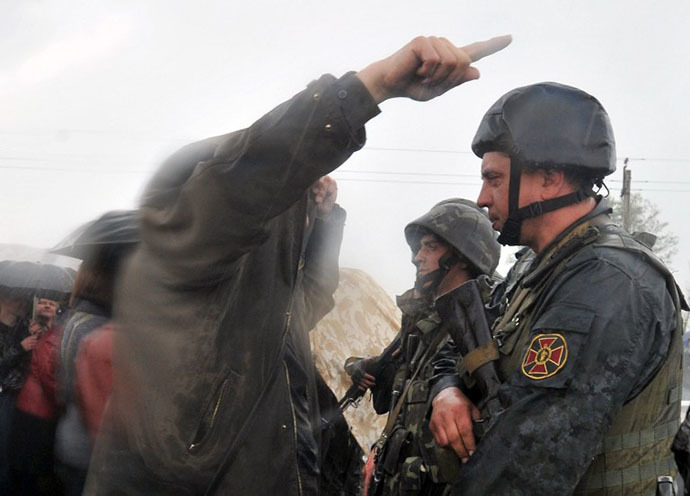 The siege of the city of Slavyansk in east of Ukraine continues, which remains a focal point in the conflict. Last night residents of the city were woken up to see the sky lit by firebombs being dropped on their city.
Locals say artillery fire has been ongoing for days. Schools, hospitals and government buildings have been partially destroyed. Water and power supplies are practically stopped.
Ukraine's Health Ministry says 270 people have been killed in the military operation in the east, and about 700 were injured, since Kiev began its military assault against protesters.
You can share this story on social media: