RT Spanish correspondent denied entry to Ukraine 'for being Russian TV journo'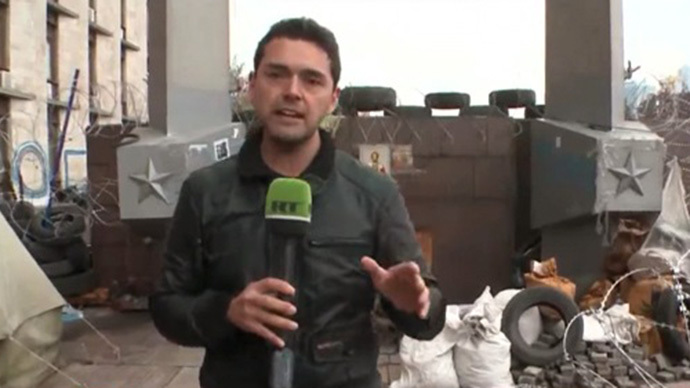 Ukrainian authorities have blocked Mauricio Ampuero, a correspondent and presenter for RT Spanish, from entering Ukraine. Ampuero says the ban was explained by the fact that he is "a journalist of a Russian channel."
Follow RT's LIVE UPDATES on Kiev's military campaign in eastern Ukraine
RT Spanish reported on Saturday that its correspondent was denied entrance to Ukraine at the country's border.

The Chilean-born journalist was heading for the eastern Ukrainian city of Donetsk, where he previously covered anti-Kiev protests in April.

Ampuero tweeted a photo of his passport with a red Ukrainian stamp which says he has been denied entry into the country.

When asked about the reason for the refusal, a Ukrainian border guard told Ampuero that he was being banned from entering for "being a journalist of a Russian channel."

Journalists working for Russian media outlets have been consistently persecuted by the new Ukrainian authorities for covering the bloody military campaign waged by Kiev in southeastern Ukraine.
READ MORE: Captive Russian journalists told they'd be 'cut to bits' and 'barbecued'
There have also been allegations that two Rossiya TV journalists killed in a deadly Kiev armed forces shelling in June were deliberately targeted, along with a group of refugees escorted by local militia.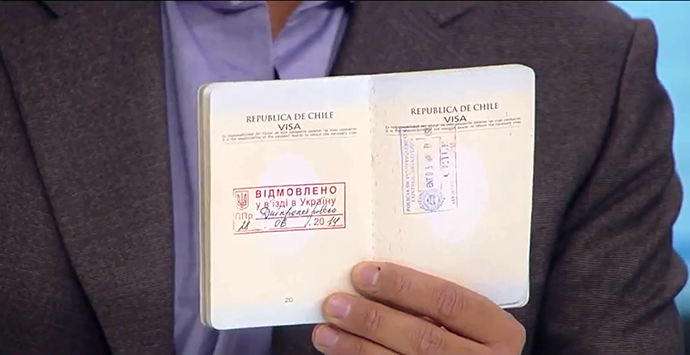 Routine detentions, entrance denials, and deportations of Russian journalists have triggered an outcry from rights groups and international bodies. Human Rights Watch (HRW) has said that Ukraine's military and security services have been "dangerously interfering with press freedom," while the Organization for Security and Co-operation in Europe (OSCE) in May urged Kiev to release captured journalists from Russia's LifeNews channel, calling the intimidation and obstruction of media working in the country "unacceptable."
UK journalist and popular YouTuber Graham Phillips, who was covering events in eastern Ukraine and has worked for RT as a stringer, was also detained and questioned by Kiev security forces for 36 hours. Phillips said the Ukrainian military officers detaining him became particularly agitated when he told them he was reporting for a Russian channel and questioned if he was a "spy."

A Kiev court in March banned the broadcasting of Russian TV channels in Ukraine – a move that the OSCE slammed as a "repressive" act of censorship. But one ban was not enough for the Kiev authorities – on Tuesday, Ukraine's National Telecommunications Council filed a lawsuit demanding to halt the retransmission of the "unadapted" channels TV Center International (TVCI), REN-TV, LifeNews, and RT.
You can share this story on social media: