Polish FM's oral sex comment on US 'shows his political realism' – Moscow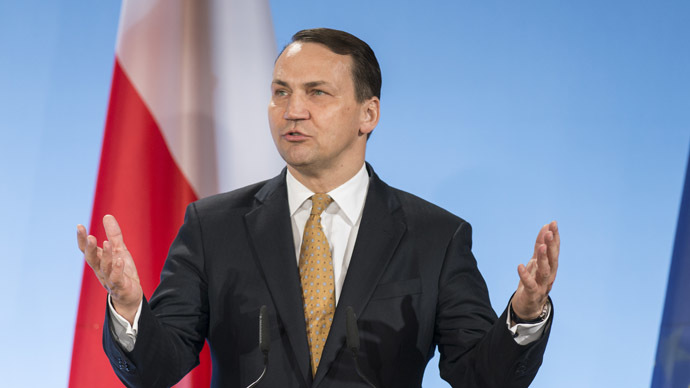 Polish Foreign Minister Radoslaw Sikorski has proven his "political realism" by comparing his country's relations with the US to unrewarding oral sex, the Russian Foreign Ministry commented.
In a leaked recording of a private conversation, Sikorski said that Warsaw's alliance with Washington is worthless and even damaging as it "creates a false sense of security in Poland," as cited by Wprost, which published excerpts from the alleged exchange between Sikorski and Jacek Rostowski, an MP and former finance minister.

Read more: Leaked tape has Polish FM comparing ties with US to giving oral sex

"We will get a conflict with both Russians and Germans, and we're going to think that everything is great, because we gave the Americans a blowjob," Sikorski reportedly said.

According to Wprost, he called the Poles "total suckers" for their stance and repeated the phrase "complete bullshit" numerous times during the conversation.

"The essence of Sikorski's statements indicates his political realism," the Russian Foreign Ministry later said in a comment as cited by RIA Novosti.

As for the use of strong language, "it's is probably a kind of a response to the offensive and rude remarks by [Assistant Secretary of State for Europe Victoria] Nuland about the European Union," the ministry suggested.
US State Department spokesperson Marie Harf declined to comment on the report, saying the US cannot confirm the authenticity of the tapes.
Back in February, a leaked phone call revealed Nuland saying "f**k the EU" as she was discussing the shape of the future Ukrainian government with the US ambassador to Kiev.

Sikorski's words came as a shock for many in Poland as the minister has always been known for his critical stance towards Moscow and passionate support of stronger ties with Washington.

In early June, he suggested the US could establish a military base in Poland as the country felt threatened by the Ukraine crisis.

"America, we hope, has ways of reassuring us that we haven't even thought about. There are major bases in Britain, in Spain, in Portugal, in Greece, in Italy. Why not here?" Sikorski told the New York Times.

The small American military presence in Poland was recently boosted with the arrival of 300 airmen and a dozen F-16 fighters for joint exercises this year.

But it may be just the beginning as Barack Obama promised to invest an additional $1 billion in stepping up American military presence in Eastern Europe amid the Ukrainian crisis.

Polish Prime Minister Donald Tusk said the Sikorski conversation leak won't lead to any scuffles in the cabinet, calling it an attempt to destabilize the political situation in the country.
You can share this story on social media: