US deploys fighter jets in Poland and Lithuania amid Ukrainian turmoil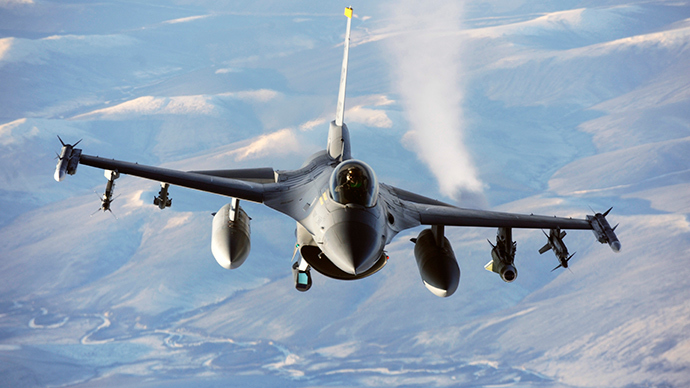 The US is sending a dozen F-16 fighter jets and nearly 300 service personnel to Poland by Thursday as part of a training exercise in response to the crisis in neighboring Ukraine, the Polish defense ministry confirmed.
The agreement to deploy US military forces in Poland was made between US Defense Secretary Chuck Hagel, and Poland's Minister of National Defense Tomasz Siemoniak during a telephone conversation on Sunday, March 9, 2014, according to a statement on the official website of the Polish Ministry of National Defense.
"The squadron will number twelve F-16 planes and will transport 300 soldiers," Polish Defense Ministry spokesman, Jacek Sonta, confirmed to AFP.
Initially, the training exercise was planned to be smaller but was increased and pushed forward because of the "tense political situation" in neighboring Ukraine, added Sonta.
The ministry also said that the aim of sending the units is to "strengthen Polish - American cooperation." Part of the preparation team of US Air Force has already arrived on Polish territory.
The fighters were sent on the initiative of the Polish government, an initiative immediately accepted by Washington.
On Monday, NATO also gave the go-ahead to Airborne Warning and Control System (AWACS) for reconnaissance flights over Poland and Romania in order help monitor the crisis in Ukraine.
Poland is a western neighbor of crisis-torn Ukraine - between the countries' capitals, Warsaw and Kiev, there is less than 700 km.
Earlier, the Polish media reported that US fighter jets would be stationed at the Lask air force base in central Poland.
Washington is also sending four F-15 planes to Lithuania in response to "Russian aggression in Ukraine and increased military activity in Kaliningrad," according to the Lithuanian Defense Ministry.
On Saturday, US Navy destroyer, the USS Truxtun, crossed Turkey's Bosphorus and entered the Black Sea. The ship, with around 300 crew, was heading to "previously planned" training exercises with the Bulgarian and Romanian navies. When the vessel appeared in the Black Sea, Fox News declared that NATO's bolstering presence in the Black Sea is a "defensive" measure to counter "Russian military aggression" in Ukraine.
USS Truxton, one of the largest destroyers ever built for the US navy, will reportedly stay in the Black Sea till mid-March as the Montreux Convention allows a warship of any non-Black Sea country to stay in the region for 21 day only.
The situation in Ukraine is close to financial and humanitarian catastrophe after the armed coup which took place in February. There are mass protests in eastern and southern parts of the country against the self-proclaimed authorities in Kiev.
The Autonomous Republic of Crimea has scheduled a referendum for March 16 on whether it wants to remain part of Ukraine, or join Russia.
You can share this story on social media: