Football hooligans: Challenge for Russia ahead of home 2018 World Cup?
With Russian fans accused of displaying neo-Nazi banners during the country's opening World Cup match in Brazil, RT looks into the origins and the current state of Russian football hooliganism.
FARE (Football Against Racism in Europe) organization spotted banners with Celtic Crosses, often used by neo-Nazis, in the Russian stands during a match against South Korea (1-1) on June 18.

The violation may lead to serious sanction against the Russian national team, which may include a point deduction.

Russia was under threat of similar punishment after its fans threw fireworks onto the pitch and displayed offensive banners during Euro 2012.

However, the country's football authorities managed to win the appeal against the ruling and a point deduction was avoided.

In recent decades, showing support for your team in Russia often exceeds wearing club colors and chanting in the stands, turning into brawls with police and fans of the opposing team.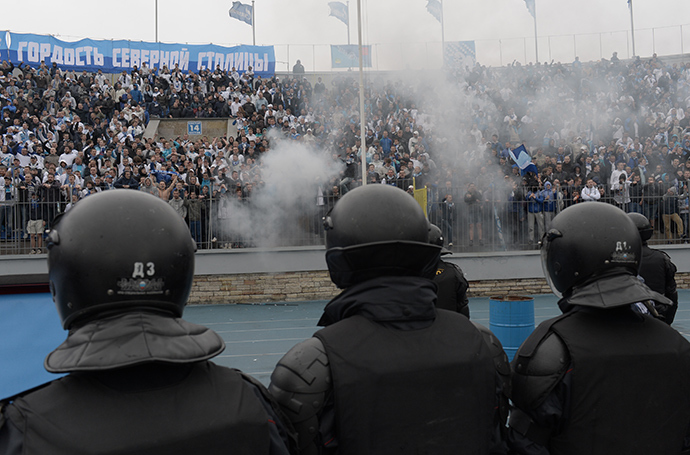 "In 1998, when Spartak was playing CSKA in Moscow, we had a huge fight. Red Blue Warriors came up against us, there was more than 800 people involved in a brawl,"
Vasily, former hooligan and co-founder of the Gladiators firm, told RT.
But the retired hooligan now he says that fan culture has changed massively in Russia in the last decade.
"The stereotype of an English football hooligan or Italian ultras no longer applied to us. We went our own way. Now there are no loud criminal cases against hooligans – compared to 90s,"
he stressed.
Back in the Soviet times, football was considered one of the nation's prides, with the country winning the first ever European championship in 1960.
Russia produced one of the world's top goalkeepers, Lev Yashin, as well as plethora of managers, like Valery Lobanovsky, who revolutionized the game.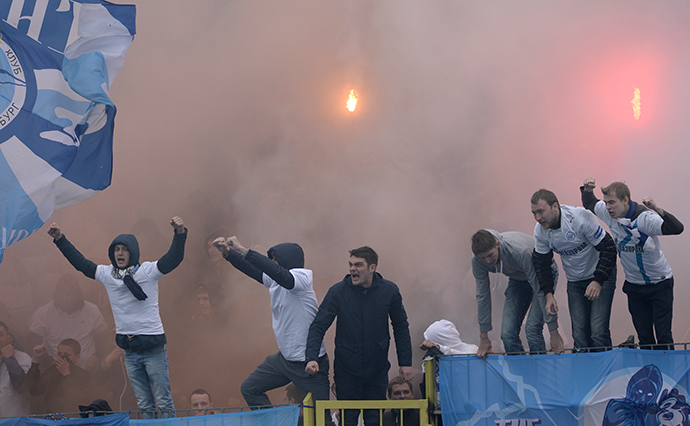 With the collapse of the USSR, football suffered a major blow, which coincided with the rise of hooliganism in the country.
It's still unclear what caused this surge in violence at the time, but in more recent years, Russian hooligans have been making headlines – from
violent pitch invasions
, mass street rallies to racist incidents and swastikas in the stands.
Neo-Nazi views and xenophobia have been among the most debated issues. When a fan was killed in a fight with migrants in Moscow back in 2010, thousands of
ultras made themselves heard
right by the walls of the Kremlin.

"Politically motivated people have always been close to fan groups. Not only have they propagandized the cult of violence, but they explained why this violence was needed. That's why Nazi views are popular there, because force and violence are the basis of Nazism and fascism,"
Georgy Fedorov, from Aspect social research center explained.
However, another former hooligan and founder of Fratria, Russia's largest fan movement – Ivan Katanaev – believes the issue is often blown up in the press – and problems are usually solved even before they appear.
"Hooligans spearheaded events at the Maidan in Ukraine. Some of them are in the National Guard now. So, potentially this is a very dangerous part of society. But our authorities are pursuing a very clever strategy with hooligan communities, so there's no danger from them in Russia. These fights happen every weekend, but no one knows of them – they happen out of town, in forests and strictly upon agreement,"
Katanaev told RT.
The 2013 movie 'Okolofutbola' ('Football hooligans') tells the story of a firm of hooligans – consisting partially of white collar workers – where death and destruction rubs shoulders with love and friendship.
One of its characters keeps asking the question:
"Why do you fight?"
which is answered by another question:
"What do you want us to do? Play football?"
The slogan of the movie, which saw nearly half a million flocking to Russian cinemas, was
"We can't be changed".
But, according to Vasily, real life has proven they can. It's just the matter of whether the rest of the world will be happy with this evolution of Russian fan culture when the country hosts the next
FIFA World Cup in 2018
.