Syria chemical arms investigation team kidnapped, quickly released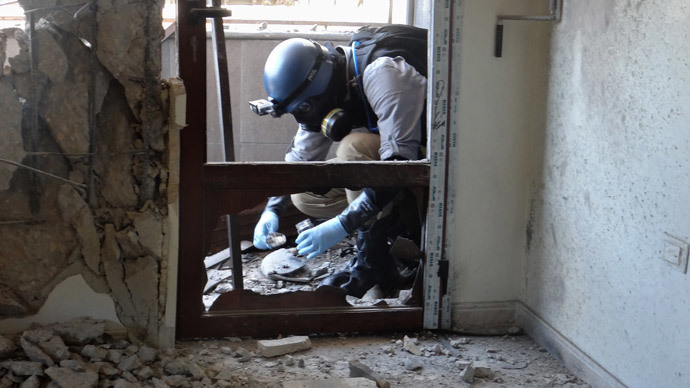 Six UN chemical weapons investigators were kidnapped in Syria by armed groups, while a further five Syrian drivers accompanying them were also abducted, according to the Syrian Foreign Ministry. The UN later confirmed their release.
The country's Foreign and Expatriates ministry additionally released a statement on Tuesday stressing that terrorists are responsible for undermining the work of the UN mission, reported SANA.
"Eleven people - five Syrian drivers and six other members of the Organization for the Prohibition of Chemical Weapons team who were on board two vehicles - have been kidnapped," the ministry said, reported AFP.
A statement was later released by the UN declaring that all team members were "safe and well" andtravelling abck to the operating base.
"Our inspectors are in Syria to establish the facts in relation to persistent allegations of chlorine gas attacks," OPCW Director-General, Ambassador Ahmet Üzümcü said in a statement released on the OPCW website.
"Their safety is our primary concern, and it is imperative that all parties to the conflict grant them safe and secure access," he added.
The kidnappings took place in countryside surrounding the central Syrian city of Hama. A team had been sent to the city this month in order to examine allegations that chlorine gas had been deployed in the area.
A number of the Organization for the Prohibition of Chemical Weapons (OPCW) are overseeing the removal of the country's chemical deposits.
By the end of April, Syria had removed over 92 percent of its chemical stockpile, said the head of the OPCW-UN task force at the time. The complete weapons destruction deadline was at that point set for June 30.
However, doubt was cast on the country's ability to meet the deadline on May 22 as Syria claims that some of the chemicals are inaccessible on account of the conflict.
The British deputy representative to OPCW told The Hague that packaging materials had been supplied in order to dispose of the remaining 100 metric tons, according to Reuters.
"But there is still no sign of any movement of chemicals, nor any indications of a time scale for a move," said the statement procured by the agency.
Representatives of the organization frequently cautioned the danger inherent in undertaking the investigation. On May 8, Sigrid Kaag, head of the OPCW, said that 16 barrels were left, but they were located in a dangerous area.
However, even as early as October, UN Secretary-General Ban Ki-moon wrote a letter to the UN Security Council stating that the team being dispatched was going to be positioned in a "dangerous and volatile" environment.