​'Cheap high': Uruguay pledges its cannabis will be legal, good quality and inexpensive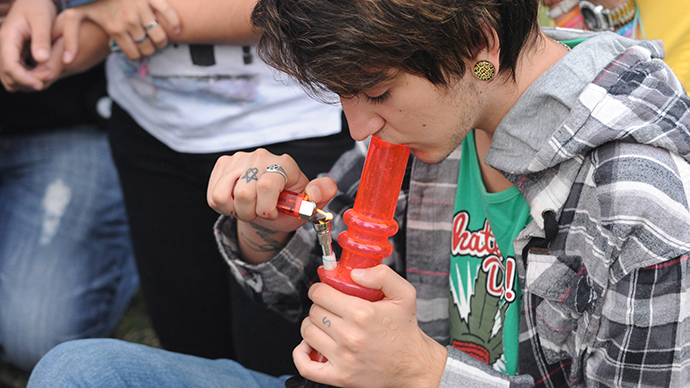 Customers in Uruguay now can buy up to 10 grams of marijuana a week at a price of about $0.90 per gram, according to long-awaited regulations for the country's legal cannabis market signed Tuesday.
Uruguay's authorities have signed regulations for legal marijuana specifying that every citizen of the country will soon be able to buy the plant at about 90 cents per gram.
Uruguay legalized the sale and production of the drug in December 2013, despite global criticism.
Uruguayans will be able to buy up to 10 grams of marijuana a week, or 40 grams a month, from a network of pharmacies at a price of 20 to 22 Uruguayan pesos ($0.85-$1) a gram, says the decree signed by Uruguay's president, Jose Mujica.
The low price was established to compete with black market marijuana distribution, coming mostly from Paraguay, a neighboring South American country which is one of the region's largest producers of illegal marijuana.
Legal marijuana will soon be available in Uruguay by the end of the year, when the country's pharmacies start selling the plant under the control of the authorities.
Each Uruguayan citizen will have an opportunity to grow up to six marijuana plants, the equivalent of 480 grams, but only for personal use.
Cannabis users will also be allowed to organize smoking clubs of 15 to 45 members that can grow up to 99 plants per year.
Also, the rules define that the drug should only have a maximum approved concentration of tetrahydrocannabinol (THC), the major psychoactive element of the plant, of 15 percent.
According to the legislation, buyers will be able to grow their own or purchase cannabis via consumers' clubs. The customers must be 18 or older, residents of Uruguay, and must be registered as cannabis consumers with the authorities.
Pro-cannabis activists have welcomed the legislation, saying that it will make the drug high-grade and affordable.
"You can't compare a flower that is quality-controlled by the Public Health Ministry ... with Paraguayan (stuff) which is absolutely harmful because it has external substances," Bruno Calleros, of the Cannabis Liberation Movement, told Reuters.
President Mujica, 78, a former guerrilla, told The Associated Press in an interview Friday that he wants to defend society's right to experiment.
"If it didn't exist, we would be condemned to paralysis, stuck in a photo that never changes a bit. There is no other way to be able to advance," Mujica said.
Uruguay has gone further than countries that have decriminalized possession or tolerate the sale of marijuana in "coffee shops."
Colorado became the first US state to legalize the recreational use of marijuana and to allow it to be sold in shops beginning 2014. However, in Colorado any adult can buy up to 28 grams at a time, meaning they can buy one lot at a pharmacy and then go down the street to buy another 28 grams. Mujica called this practice a "complete fiction."
In the Netherlands, cannabis products are only sold openly in marijuana coffee shops. Though cannabis is technically illegal, the country decriminalized possession of less than 5 grams of the substance in 1976.
You can share this story on social media: