Uruguay rolls out marijuana legal sale details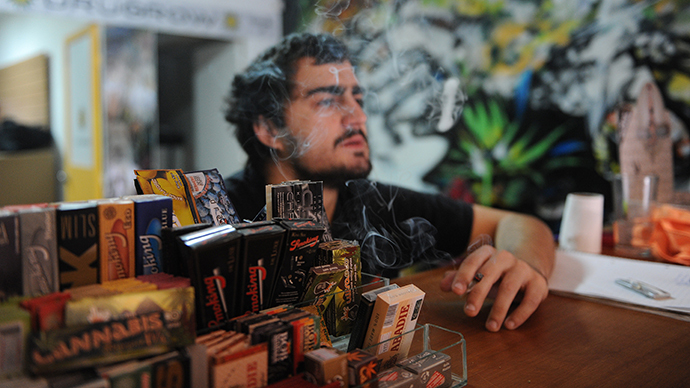 Authorities in Uruguay have set out the legal details of how marijuana will be sold by registered pharmacies, which will offer the drug for under $1 a gram. But President Mujica says those looking for a pothead's paradise would be better off in Colorado.
Under the law, which is expected to come into force next week, the public will be able to grow 40 grams of marijuana a month and each household will be allowed six cannabis plants.
The amount of marijuana people can buy in pharmacies will be limited to just 10 grams per week, and will be sold for 22 Uruguayan pesos (95 cents) a gram.
In two weeks, the government will take applications from businesses who want to become growers and supply marijuana to the state. By early December, it is hoped that a network of chemists will be ready to supply it to registered smokers, presidential spokesman Diego Canepa said on Friday.
Any pharmacy that wins a license to sell pot will be able to pocket 30 percent of sales. Furthermore, marijuana must not be visible to the public or advertised in any way.
Just like tobacco, the cannabis will be sold in packages with a warning of its health risks. Smoking marijuana will only be allowed in private homes and open-air locations.
Police will be able to carry out on-the-spot checks to make sure drivers are not under the influence while behind the wheel. Companies and trade unions will also be permitted to carry out random checks to make sure employees are not stoned, particularly while undergoing risky or dangerous work.
The strains of the drug will also be limited to five, which will be allowed a maximum THC level of 15 percent. Each bag of marijuana will be barcoded and radio-frequency tagged, which will allow authorities to determine its origin and legality.
People who buy pot in pharmacies will be identified by fingerprint readers to preserve their anonymity, but their consumption of the drug will be tracked on a government database.
This will allow police to test for illegal weed when they come across it, and arrest anyone possessing marijuana without the proper tracers.
Uruguay's President Jose Mujica, who is widely seen as one of the key figures behind the law, said that once people see the fine print, they'll see that the government is not introducing a policy that seeks to expand marijuana production.
"No addiction is good. We aren't going to promote smokefests, bohemianism, and all this stuff they try to pass off as innocuous when it isn't. They'll label us elderly reactionaries. But this isn't a policy that seeks to expand marijuana production. What it aims to do is to keep it all within reason, and not allow it to become an illness," he said in an interview with AP.
He also said that anyone wanting a pothead's paradise would be better off going to Colorado, where what they do is a "complete fiction."
In Colorado, any adult can buy up to 28 grams at a time, meaning they can buy one lot at a pharmacy and then go down the street to buy another 28 grams.
Mujica also said that Uruguay's system is more transparent than the hypocritical medical marijuana laws passed in 21 US states and the District of Columbia.
"There are places where there are forms already filled out with a doctor's signature. So you go, you say that you need marijuana because your ear hurts, they fill out the form, you prescribe it yourself and with the signature of a doctor," said the 78-year-old president.