Iraq's April death toll exceeds 1,000 – officials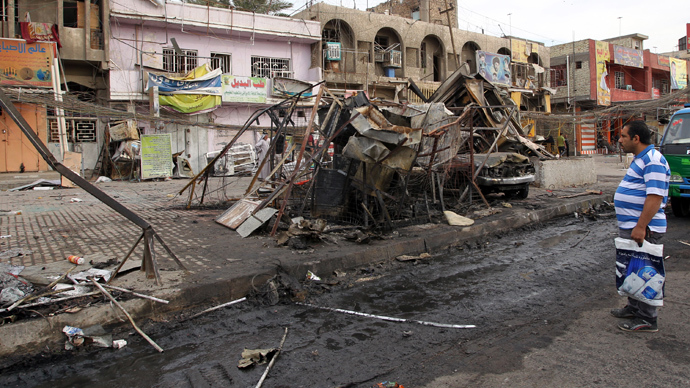 The death toll in Iraq shows no signs of decreasing as the country suffered one of its deadliest months in April with 1,009 people killed, according to the country's Interior Ministry.
Civilians were the biggest casualties with 881 deaths, while 128 law enforcement members were also killed. Terrorist attacks were the biggest cause of loss of life, with these attacks killing in the region of 750. During April, 1375 Iraqi's were injured.
The figures could have been even higher but data from the restive region of Anbar in the west of the country was not included. The province borders Syria and has seen heavy fighting between government forces and Islamist terrorist groups.
Iraq has been torn by a new wave of violent attacks since April 2013, with the numbers of dead jumping to its highest levels since the worst of the country's sectarian bloodshed in 2006-2008.
8,868 people were killed in 2013, and 1,666 people died in the first three months of 2014 due to terrorist attacks or other acts of violence, according to UN statistics.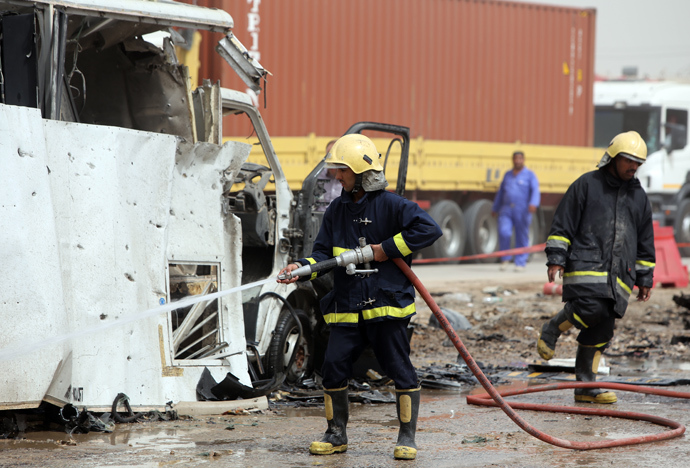 Independent filmmaker Sukant Chandan told RT that death squads are behind the increase violence in Iraq and they are funded by the Gulf States, which are backed by Western governments.
"Who is giving oxygen to the death squads? It is really the regimes based in London, Washington and Paris through the proxies in the Gulf monarchies. It is only yesterday that [Prime Minister Nouri] Maliki said that Qatar and Saudi Arabia are at war with Iraq through the death squads. So the Maliki government is in a terrible situation, particularly the people of Iraq are in an awful, traumatic situation," Chandan said.
His comments are backed up by Iraqi Prime Minister Nouri Maliki who has accused Saudi Arabia and Qatar of declaring war on Iraq and supporting global terrorism. The Iraqi leader blamed the two countries for orchestrating the latest wave of bloody violence to hit Iraq this year.
In a heated attack on Iraq's Sunni Gulf neighbors, Prime Minister Maliki leveled a number of accusations at Qatar and Saudi Arabia in an interview with France 24. He said both countries are supporting extreme sectarian groups within Iraq, with a view to destabilizing the country and are "attacking" Iraq through Syria.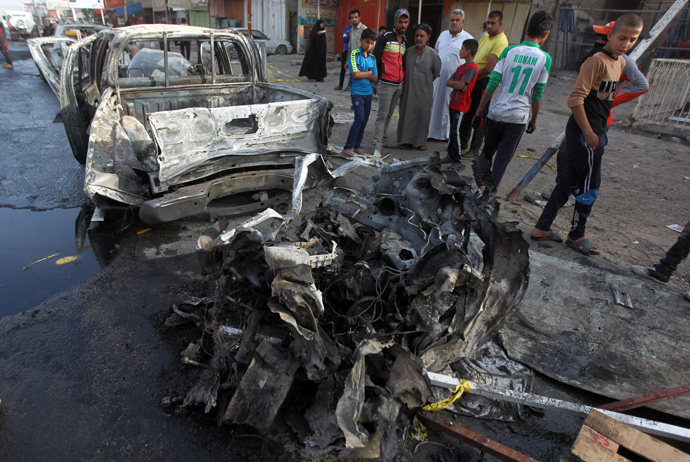 "I accuse them of inciting and encouraging the terrorist movements. I accuse them of supporting them politically and in the media, of supporting them with money and by buying weapons for them," Maliki told France 24.
Attacks have increased in recent weeks, with the first elections since the US withdrawal from the country set to take place. On Monday a suicide bomber killed at least 30 people and wounded at least 50 others at a Kurdish political rally in Khanaqin, 100 miles (140 km) northeast of Baghdad, Reuters reported.
In the western Mansour district of Baghdad, six police were killed and 16 others were wounded when a suicide attacker dressed as a police officer detonated explosives near the entrance of a school used as a polling station, according to police and medical sources.
You can share this story on social media: