The first post-occupation election in Iraq started with explosions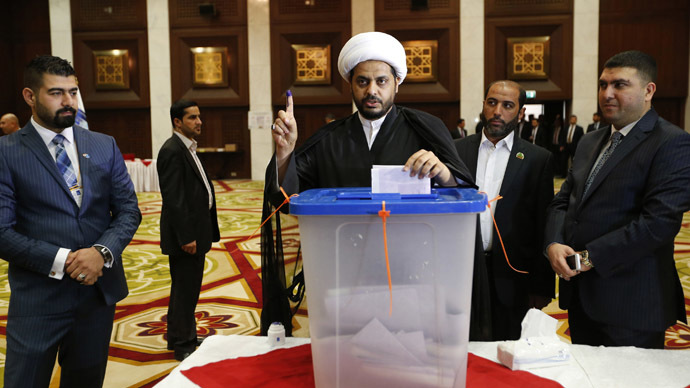 Monday was the most difficult day in the Iraqi elections, say police, military and security officers who voted that day. The people who are supposed to be guarding the polling stations lined up in front of the ballot boxes and became targets.
Five polling stations in Baghdad, Sadr City and Mosul came under attack with varying consequences. The Iraqi Ministry of Interior reported six people killed and 24 injured, but the figures quickly changed to two dozen dead.
In the morning, the main polling station where security forces vote was crowded. No terrorist can make his way in here. It is in the government quarter close to the Green Zone, separated by concrete walls from the rest of the world. Since 2003, when the Baghdad municipality was destroyed by heavy bombardment, there have been only two ways to get around here: you either walk or you drive a tank.
For some reason, you are not allowed to take pictures of the graphic scars left by the US bombardment. In fact, the entire system of bans in Iraq is highly contradictory. The current authorities seem to have inherited the disposition for paradoxical prohibitions from the Saddam era. For example, many people would tell you that it was perfectly fine to go for a walk in this area and take any pictures you like.
Military officers did not look particularly alert or shocked by the deaths of their colleagues. Possibly, it is just not that easy to shock people in Iraq after all they have been through. Under US occupation, 180,000 Iraqis were killed, 150,000 were widowed, 120,000 were orphaned. Even the most pro-American Iraqis think that the lists kept by activists at database are accurate. In fact, everybody who trusts this organization and uses their figures would tell you that the death toll is actually ten times higher – and this is really scary.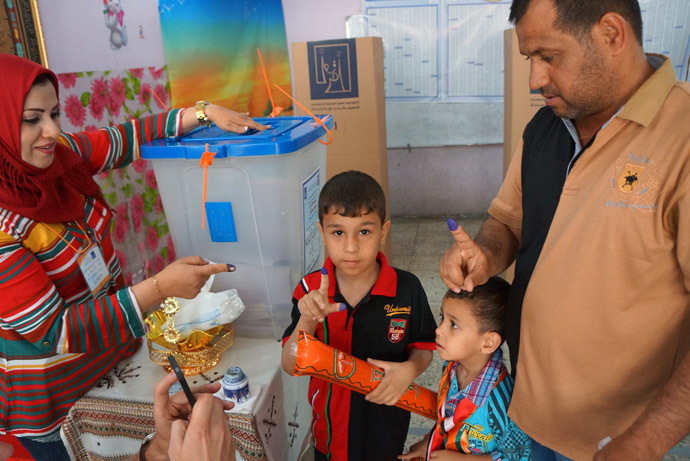 Notepads, cameras and chargers are the things that interest security personnel the most in a journalist's bag. When I turned my spare battery on and a blue LED light began to blink, a fully veiled female guard searching me ran out of the tent to get the senior officer. When we explained to her that it was only a battery, she immediately stopped hollering and began to apologize with as much zeal.
Soldiers and officers from different units and in different uniforms kept coming in small groups, taking pictures of each other, taking pictures with me and asking for my Facebook account in order to become Facebook friends with me and post the photo.
At every checkpoint, they "check" your papers. My green international ID card worked fine in every instance. When I went into the polling station, they wrote down my name in a thick register and gladly demonstrated the voting procedure to me.
The polling station is set up in a school building. There were long lines to each of the classrooms, and senior officers waited in them just like ordinary soldiers. There was no segregation; on the contrary, there was an atmosphere of camaraderie. After voting, each platoon would take a group picture showing their inky index fingers.
Contrary to expectations, not all the military voted for the ruling bloc. They were more than willing to explain why they voted for the candidates they voted for.
What was even more contrary to the view dominating the media is that there were Sunnis among the military who voted for the bloc of the Shiite leader al-Sadr.
Rayad is not just a Sunni; he is a Sunni from Fallujah, which is currently seized by terrorist groups – al Qaeda and ISIS, Iraqis say. Rayad is the only Sunni in his unit, and he has Shiites under his command.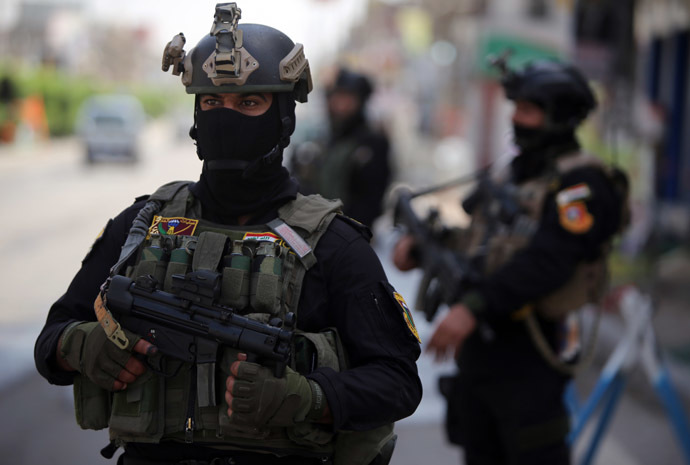 "The reason I vote for Sadr is not just because he is a good man. He protects everybody regardless of which group they belong to," Rayad tells me. Most of the people in his police squad vote for al-Sadr, not for al-Maliki's ruling Shiite bloc.
The bloc of Muqtada al-Sadr who started a Shiite rebellion against US occupation in Najaf in 2004 runs against the ruling bloc of al-Maliki. It has 40 seats in the parliament and 6 ministerial positions in the government.
Rayad tells me about his hometown, Fallujah, which is famous for rebelling twice against US occupation in 2004. Now it has been seized by the radicals fighting "infidels," as they refer to Shiites.
"Those terrorist groups started their raids seven months ago. They use hit-and-run tactics. There are people from all over the world among them – Syria, Turkey, even Tunisia. I've never seen them myself but I know people who have. They quickly move around the city, and they have plenty of weapons. Most residents, including my family, have moved to Baghdad. They just left one man from each family to take care of their houses but it is impossible for the families to remain there," Rayad says.
Golsham Kamal Ali, the head of the PR department of the Independent High Electoral Commission, says that the terrorists attacked five polling stations where the servicemen voted. Other than that, she believes, the voting has begun well, and the servicemen are prepared for these attacks in any case.
A police unit wearing a different kind of uniform walks into the school yard. They have all voted for al-Maliki. "I think he's the right person for the job, he deserves it. He always acts sensibly, and I respect him", one of the policemen readily explains.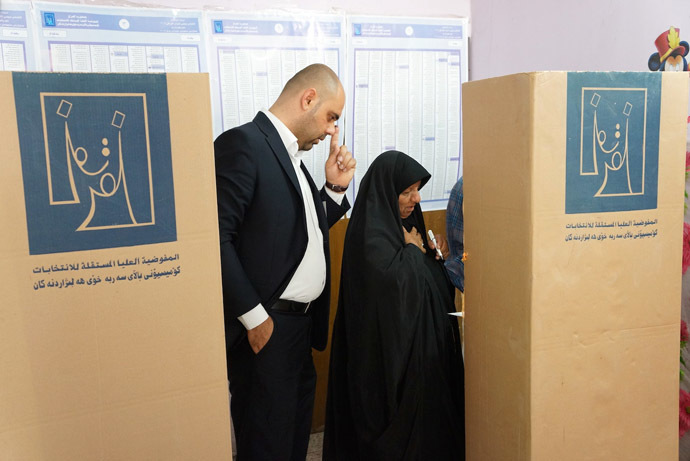 His fellow policemen are all from Baghdad. They all say their families voted for al-Maliki as well. One of the policemen protests and says he voted for al-Sadr. Many Iraqis are particularly enthusiastic about the elections, because no one makes them cast their votes and they can vote against the ruling regime. They don't really think about what they'll get from that.
"We may be certain that al-Maliki wins and stays in office. He suits both Americans and Iraqis, and these are the two groups that determine everything in Iraq now". This sentiment has now been repeated by everyone who's so enthusiastic about the election process that they aren't even hoping for any kind of change.
On Tuesday morning a curfew was imposed in some of the Bagdad districts, and access to the city will be restricted before the main voting day on April, 30.
This is the first post-occupation election in Iraq. There are about 9,000 candidates, one quarter of them women, running for 325 seats in the Parliament.
The statements, views and opinions expressed in this column are solely those of the author and do not necessarily represent those of RT.
The statements, views and opinions expressed in this column are solely those of the author and do not necessarily represent those of RT.
You can share this story on social media: