Deadly tornadoes ravage US Gulf-coast, leaving at least 34 dead
Published time: 29 Apr, 2014 17:25
Edited time: 30 Apr, 2014 06:20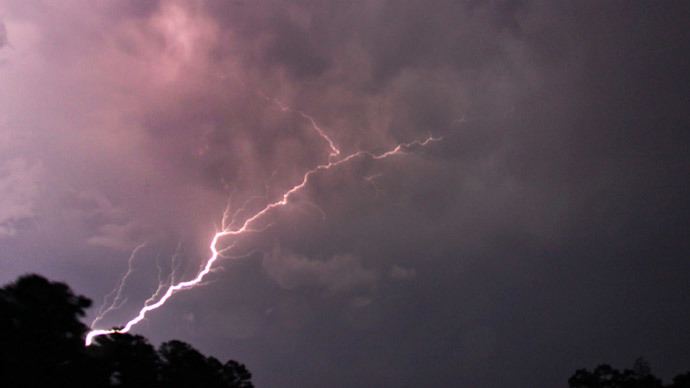 At least 34 people have been killed in tornadoes that have ripped through Mississippi and Alabama, flipping trucks over on highways and leaving tens of thousands without power.
A severe tornado struck the town of Tupelo, Lee County, Mississippi, at approximately 2:45 p.m. local time (07:45 p.m. GMT), destroying every building in a two-block area and causing dozens of injuries.

Meteorologists reported seeing a "debris ball" signature on their Doppler radar, a clear warning that a potentially dangerous tornado was incoming. Television news anchors and weathermen at WTA-TV in Tupelo were forced to evacuate the studio for their own safety.

The tornado affected the western part of the town, near Tupelo Airport and then tracked down to the northeast of the town.
"There has been significant property damage in northern portions of the city," Tupelo mayor, Jason Shelton, said in an interview with The Weather Channel.

Search and rescue efforts were on-going in the state, according to the Mississippi Emergency Management Agency.
"It was real bad. We're trying to pull people out," Tupelo Police Chief Bart Aguirre, told Reuters, referring to emergency crews going house to house, searching damaged buildings.
About 30 injured have been taken to Northeast Mississippi Medical Center in Tupelo, four of whom were being admitted with non-life-threatening injuries, said center spokeswoman Deborah Pugh.

Meanwhile, at least two tornadoes were reported in the suburbs of Jackson, the Mississippi capital at around 6:35 local time (11:35 GMT). Heavy damage was also reported north of Richland town, Rankin County, Mississippi, says the National Weather Service.

Also two tornadoes have been reported in the town of Louisville, Winston County, Mississippi. The first struck at around 4:30 local time (09:30 GMT), the second at around 5:00 (10:00 GMT). According to Louisville police, at least 45 people have been injured by the twisters.

The tornado in Louisville also caused water damage and carved holes in the roof of the Winston Medical Center, according to an Associated Press reporter at the center.

"We thought we were going to be OK then a guy came in and said, 'It's here right now,'" Dr. Michael Henry, head of the emergency room from Winston Medical Center, told RT. "Then boom ... it blew through."

The coroner's office in northern Alabama, another US state affected by the twister, confirmed two casualties. The weather phenomena also caused huge damage in the western part of the town of Athens, Limestone County, Alabama, said Limestone County Emergency Director, Rita White. According to White, more people could be trapped in the destroyed buildings. However, the rescuers can't reach them due to downed power lines.

Meanwhile, the US is again bracing itself for new tornadoes as weather centers have issued a warning for Alabama and Mississippi.

Dangerous tornadoes have been touching down across southeastern US for the past few days. The National Weather Agency reported that at least 31 tornadoes have hit Arkansas, Iowa, Kansas, Missouri, Louisiana, Nebraska and Oklahoma.

Arkansas was the worst affected – with a three-quarter of a mile-wide tornado instantaneously leveling buildings caught in its way. At least 14 people died in Little Rock, Arkansas, after a massive tornado created 80 miles of destruction through the suburbs around the state capital on Sunday.