Casualties, massive damage as multiple tornadoes rip through US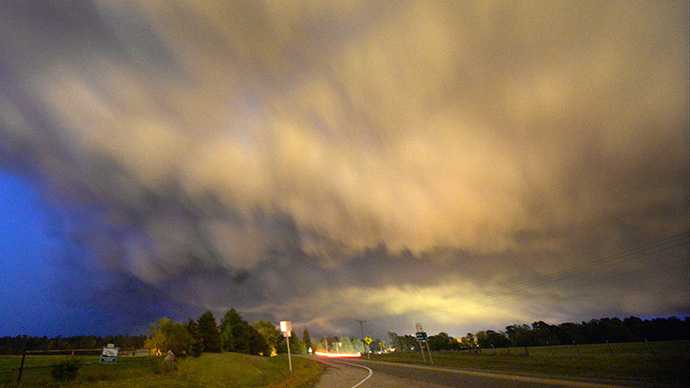 A powerful tornado storm system has ripped through several US states, killing one person in Oklahoma and at least 16 others in central Arkansas while causing major damage in the Great Plains, Midwest and Southern states.
A tornado killed one person in Quapaw, a small residence in Oklahoma, on the border of Kansas and Missouri, authorities announced, saying the storm struck the town around 5:30pm local time.
My hometown sustained a direct #tornado hit. Pray for those in Quapaw, Oklahoma and neighboring communities affected. pic.twitter.com/B8deCqBKaP

— Mr. Saturday Night (@MSN_Barry) April 28, 2014
The authorities are still trying to access the scene which has allegedly suffered damage to half of the community.
2 dead after tornado strikes Quapaw, Oklahoma. @cbsnewspath: Aerials of storm damage. Via @tomcbs4pic.twitter.com/fNcAxfhn2r

— Brendon Geoffrion (@tvbrendon) April 28, 2014
"Looks like about half of the town got extensive damage as well as the fire department," Ottawa County Emergency Management director Joe Dan Morgan announced.
From Katie Elizabeth: Damage earlier today in Baxter Springs, KS from a tornado. #KSWXpic.twitter.com/e7XLflnwdd

— Nathan Young (@nvyoung) April 28, 2014
The tornado then continued towards, Baxter, where authorities say the twister injured several people and caused extensive damage. Emergency service responders are now checking the roughly 4,200 residents.
Tornado earlier in Baxter Springs, photo by Trevor Burrows pic.twitter.com/D5TMIyLGUg

— William Lynch (@WilliamLynchMO) April 27, 2014
Tornado warnings are also in effect in for parts of Texas, Arkansas and Tennessee. More twisters were also recorded in parts of Nebraska, Iowa and Missouri, but no injuries were reported there.
"The greatest risk for a few intense tornadoes will exist across much of Arkansas perhaps into western and central Missouri," a weather service advisory said.
Pray for Mayflower, guys. It's needed right now. #arwxpic.twitter.com/NGLO5lxb9v

— Jesse (@WhistlePig11) April 28, 2014
Television footage showed damaged and overturned vehicles after a massive tornado struck about 10 miles (16km) west of Little Rock, Arkansas moving north-eastward for 30 miles (48km).
The twister ripped through along Interstate 40 between the suburbs of Maumelle and Mayflower, causing damage there. There were no immediate reports of causalities there. But a "mass casualty situation" was reported in the town of Vilonia, Arkansas, a spokesman for the Faulkner County Sheriff's office said.
The Arkansas Department of Emergency Management confirmed late Sunday that at least eleven people had died after a tornado tore through central Arkansas.
According to the Storm Prediction Center of the national weather service, affected areas that remain under threat of "severe potential" tornadoes with "95 percent probability of watch issuance" are Arkansas, far eastern Oklahoma, and far northeast Texas.
We've got major damage in mayflower. #arwx@KATVBarry@KATVNews@KATV_Weatherpic.twitter.com/AxG5FpRLoe

— Jesse (@WhistlePig11) April 28, 2014
"@Garrett_J19: The damage in mayflower is horrible pic.twitter.com/dMJoE8Ujnq" here's another pic of what we saw

— James Bryant (@nlrweatherman) April 28, 2014