Deadly winter storms ravage US, threatening nightmarish Thanksgiving travel for millions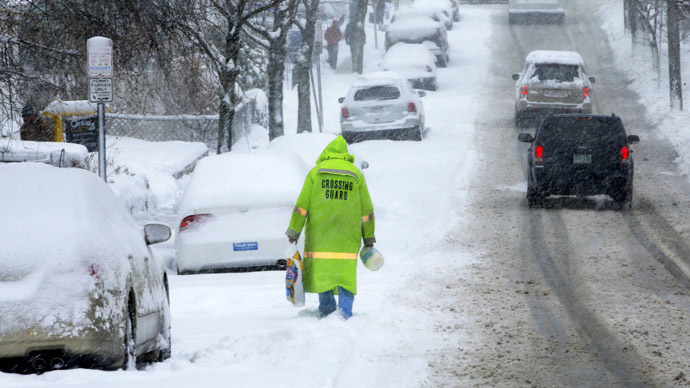 Those planning to trip home for Thanksgiving should brace themselves: a deadly winter storm is scheduled to hit the East Coast just in time to cause plenty of travel problems.
The front – a combination of snow, ice, and heavy, freezing rain – began out in California last week and has already hit Arkansas, Oklahoma and Texas. Although the storm was less severe than expected in the three previously mentioned states, due in part to temperatures that ran above freezing, it's still thought to be responsible for at least 11 deaths – half of which occurred in Texas.
The front is scheduled to strike the East Coast and the Southeast over the course of Tuesday and Wednesday, as more than 43 millions Americans are expected to travel to see family members for Thanksgiving. By Thursday, the storm will have moved past the East Coast, leaving cold temperatures in its wake.
"The timing of the storm couldn't be worse," Chris Vaccaro, a spokesman for the weather service headquarters in Silver Spring, Maryland, said to the Associated Press. "We are seeing numerous threats as the storm is beginning to develop and intensify."
Winter storm warnings have been issued for parts of the eastern half of the U.S. until at least Wednesday afternoon, according to the AP. Nearly 2.5 million people are expected to flyon Wednesday, and the National Weather Service stated delays are virtually guaranteed to occur at major airports in New York, Washington, D.C., Philadelphia, Boston, and Charlotte. American Airlines and its regional affiliates alone have already canceled about 950 flights across the country betweenSundayandMonday, and the storm is yet to come for densely populated cities on the East Coast.
Drivers in New Jersey, meanwhile, have been advised to lower their speed on highways. Other cities, like Baltimore and D.C., are also issuing winter weather advisories.
The storm has been pegged to bring snow and ice along with rain to states on the East Coast, from the Carolinas all the way up north to Maine. Pittsburgh, Pennsylvania and Buffalo, New York are both expecting up to eight inches of snow, while even more could fall in the Adirondacks.

Southeastern states such as Alabama, Kentucky, and Tennessee, meanwhile, are expected to be battered with heavy rainfall, and there's a possibility the storm could spark a tornado in the Florida Panhandle.
Some states, such as Arkansas, were prepared for the worst but breathed a sigh of relief when the combination of sleet, freezing rain, and snow didn't turn out to be as bad as it could have been.
"It's just really cold. We had drizzle but no snow," said Courtney O'Neal-Walden, who owns a diner in Arkansas, to the AP. "You can see (ice) on the power lines but the roads are fine."
You can share this story on social media: