Mayflower Arkansas devastation: Deadly tornado destroys everything in its path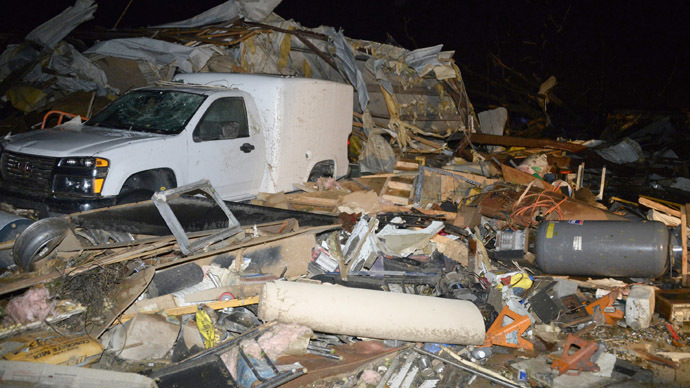 Fourteen people have been confirmed dead after a swarm of tornadoes swept through the US Midwest and South, leaving a trail of destruction. More stormy weather is expected in the coming hours.
At least 31 tornadoes were reported by the National Weather Agency to have hit Arkansas, Iowa, Kansas, Missouri, Louisiana, Nebraska and Oklahoma.
Arkansas was the worst affected – with a three-quarter of a mile-wide tornado instantaneously leveling buildings caught in its way. At least 14 people have died in the state, local officials said on Monday. Previously, it was reported that as many as 18 had died.
RT to show your support & prayer for all of those devastated by yesterday's #tornado#PrayForArkansas@liamkfisherpic.twitter.com/2tRjfJszdM

— allys_sons (@allys_sons) April 28, 2014
"It's been a truly awful night for many families, neighborhoods and communities, but Arkansans always step up to help each other recover," Arkansas Governor Mike Beebe tweeted, ahead of his visit to the affected areas on Monday morning.
The bell from the #Vilonia United Methodist Church. Flung at least 75 yards by the tornado pic.twitter.com/Ti3dJyDJOU

— Matthew Carroll (@MatthewMGC) April 28, 2014
The tornado hit at about 7 pm Sunday near Little Rock, Arkansas, the hometown of former US President Bill Clinton and former Secretary of State Hillary Rodham Clinton, and then plowed through the landscape for approximately 80 miles – decimating the small towns of Mayflower and Vilonia.
Mayflower RV obliterated in tornado: http://t.co/uGn37COr6P#arwxhttps://t.co/lERgPd0gsP

— Gavin Lesnick (@glesnick) April 28, 2014
"It's chaos here. Our downtown area seems like it's completely leveled," said James Firestone, mayor of Vilonia, population 3,800.
"There's a few buildings partially standing, but the amount of damage is tremendous. There's gas lines spewing. Of course, power lines down. Houses are just a pile of brick."
Mayflower, AR storm structure with wedge tornado on the ground in lower left. #weather#arwxpic.twitter.com/3CRsduhXCy

— Basehunters Chasing (@Basehunters) April 28, 2014
Failing power lines made it difficult for rescue workers to assess the damage and help those in danger.
"It's extremely hazardous here right now," said Will Elder, an alderman of Mayflower, which has a population of 2,300.
Overturned big rig in #Mayflower, AR pic.twitter.com/nprTCJNw1y

— Gabe Gutierrez (@gabegutierrez) April 28, 2014
The tornado crossed Arkansas' main highway, Interstate 40, leaving overturned cars and irreparably damaged trucks in its wake, forcing a road closure.
How strong were these tornadic winds? Three big RVs wrapped around a twisted I-40 billboard in Mayflower, AR. pic.twitter.com/5Rx5fPuW9k

— Mike Seidel (@mikeseidel) April 28, 2014
"About 30 vehicles – large trucks, sedans, pickup trucks – were going through there when the funnel cloud passed over," said Bill Sadler, a spokesman for the Arkansas State Police.
I can't believe I'm seeing this. Absolutely devastating in #mayflower#ARtornado#arnewspic.twitter.com/CEmpXvksQc

— Susanne Brunner (@SusanneBrunner) April 28, 2014
Meteorologists estimated that it was an EF3 tornado, meaning winds of more than 136 miles per hour. The last time such a strong tornado had been recorded in the US was in November, an unusual lull for a country that experiences about 1,200 tornadoes a year, far more than any other.
Tornado damage in River Planation neighborhood in Mayflower, #arwxpic.twitter.com/VgVJDJaP2m

— Forbidden Hillcrest (@ForbiddenH) April 28, 2014
Another powerful tornado hit the town of Quapaw in Oklahoma, killing one person, before moving into the neighboring state of Kansas.
An 11-month-old boy also died Sunday in North Carolina after being caught in a separate twister on Friday.
Further weather damage is expected until the middle of the week, as the storm front moves across the country, toward the southeastern tip of the US.
"Widespread severe storms – including strong tornadoes, damaging winds and very large hail – are expected Monday and Monday night over parts of the eastern United States," the National Weather Service warned.