6 killed, many injured as dozens of tornadoes rip through US Midwest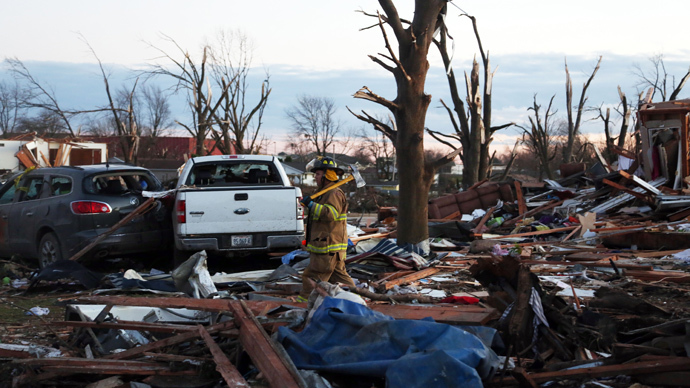 At least six people were killed and dozens more injured in the US state of Illinois as tornadoes swept through Midwestern states, destroying houses and leaving hundreds of thousands without power.
According to the National Weather Service (NWS), at least 10 tornadoes touched down in Illinois. Many more ripped through other Midwest states. Forecasters say up to 53 million people could be affected.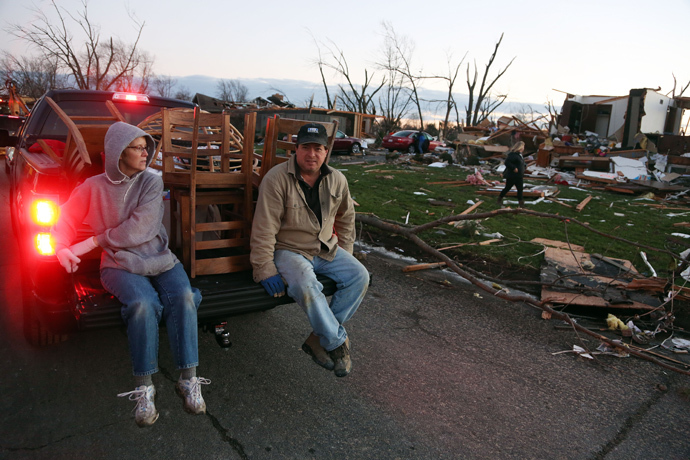 "We obviously have a very dangerous situation on our hands and it's just getting started," NWS deputy director Laura Furgione told reporters earlier Sunday.

Four fatalities were reported by the Illinois Emergency Management Agency. Two more were reported by the Washington County Coroner.
A spokewoman at St. Francis Medical Center near Washington, Ill. said the hospital was treating at least 37 patients in the emergency room.

Illinois Governor Pat Quinn urged residents to "pay attention to all weather alerts and stay home and inside if possible."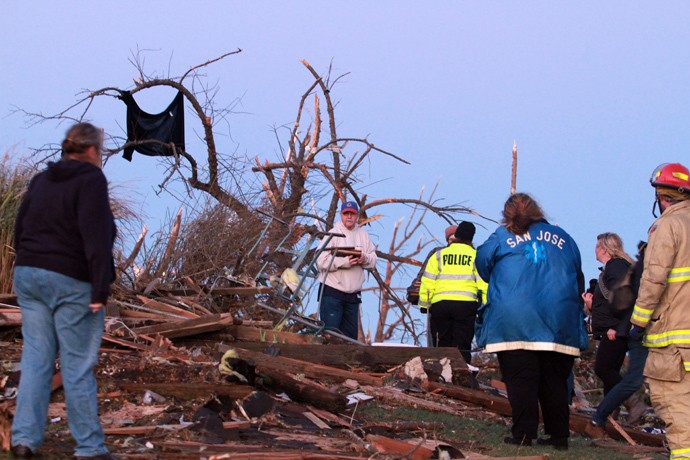 The National Weather Service warned of a "particularly dangerous situation" for parts of the central US. "Several rapidly moving, intense tornadoes, severe thunderstorms, large hail events and damaging winds are expected in these watch areas," the service said.
"We have reports of homes being flattened, roofs being torn off," Sara Sparkman, spokeswoman for the health department of Tazewell County, Illinois, told Reuters. "We have actual whole neighborhoods being demolished by the storm."
The tornado took out blocks of houses in Washington, Illinois. "The whole neighborhood's gone. The wall of my fireplace is all that is left of my house," Washington resident Michael Perdun told AP. "I stepped outside and I heard it coming. My daughter was already in the basement, so I ran downstairs and grabbed her, crouched in the laundry room and all of a sudden I could see daylight up the stairway and my house was gone."
Another Washington resident, Alderman Tyler Gee, described the devastation to WLS-TV. "I went over there immediately after the tornado, walking through the neighborhoods, and I couldn't even tell what street I was on," he said. "Just completely flattened - some of the neighborhoods here in town, hundreds of homes."
Tornado warnings were in effect for parts of Indiana, Kentucky and Ohio.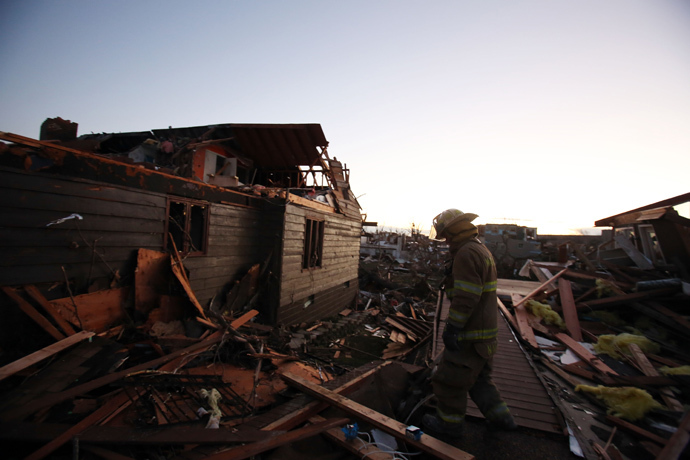 Adam Lucio saw this tornado just now near Roanoke Illinois #ilwx#outbreakpic.twitter.com/S5DOBg4m7u


— Forever Chasing (@foreverchasin) November 17, 2013
A video posted by Facebook user Karla Konieczki shows a tornado ripping though central Illinois.