SCO nations adopt New Delhi Declaration, with focus on multilateralism and fighting terror
Eurasian leaders have called for strengthening "win-win" ties within the grouping as global turbulence persists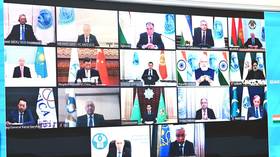 The leaders of the Shanghai Cooperation Organisation (SCO), hosted virtually by India on Tuesday, have issued a joint statement on the adoption of the New Delhi Declaration, India's foreign secretary Vinay Mohan Kwatra has announced. The statement reflects concerted efforts at countering radicalization and cooperation on digital transformation among the members, who reached consensus on ten resolutions to increase cooperation in the Eurasian region.
The document stresses the importance of building up coordinated efforts by the international community "to counter the activities of terrorist, separatist and extremist groups," paying special attention to "preventing the spread of religious intolerance, aggressive nationalism, ethnic and racial discrimination, xenophobia, ideas of fascism, and chauvinism."
At the summit opening, Indian prime minister Narendra Modi took a veiled swipe at neighbor and rival, Pakistan, citing cross-border terrorism as "the biggest threat to regional and global peace" while indirectly hinting that the country may be a safe haven for terrorists. The Indian leader sought decisive action against terrorism.
"Some countries use cross-border terrorism as an instrument of their policies and give shelter to terrorists. SCO should not hesitate to criticize such countries…there should be no double standards on terrorism," Modi said.
The rotating presidency of the SCO switches to Kazakhstan in September.
The Prime Minister of Pakistan Shehbaz Sharif, who had looked on intently during Modi's opening remarks, broadly agreed with his Indian counterpart's assertions, confirming that terrorism in all its forms and manifestations should be condemned in "clear and unambiguous terms." He opted not to engage in a discussion on state-sponsored terrorism and instead diverted attention away from Modi's apparent criticisms.
"The hydra-headed monster of terrorism and extremism – whether committed by individuals, societies or states – must be fought with full vigor and conviction. Any temptation to use it as a cudgel for diplomatic point-scoring must be avoided under all circumstances," Sharif said.
The Indian premier also urged the SCO leaders to work for the welfare of strife-torn Afghanistan and provide humanitarian aid to Kabul following the Taliban takeover two years ago. "Afghan soil should not be allowed to be used to destabilize its neighborhood," Modi added, possibly alluding to Pakistan, which is known to back the Taliban regime.
Russian President Vladimir Putin, who spoke about his country resisting external sanctions and pressures, cited Russia-China trade and economic cooperation as a case in point to counter Western hegemony. He said over 80% of trade settlements between the two nations are currently made in rubles and yuan – a bid to ditch the dollar – and urged other SCO members to follow suit. Moscow's trade with SCO member states reached a record $263 billion last year, he added.
Iran's President Ebrahim Raisi renewed his call for greater de-dollarization, to further "intra-regional relations" and hailed the SCO as a symbol of "great family of civilizations." On Tuesday, Iran became the ninth member of the group while a procedure for Belarus' full accession to the SCO was initiated at the summit.
Chinese President Xi Jinping emphasized the importance of unity and "win-win" cooperation in a world "full of chaos" and "changes unseen in a century." "We need to strengthen strategic communication and coordination… we must formulate foreign policies independently based on the overall and long-term interests of the region, and firmly hold the future and destiny of our country's development and progress in our own hands," he was quoted by the Chinese state news agency Xinhua.
Xi's concerns resonated with United Nations (UN) Secretary-General Antonio Guterres, who had been invited by New Delhi to address the summit. He pointed out that "at a time when the world needs to work together, divisions are growing, and geopolitical tensions are rising."
Elaborating on the theme of connectivity, which overlaps with China's ambitious Belt and Road Initiative (BRI), India's foreign secretary Kwatra cited PM Modi's remarks regarding how the project interfaces with sovereignty and territorial integrity. India is not taking part in Beijing's BRI project.
Kwatra sought to downplay the virtual mode of the summit, which he maintained did not dilute the event's gravitas, as links in trade, tourism and technology topped the agenda. He mentioned that though there was no discussion on the Ukraine conflict, talks did center on its impact on the Global South, especially concerning food, energy and fertilizer security. Talks are also in progress to include English as the third language in the SCO Charter, as well as the existing Russian and Mandarin, he added.
You can share this story on social media: