India facing challenge to steer SCO agenda away from Western-dominated frameworks
The Shanghai Cooperation Organisation is looking at ways to address the most pressing global issues without being a disruptive influence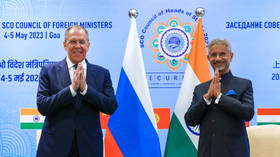 The upcoming Shanghai Cooperation Organization (SCO) summit promises to be a watershed moment in the bloc's history, coming amid unprecedented global challenges and new, emergent tensions.
While the SCO Foreign Ministers meeting, which took place on May 4 and 5, was tasked with preparing the agenda for the July 3-4 summit in New Delhi, there is still much work to do to ensure that India's chairmanship will be a success.
The West has broken virtually all links with Russia because of the Ukraine conflict. Western sanctions against Russia are unprecedented in scope, carrying significant ramifications also for the developing world, including the economic disruptions caused by the weaponization of the US dollar. The European security architecture is in tatters. For the West to seek Russia's strategic defeat while the country possesses formidable military and material resources makes no sense. Risking a potential nuclear conflict in particular is totally irresponsible.
The European Union has lost its already limited capacity to play an independent role, especially with Germany losing clout and Brussels appropriating more power. The doors of dialogue and diplomacy are being kept closed as NATO seeks military advantage over Russia, and uses Ukraine as a proxy.
At the other end of Eurasia, US-China tensions are rising over Taiwan, regional maritime disputes, strengthening of US-centered regional alliances and NATO overtures to Japan and South Korea. The US and the EU are warning China against supplying lethal arms to Russia under pain of sanctions, even as they seek China's support in persuading Russia to end its military intervention in Ukraine, and this in the background of the high-level dialogue between the US and China having virtually broken down.
Both Russia and China, the principal pillars of the SCO, are at loggerheads with the West to different degrees, and the summit agenda will inevitably reflect this reality. The SCO represents a building block of multipolarity within the global system at the political, economic and security levels, a goal reiterated at the Foreign Ministers' meeting.
While the other SCO members have robust links to both Russia and China, their connections with India are not as strong, despite mutual goodwill and shared interests. This is largely due to a lack of contiguity and direct access to Central Asia. With Iran and Belarus joining as full members, the SCO will achieve greater Eurasian depth. Both of these countries have been politically and economically targeted by the West. The SCO Foreign Ministers meeting also agreed on May 5 to grant dialogue partner status to Kuwait, the Maldives, Myanmar and the UAE, in addition to the nine existing dialogue partners. The growing interest demonstrates the appeal of the SCO as a grouping of non-Western countries that provide an alternative platform for nations to pursue their interests outside the Western-dominated international system.
Association with the SCO increases their margin to maneuver, primarily at the political and economic levels. Diplomatic support, hedging against Western sanctions, access to non-Western development banks, benefits from connectivity projects and infrastructure development, cooperation against terrorism, extremism and separatism, are obvious advantages.
India has taken its current presidency of the SCO seriously, organizing and hosting more than 100 meetings and events, including 15 ministerial level meetings. Indian Foreign Minister Subrahmanyam Jaishankar has also stressed the great importance for India of developing multifaceted cooperation. He introduced the term 'SECURE' SCO on the basis of Security, Economic Development, Connectivity, Unity, Respect of sovereignty and territorial integrity, and Environmental protection.
As SCO Chair, India initiated an unprecedented engagement with the organization's Observers and Dialogue Partners by inviting them to participate in more than 14 socio-cultural events. Many of the events hosted by India occurred for the first time in the framework of the SCO, such as the Millet Food Festival, Film Festival, Cultural Festival, the Tourism Mart, and Conference on Shared Buddhist Heritage.
Jaishankar noted that as a result of the Covid-19 pandemic and geopolitical upheavals, global supply chains had been disrupted, leading to a serious impact on delivering energy, food, and fertilizers to developing nations. He viewed these challenges as an opportunity for SCO members to address them collaboratively, noting that with more than 40% of the world's population within the SCO, its collective decisions would surely have a global impact.
Additionally, Jaishankar highlighted the unabated menace of terrorism, and that combating it was one of the original mandates of the SCO. He drew attention to the unfolding situation in Afghanistan where the immediate priorities included providing humanitarian assistance, ensuring a truly inclusive and representative government, combating terrorism and drug trafficking and preserving the rights of women, children and minorities. This was echoed by the Chinese foreign minister.
India expressed its willingness to share its expertise and experience in the field of startups having helped cultivate over 70,000, more than 100 of which were 'unicorns'. Last year, it proposed the creation of a Startups and Innovation working groups as well as one focused on traditional medicines, and the SCO meeting approved plans to operationalize these initiatives.
India believes that the SCO should look at reform and modernization to keep the organization relevant in a rapidly transforming world, and noted that discussions on these issues had already commenced. It also sought support for its long-standing demand to make English the SCO's third official language, as this would enable a deeper engagement with English-speaking members and would take the SCO's work to a global audience.
India also proposed the New Delhi Declaration as an SCO Summit Declaration at the meeting, as well as four other thematic joint statements on cooperation in de-radicalization strategies, promotion of millets, sustainable lifestyles to address climate change and digital transformation. India sought support for a timely finalization of these documents for approval at the SCO Summit.
According to Chinese Foreign Minister Qin Gang, all participating parties considered the SCO as an important platform for joint combat against terrorism, separatism, drug trafficking, as well as cyber crimes. All favored more cooperation in such fields as transportation, energy, finance, investment, trade, the digital economy, regional connectivity, deeper cultural and people-to-people exchanges, environmental protection, climate change, sustainable development, and SCO's strengthened cooperation with the United Nations and BRICS countries.
The meeting also offered the gathered foreign ministers an opportunity for intense bilateral meetings. For example, Russian Foreign Minister Lavrov met his Chinese counterpart to discuss the implementation of agreements reached between Vladimir Putin and Xi Jinping in March.
The SCO continues to enlarge its footprint, widen its agenda, and carve out a non-Western space in the international system, but some key points of friction remain between members especially China and India. The two countries are currently embroiled in a border dispute that has yet to be settled. Additionally, India stands in opposition to China's Belt and Road Initiative due to India's concerns about connected sovereignty issues.
The other, less important fault line, is India-Pakistan relations. Pakistan's Foreign Minister Bhutto Zardari did not help matters by making indirect jibes at India during his speech at the SCO meeting and further criticism of New Delhi in his interviews to the media. His comments elicited a sharp response by the Indian Foreign Minister, but only after the SCO meeting was completed. Pakistan is currently in the throes of a major internal crisis, which may affect its participation in the SCO summit. However, India-Pakistan differences are not germane to the SCO's growing stature. Far more important is the Russia-India-China triangle.
The statements, views and opinions expressed in this column are solely those of the author and do not necessarily represent those of RT.
You can share this story on social media: