Volkswagen to invest another €840mn in Russia by 2015
Published time: 5 Dec, 2012 14:55
Edited time: 5 Dec, 2012 19:07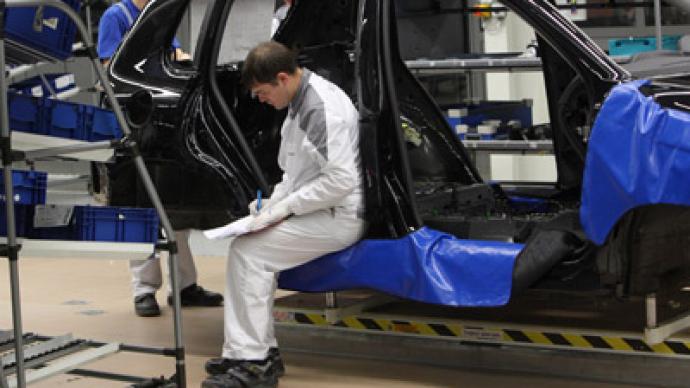 German automobile manufacturer Volkswagen plans to invest an additional €840 million in car production in Russia from 2013 to 2015, VW management board member Michael Macht announced.
­While Volkswagen's worldwide spending for the next three years will total €16.7 billion, Russia "will get additional €840 million" to the €1 billion in investment it has already received, Macht said on Wednesday. A large part of that money will be spent on expanding the VW plant in Kaluga, a city 170 kilometers south-west of Moscow, and also for projects in Nizhniy Novgorod in Central Russia. 

About €250 million will go towards sponsoring a new engine plant in Kaluga, which is planned to open in 2015 and will produce an estimated 150,000 engines per year. Volkswagen started producing cars Kaluga in 2007. The company hopes to increase production in the city after 2012 and sell about 225,000 cars.

Another part of the investment will be put into developing the company's production in the city of Nizhniy Novgorod. In June 2011, Volkswagen and GAZ Group, a leader in Russian commercial vehicles agreed to produce 110,000 Volkswagen passenger cars in Nizhniy Novgorod in 2015. That same year, Volkswagen Group Russia increased its sales in Russia by 74%.   

Volkswagen now represents five brands in Russia: Volkswagen, Skoda, Audi, Seat and Volkswagen commercial vehicles. To date, its total investment in the country amounts to €774 million, €570 million of which was invested in the plant in Kaluga.

As Volkswagen tries to expand its presence outside Europe and replace its major rival Toyota Motor Corporation, the company plans to build new factories in China, Mexico and Russia. Volkswagen's total investment in foreign markets – property, plants and equipment – over the next three years will equal the combined investments of Toyota and General Motors Company.