Russia's richest man Usmanov ditches Apple and Facebook for China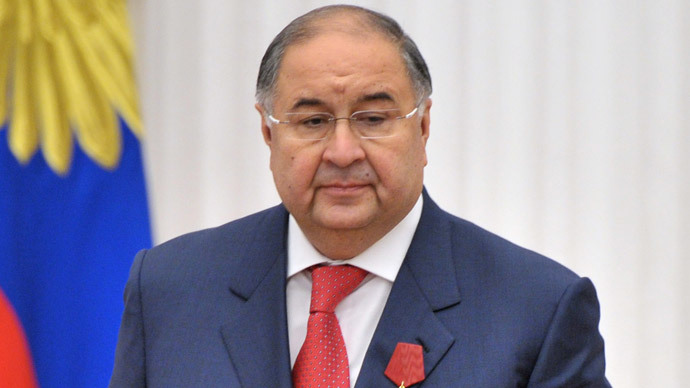 Russia's biggest billionaire has bought shares in big Chinese internet retailer Alibaba, after selling his stakes in US tech giants Apple and Facebook. The deal comes as the West imposes sanctions on Russia, that could spread from politics to business.
Usmanov, 60, a founder of Russia's iron ore Metalloinvest holding company, has an estimated fortune of $18.6 billion as of March 2014 and is increasing his bet on China, while selling American assets.
"Chinese companies account for about 70 percent to 80 percent of the portfolio of our foreign internet investments," Ivan Streshinskiy, head of Usmanov's asset-management company USM Advisors LLC, told Bloomberg in an interview in Moscow.
In the last few months Usmanov sold the stake in Apple he bought for about $100 million last year, Streshinskiy said.Prior to the Apple sale the Russian tycoon started a gradual sale of his 10 percent stake in Facebook he bought in 2009, when the company was valued between $6 billion and $10 billion. Usmanov sold some of the shares in the Facebook IPO, that valued the company at $104 billion.
Alibaba, the world's second biggest internet company after Google Inc., is valued at about $200 billion, as Bloomberg cites an investment bank data. The Chinese on-line retailer posted surging sales in the three months through September, marking fourth straight quarterly profit.
China's safe harbor
As Russia's relations with the west sour over the Crimea referendum and the crisis in Ukraine, Usmanov says his Metalloinvest holding would increase its presence in the Chinese market, in case Europe imposes sanctions on its exports.
"We are concerned with the possible sanctions against Russia but don't see any dramatic repercussions for our business," Streshinskiy said. "China is unlikely to impose any sanctions. So, we will be trading in rubles, yuan, Hong Kong or Singapore dollars."
On Monday the EU and the US imposed sanctions against some leading Russian officials, which include visa bans and asset freezes for presidential aide Vladislav Surkov and presidential adviser Sergey Glazyev. No Russian corporate assets have so far been affected.
China is one of Russia's biggest trading partners, with bilateral trade estimated at a record $87.5 billion in 2012.
Over the past years the two countries have been actively strengthening economic ties, with direct investment by Chinese companies into Russia increasing 40 times, to reach S4.9 billion between 2004 and 2012, according to Tang Hua, an official with China's National Development and Reform Commission.
Taking an investment opportunity in a crisis
One of Russia's key indices - the MICEX – has lost about 15 percent since the start of the unrest in Ukraine and the protests in Kiev.
Though on Monday Russia's exchanges reacted positively to the results of the Crimea referendum, they could see a further fall in the longer term, Streshinskiy said. If this is the case, Usmanov may buy some shares of the wireless operator MegaFon and internet company Mail.ru Group.
"Mail.ru and MegaFon revenue is coming from Russia and people won't stop making calls and using the internet," Streshinskiy said. "If the events further escalate, we will be buying shares. A crisis is always a good opportunity as valuations become cheap."
You can share this story on social media: