Russian stocks rebound after Crimea chooses to breakaway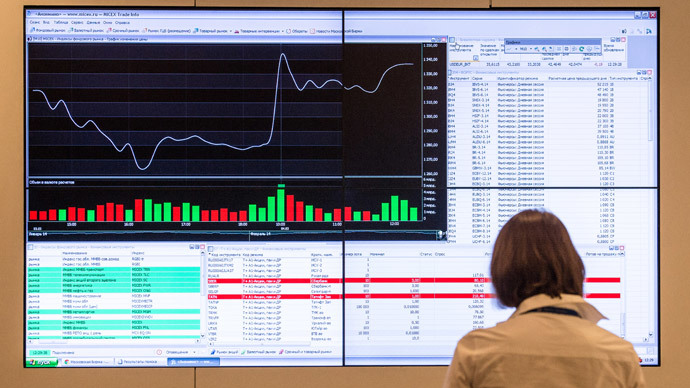 Stocks in Russia shrugged off fears of a market collapse after the Crimea referendum, as they opened higher on Monday. Analyst say domestic investors view possible Western sanctions as purely symbolic, as they don't concern corporate assets.
Both Russian key indices – the RTS and the MICEX - opened higher on Monday, with the dollar –denominated RTS adding 1.13 percent at midday, Moscow time, and the ruble-denominated MICEX up 1.17 percent.
Experts say all major investor fears had already been priced into Russian stocks prior to the Crimea referendum, as the country's market were pretty volatile and pessimistic over the last two weeks.
"For the time being there is nothing new: they carried out the referendum, they haven't yet announced sanctions. Simply for the time being, there are Russian investors who are buying in the belief that there is a bright future," Dmitry Ryzhkov, a trader at Renaissance Capital told Reuters.
The US and the EU have been repeatedly threatening Russia with sanctions, which so far look mostly political. The German newspaper Bild said on Friday that about 100 leading Russian officials could face visa restrictions.
"Of course there will be sanctions from the West, but for the time being they concern officials and not corporate assets," Oleg Dushin, Zerich Capital analyst, wrote in a note to Reuters.
The US and European Union foreign ministers are meeting in Brussels later on Monday to discuss sanctions against Russia, that are largely expected to deal mostly with visa bans and a possible asset freeze.
However, given the western strong dependence on Russia's oil and gas, any economic sanctions could seriously bite back, Jeff Sahadeo, director of Carleton University's Institute of European, Russian and Eurasian Studies told Bloomberg.
If the West "puts down the card of energy sanctions, it becomes a question of who blinks first," he said.
On Monday the Russian ruble has lost against the dollar, while strengthening against the euro. The ruble stood at 36.6 per dollar and went up to 50.8 against the euro, according to the Central Bank of Russia.
On Sunday, the citizens of Crimea overwhelmingly voted for joining Russia, with 96.77 percent saying they would want to rejoin the country, rather than remain a part of Ukraine and return to the Ukrainian Constitution of 1992.
You can share this story on social media: